In continuation with the dark theme in Microsoft Office apps, here is a guide on how to get the dark theme in web browsers.
As more and more application developers are incorporating the dark theme in their applications, it is about time web browsers had it in them too. A dark theme is not only aesthetically pleasing, but it is also easier on the eyes and it is battery efficient as well (as low as 5W/hr. on an OLED panel).
Dark Mode For Web Browsers
Although many of the browsers support a single button switch to the elegant black theme, not all browsers allow doing that. Here is a simple guide on how to enable dark mode in web browsers.
1) Google Chrome
Let's start with probably the most popular and most used web browser among users.
Google Chrome is feature-packed. It has an in-built PDF viewer, a malware removal tool, and whatnot. While popular for its fast and secure browsing capabilities, a dark mode would make the browser even more lovable.
Here is how to enable dark mode in Google Chrome:
Close all instances of Chrome open and refresh your desktop once.
Create a shortcut for Google Chrome on the desktop if there isn't one present already.
Right-click on the shortcut icon you just created.
Click on Properties.
Under the Shortcut tab, locate Target.
In the entry field, at the end of the target location, add the following text without the quotes as shown in the figure as well:
"–force-dark-mode"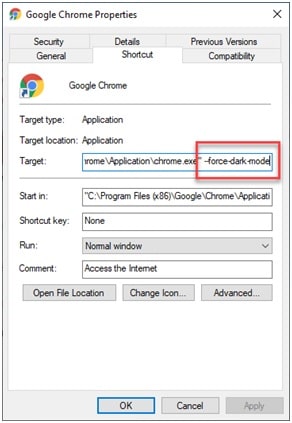 Note: Remember to add a space after .exe and then add the text.
Click on Apply and close the Properties tab.
Refresh your desktop once more.
Now when you launch Chrome using the desktop shortcut, you will see that the Chrome UI has changed to a dark theme.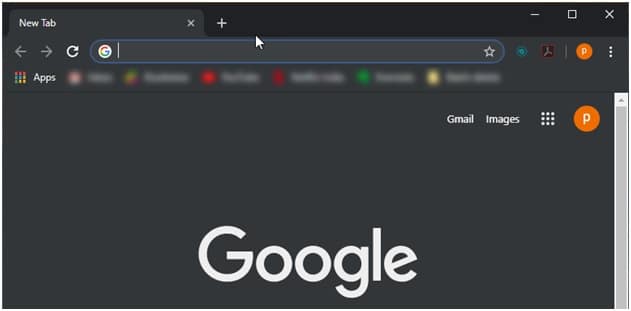 Tip: If you wish to restore the light theme, you can just remove the quoted text from the target menu.
2) Mozilla Firefox
The developers at Mozilla have included a single click toggle switch to change between light and dark modes. You won't have to go through all the hassles that you had to go with Google Chrome. To enable the dark mode in Firefox:
Click on the hamburger menu (≡).
Select Customize.
At the bottom of the window, locate Themes and click on it.
In the My themes popup, select Dark.
Click on Done.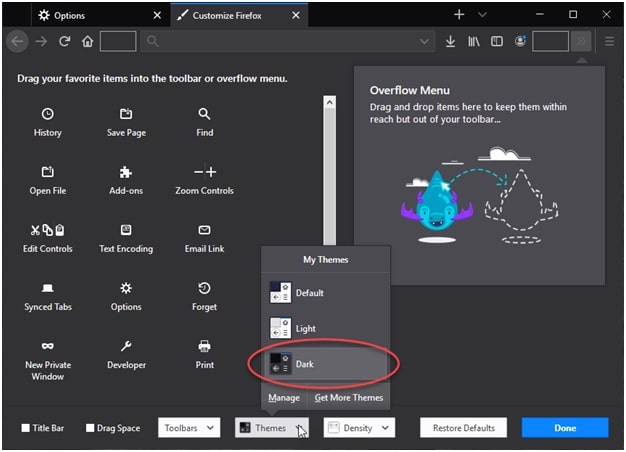 This should instantaneously change the Firefox theme to dark.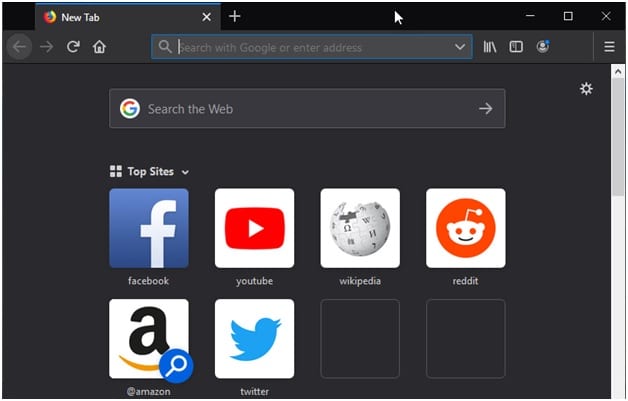 If this doesn't change Firefox to dark mode, just restart the browser and it should change to dark mode.
3) Microsoft Edge
Edge is also a popular browser among users because of its ease of use and the presence of some excellent marking and reading tools. It also has an in-built dark theme that can be changed with the help of a single click. To enable Dark mode in Edge:
In Edge, click on the Menu (●●●) at the top right corner in the toolbar.
Click on Settings.
Under Customize, click on the drop-down menu under the Choose a theme
Click on Dark.
You should see an immediate change in the theme of Microsoft Edge as it gets a dark theme.
4) Opera Browser
Opera is one of the old browsers that has many loyal users among it. Enabling dark theme in Operais the easiest among all other browsers.
Simply click on the Settings menu at the top right corner, and you will see two big options for changing the theme between Light and Dark. As simple as that.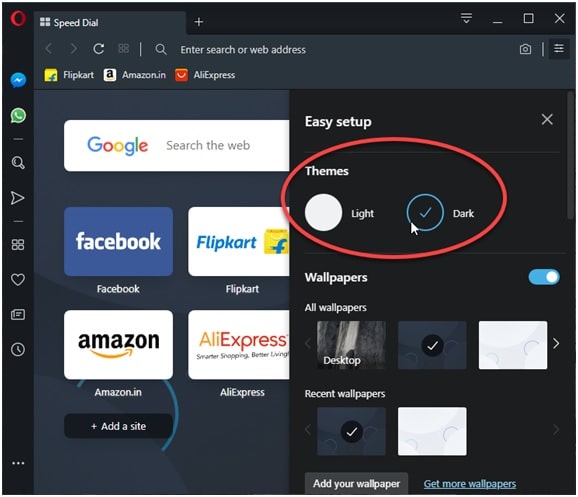 5) Brave Browser
Brave is another popular Chromium-based web browser best known for its blocking of ads and web tracking. Brave is available for Windows, macOS, Linux, Android, and iOS. It also has supports for all the Chrome extensions as well.
Brave browser is one of the few apps that support the Windows Dark theme. What that means is if you enable Dark color theme for Windows from Settings, Brave browser will also open in native dark mode.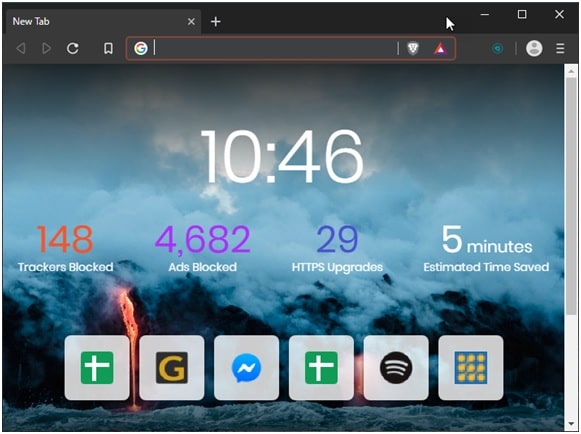 Since Brave is Chromium-based (since 2018), the method to enable dark mode in Brave browser is similar to the method in Chrome. Add the same –force-dark-mode at the end of the shortcut as you did in for Google Chrome.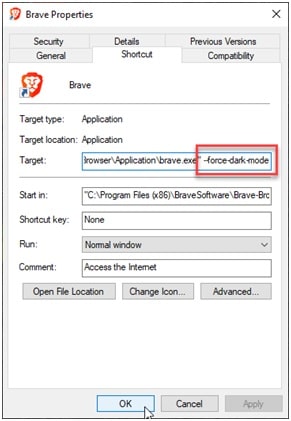 With the above-given methods, you can easily get a dark theme for your web browser. But bear in mind that these methods only turn your browser into a dark theme, and not the websites.
Now that I have given detailed information about how to a dark theme in your web browsers, I will show you next how to turn even your webpages into a dark mode to get the best out your dark-themed browser.
Tip: not all websites have an in-built dark mode UI. Read till the end to find how to get a dark theme on non-supported pages as well.
How To Get Dark Themed UI In Popular Websites?
There are many popular websites that have an in-built toggle to change to a dark themed user interface for the users to choose from. Here I will list how to get the dark theme in the popular websites that you often visit.
1) YouTube
YouTube is one of the most popular websites that a lot of people spend a lot of time on. It is an excellent platform for the content makers to take their content directly to the consumers, and a lot of people spend a lot of time on YouTube browsing for content from their favorite content makers.
So, it is natural to hope for a dark theme on this popular website as well. Thanks to Google's web developers, there is an in-built toggle for a dark theme for YouTube website.
To get the dark theme, visit the YouTube webpage, and click on your Profile image. In the pop-up menu that appears next, locate the Dark Theme menu, and select On.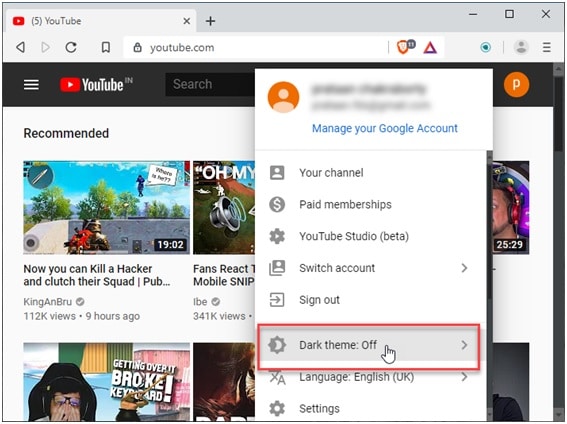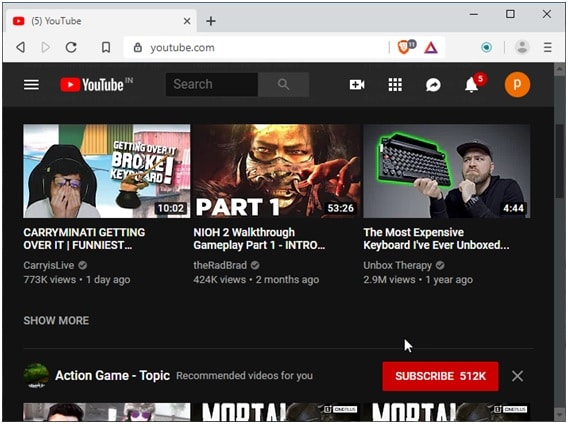 2) Twitter
Twitter is the one-stop destination for many people as a social networking site or news at a glance site, etc.
Twitter also has a dark theme toggle, and to access it, do the following:
Open your Twitter account
Click on More from the left side menu pane.
Click on Display.
Select the Lights out theme or the Dim theme under Backgrounds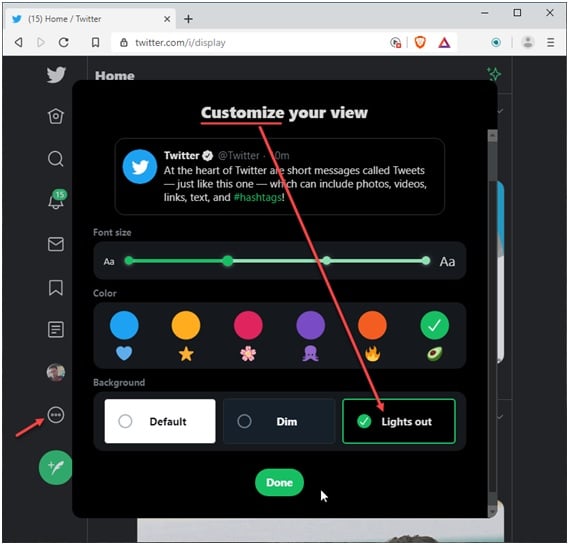 3) Gmail
Google's mail service is a very popular website for users to check any incoming mails or compose some of their own. If you spend a lot of time on Gmail managing your emails, you may wish for a dark themed background as well.
To get a dark theme in Gmail,
Open and log into your Google
In the Inbox page, click on the Gear icon next to your profile image to open Settings.
Click on Themes.
In the list of themes that pop up, scroll down to skip the image themes.
Click on Dark.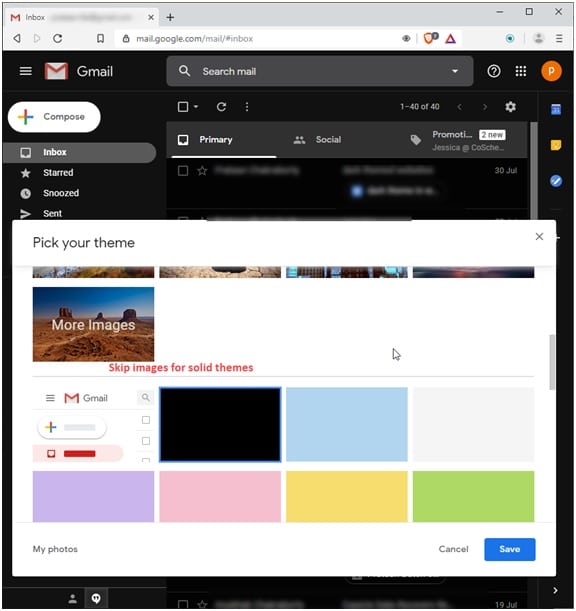 This will instantly change your Gmail background to a dark theme.
How To Get Dark Theme On Non-Supported Websites?
Since not all websites support a dark theme, you need to install a browser plugin that provides the color inversion for the dark theme.
There are many extensions that provide this feature in Chrome. The best one out of these is Night Eye.
Visit the Night Eye chrome web store page here.
Upon clicking the Add to Chrome, you will see a toggle in the Chrome menu bar.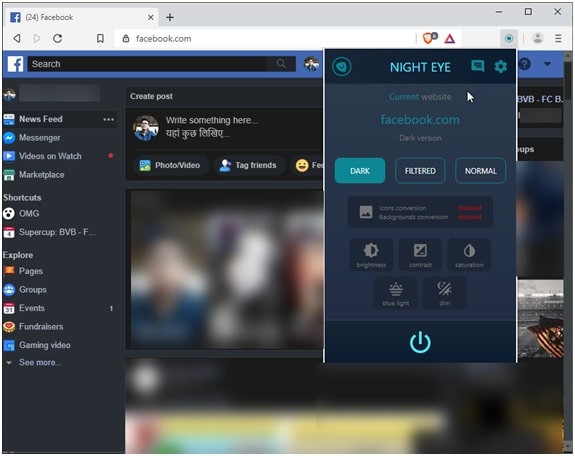 This toggle can change any page into a dark themed website with the help of a click. Here are snaps of some pages that don't have in-built support for dark mode.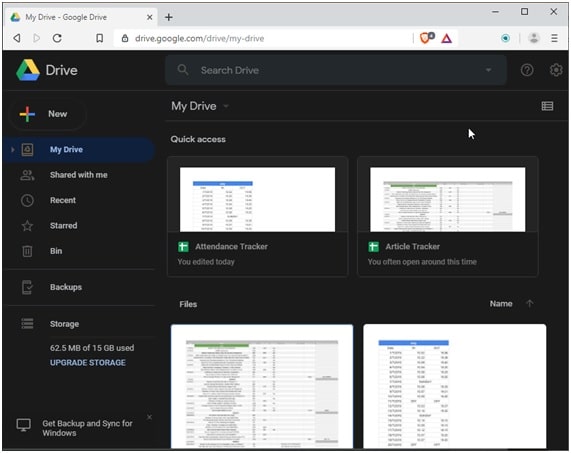 Night Eye is free to use up to five websites. You can set the websites that you visit the most often to open in dark mode from within the extension. To get unlimited websites, you can buy the premium version for $9 a year or $40 for a lifetime license.
Conclusion
A dark-themed browser and website can help a lot if you spend a lot of time in front of a screen, especially at night. Using this guide, now you know how to get browsers and website dark theme. Do comment below for a further discussion on the same.