Many Windows 10 users have multiple displays set up for their Windows 10 devices. Usually, content creators like video editors and gamers require multiple displays for their daily use. Using the Project option, users can also connect their Windows 10 PC to an external projector.
These multiple display settings are usually saved locally on the device similar to how other cache works. If you connected to an external display just for a special occasion, there is no use in keeping the settings stored. Here I shall discuss how to clear multiple monitor configuration in Windows 10.
How To Clear multiple monitor configuration in Windows 10?
You may want to clear the multiple display cache from your computer if you do not intend to use the external monitors again. There is a chance that the cache may cause the devices to malfunction, leading to your external displays not working properly next time.
Read here how you can easily restart the graphics driver manually.
To clear multiple display configuration and reset display settings in Windows 10, you need to delete the registry items associated with the settings. The registry holds the configuration files and the settings that you set for an application or other parts of Windows 10. Simply follow these steps to reset Windows 10 display settings:
Press Win + R to launch a Run dialog.
Type regedit and press Enter to launch the Registry Editor. You will be prompted with the User Account Control prompt, where you will have to click Yes.
Next, navigate to the following location by pasting the path in the address bar of the Registry editor:
Computer\HKEY_LOCAL_MACHINE\SYSTEM\CurrentControlSet\Control\GraphicsDrivers
In the left pane, locate the following keys:
Configuration
Connectivity
ScaleFactors
Delete these registry keys by selecting the Delete option from the right-click context menu.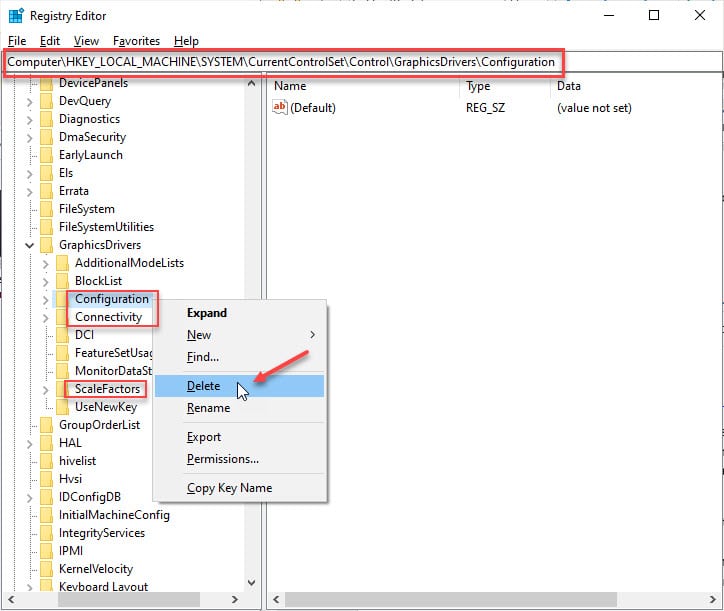 Restart your Windows 10 PC for the changes to take effect.
When you restart Windows 10, the necessary components will be created again, thereby clearing the multiple display configuration.
Wrapping Up
So, there you have it. Now you know how to clear multiple monitor configuration in Windows 10. Comment below if you found this useful, and to discuss further the same.