If you have been online looking for some information, you must have heard of the term cache at least once in your time. Here, let us take a look at what cache data is, and how you can clear cache data in browsers.
What Is Cache?
Imagine, that you have a favorite website that you like to visit regularly, like a social media platform, or some other content hosting platform. When you visit the website for the first time, the entire data that is required to complete the request is created and then you are able to see the content that is available on these sites.
Now, if you visit these sites regularly, creating a new request for the data and downloading the content repeatedly can be time-consuming. So, such web pages and some apps tend to store such request data locally.
When you launch these sites again, the data is pulled from these locally stored chunks of data instead of downloading the entire request again. Such a request is faster and efficient, therefore your content is loaded much quicker than before.
These hardware and software components that store data for faster handling of requests, is known as a cache.
Why Clear Cache From My Device?
A cache miss occurs when a certain part of the data is not available in the data that is stored locally. A cache miss can be very detrimental, and increase the loading time for the requests that you put for a website. Hence, when you encounter internet errors, you can benefit from clearing the cache data.
This is also the reason, that in many solutions involving content not loading properly, you will see a solution that involves clearing the cache of your browser.
How To Clear The Cache Data Of Google Chrome?
Google Chrome is probably one of the most preferred web browsers available. Hence, let's start with how you can clear the cache data of your Google Chrome browser.
There are two methods that you can use to clear the cache data of Google Chrome. Let us take a look at both of them one by one.
Method 1: Use The Hamburger Menu
You can use the following steps to clear Google Chrome cache:
Open Google Chrome on your computer.
Click on the three vertical dots (hamburger menu) to reveal additional options.
From the context menu, click on Settings.
Go to the Advanced section.
Under the Privacy and security settings, locate and click on Clear browsing data. It is generally the last option.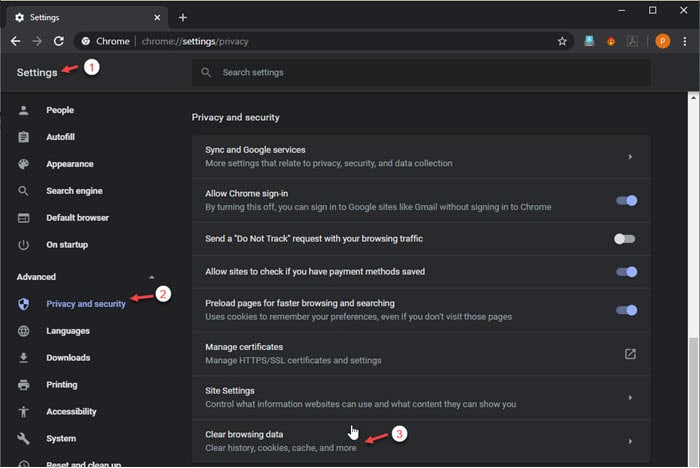 From the dialog box that opens, select from the Time range how recent data that you want to remove.
Click on Clear data to confirm deleting the stored cache.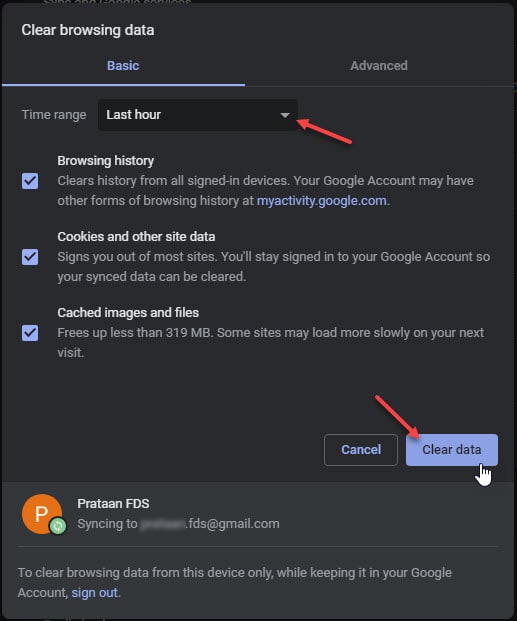 Method 2: Use A Keyboard Shortcut
One of the easiest ways that you can clear Google Chrome data, is by using a keyboard shortcut. This keyboard shortcut also works on many other browsers like Mozilla Firefox and Microsoft Edge.
In a new browser tab, simply use the keyboard shortcut Ctrl + Shift + Delete to open the Clear browsing data dialog box.

Here, you can select how much data you wish to remove and then click on the Clear data button.
Wrapping Up
Once you clear the cookies along with your browser cache, you will see that the requests are downloaded again. Hence, the pages that you are trying to load may load up slower than before. However, with the blazing fast internet speeds, you will hardly notice the difference. Tell us in the comments below if this guide helped you, and share this with others who might need help with clearing cache data.