Chrome is very popular among its users because of the many features it provides. One of its most prized features is the inbuilt PDF viewer that lets you view the files before downloading and removes the need for the installation of any third-party PDF viewer.
However, since Chrome moved away from Adobe's NPAPI plugin to its own PDF viewer, there are some issues that pop up when trying to view PDF files when using the native PDF viewer. These problems can be of various sorts like auto-downloading PDFs, scrolling issues, and improper content loading.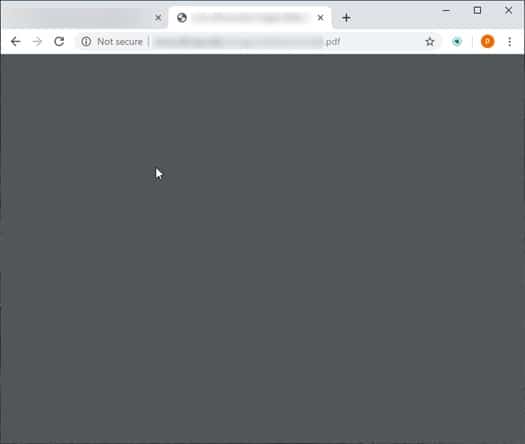 We have shown a VIDEO walk through at the end of the post for easy solution.
How To Fix Chrome PDF Viewer Not Working?
There is no need to panic, as I will show you how to overcome this issue using these fixes. The reasons this issue occurs are very trivial and there are very easy fixes you can deploy to solve them. Check these fixes according to the type of error you are facing.
# FIX 1 (Disable Extensions)
If the PDF viewer opens but fails to load a PDF file, this solution may be for you.
Sometimes it happens that the PDF viewer is greyed out, like in the loading phase and it never loads the PDF file. This can happen due to two possible reasons:
Poor internet connection speed
Misbehaving extensions
Firstly, check if you have a poor internet connection. This may be the reason that your PDFs take a long time to load.
If the internet connection is fine and you are getting reliable speeds on other websites, there is possibly a broken extension that is causing the PDF viewer to malfunction.
 To confirm is a broken extension is causing the mishap, there is a simple method to do so.
⌂ Open an Incognito window of the browser and load the website hosting the PDF file. All the extensions are disabled by default in Incognito mode. If the file loads perfectly in the Incognito mode, it is confirmed that some broken extension is causing this error in the normal Window.
Now you need to disable the extensions and re-enable them one by one to pinpoint which extension is misbehaving.
This may sound tedious, but it is the best way to figure out what is wrong with your browser.
If no extensions are broken, or you have no extensions downloaded whatsoever, the next fix may be for you.
# FIX 2 (Disable Downloads)
One of the most common reasons that this issue occurs is because Chrome is set to download the PDF files that you open instead of viewing them natively in the browser.
This setting may be changed for any reason whatsoever, but disabling this setting changes it back to viewing PDFs in the browser instead of downloading.
To change this setting, follow these steps:
Open Chrome settings from the hamburger menu (≡) at the top right corner.
Navigate and click on Advanced.
Click on Site settings under the 'Privacy and Security'
Scroll down to find and click on PDF Documents.
Turn off the toggle switch next to Download PDF files instead of automatically opening them in Chrome.
Restart your browser.

Now when you visit a PDF site, it should open the file in Chrome instead of downloading.
Note: However, if the URL hosting the PDF has set Attachment as its Content-Disposition header, the PDF from that website will be downloaded no matter what. Every other website apart from these will let you view the PDFs instead of downloading.
# FIX 3 (Malware Removal)
If the Incognito mode also showed the error and downloads were disabled by default, there may potentially be a malware on your system that is causing this error.
Since Google prioritizes user's safety and data protection, the developers have provided with Chrome its own malware detection and removal tool.
To use the cleanup tool and find malware, visit the following site:
chrome://settings/cleanup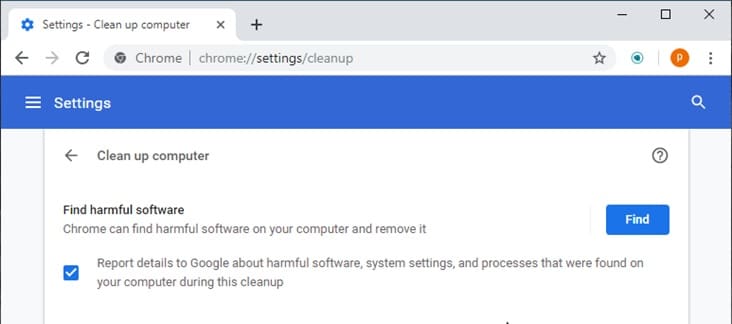 Click on Find button next to the 'Find and remove harmful software' to run the checker tool. After some time, Chrome will show you a search result for all the potentially malicious software on your device that may be causing the error.
# FIX 4 (Update And Clear Cookies)
If there is no malware on your device, it is possible that the files necessary to run Chrome are broken or corrupted. If your browser has an outdated cache, it can show this error.
Press Ctrl + Shift + Delete key to open Chrome's 'Clear browsing data'
Here select the cookies and cached images and files stored for the browser.
Click Clear data to clean all the files you selected in the step above.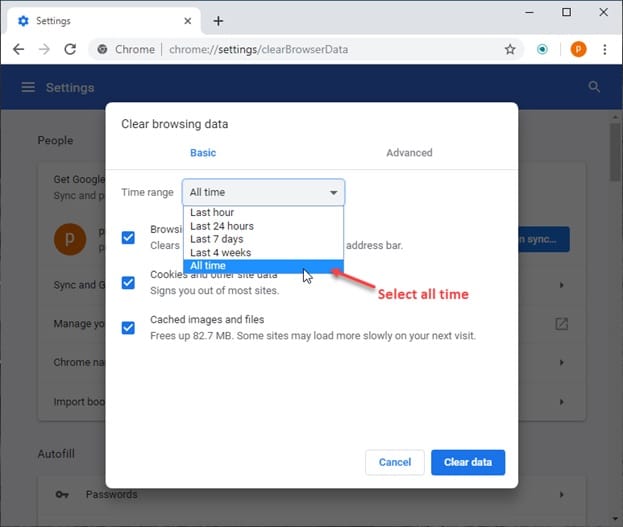 4. Next, click on the hamburger menu (≡) and hover over Help.
5. Click on About Chrome.
6. If there is an update waiting, Chrome will detect it and prompt you to install it automatically.
This should solve the error you were having with PDFs not loading in the browser.
If this also does not solve your issue, you can alternatively use the Adobe PDF plugin to view files as well.
# FIX 5 (Use Adobe Plugin)
If any of the above fixes did not work for you, you can solve this error by using the adobe acrobat extension from the Chrome Webstore.
Visit this page (Adobe Acrobat extension) and click on Add to Chrome.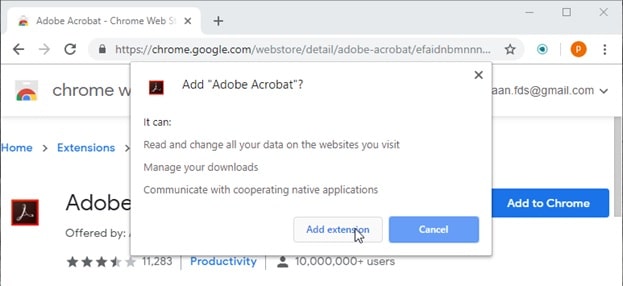 Note: If you already have Adobe PDF viewer on your system you don't need to perform this step.
When you visit a webpage hosting a PDF file, a popup will display over the Chrome's PDF viewer prompting you to open this page in Adobe Acrobat Reader.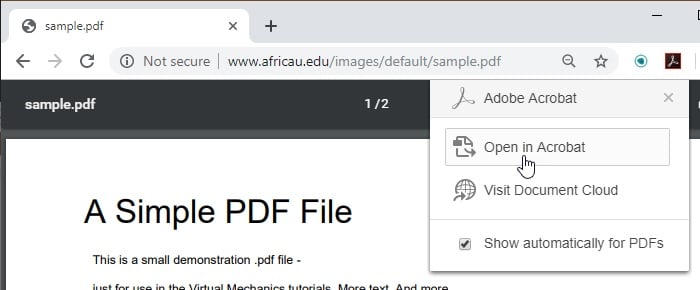 Conclusion
Chrome does not let you perform advanced functions like finding a specific word in the PDF document. But it is a good intermediate to downloading PDF files as you can review if you need the file permanently on your system.
If you were also plagued with PDFs not opening in Chrome, now you know how to fix Chrome PDF viewer not working using the 5 fixes given above. Comment below to tell us which method solved your issue and discuss further for the same.