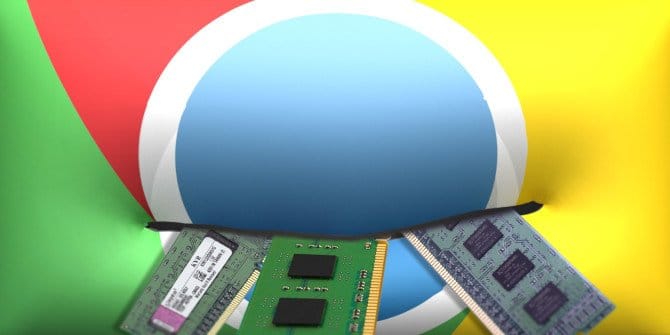 Love to use Chrome browser? But GPU usage is eating up high CPU memory? Nothing to worry at all! Here we are with the effective troubleshooting tricks to help you in fixing Chrome GPU process using high memory. So without wasting another minute scroll now and have the full scoop.
We have shown a VIDEO walk through at the end of the post for easy solution.
What is GPU Process in Chrome?
GPU process is basically a hardware acceleration process. Your GPU process passes all graphical intensive browser tasks and it puts an extra burden on your hardware. And your hardware gets forced to give 100% performance.
Though it drains memory, there are a few reasons to be considered as beneficial. First of all, the GPU is specially designed to do these tasks with ease. Secondly, your CPU becomes free to do other tasks.
However, the hardware acceleration stays enabled by default. So you must check whether it is harming your PC first. How to check it? Find the steps below. After checking if you see Chrome GPU process is arresting high memory then you must disable it.
How to Check- Chrome GPU Process Using High Memory?
We have stated the method of checking memory usage for Google Chrome GPU Process. Have a look.
At first, you have to go to the Task Manager of your PC and check what processes are running. Now you will see something like the screenshot below if your GPU is responsible.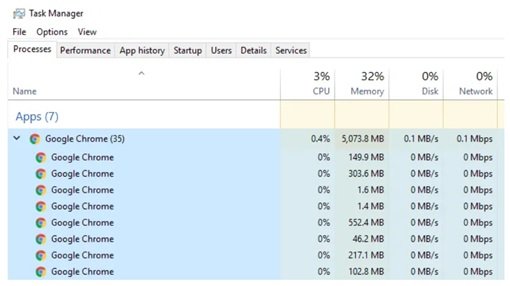 See 35 Google Chrome processes are eating up almost 5GB of your PCs memory. If you are not even browsing much then what are these processes to hog up your system? Well, you have to right-click on the title bar of your Chrome browser. Make sure you are not clicking on any tab.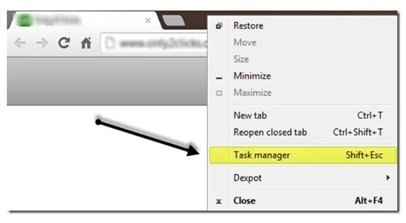 After the right-click, you will see a drop-down list, choose "Task manager" option from there and hit enter. Now a page like this below screenshot will display.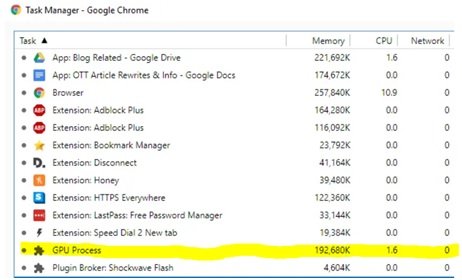 Whatever tabs you have opened will be displayed in this section. You can find the GPU Process at the bottom of the screenshot. Check the memory usage for GPU is really high. So you must disable it. If not then there is no need to stop the process.
It's time to check the steps for troubleshooting Chrome GPU Process using high memory.
How to Disable Google Chrome GPU Process?
All of us love to use a feature enriched browser. But when any process of that browser starts extracting all the efficiency of your hardware like Chrome GPU, then you must turn the particular process off. And here is how to do that.
Solution 1: Chrome Settings
Firstly, launch your Chrome browser
Now, navigate to the menu option (3 dots placed at the top right corner) and click it
A drop-down list will appear, select "Settings" from there
Next, you will be redirected to the settings page
Click on "Show Advanced Settings" option from there
After that, scroll down and find "Use hardware acceleration when available" option
Finally, uncheck the box next to this option
Now you will be asked to restart your browser, so ensure you haven't anything important ongoing on your browser. Once you restart your browser, the performance will be improved, and you shouldn't face the issue anymore.
If you think this process is a little bit tricky, then you must check out our alternative solutions.
Solution 2: Via Registry (For Windows PC)
At first, press the Windows logo key and "R" button at the same time
Next, type "regedit" in the appearing dialogue box
Now, hit the enter button to open the Registry editor
After that, locate to the "HKEY_LOCAL_MACHINE \ SOFTWARE \ Policies \ Google \ Chrome \"
Once you browse the folder, right click on the Chrome there
Then, select the "New" option
And go to "DWORD 32-bit value" to give it a new name
Type "HardwareAccelerationModeEnabled", and you will be done with giving a new name
Next, turn the value into "0" from "1" to disable the GPU process
In case you want to enable it in the future then put "1" in the place of "0" after completing the above steps. Now you have to restart your computer. Once you again open your system to get it in error-free condition.
For Mac users, there is a way out as well. Perform these below steps to disable hardware acceleration on your Mac.
Solution 3: Terminal Command (For Mac users)
First of all, close your Chrome browser
Next, navigate to the "Finder" option
Now, you have to select the "Go" option from there
Then, hit "Utilities" option
After that, you will be able to launch "Terminal"
Type "defaults write com.google.chrome HardwareAccelerationModeEnabled -integer n" there
And hit the enter button
If the value of "n" is set to "1", put "0" at that place. You have successfully disabled it now.
Few More Words
When you get used to with such user-friendly browser like Chrome, it's impossible to shift to another one. So, issues like  "Chrome GPU Process Using High Memory" takes up a lot. Our experts understand your concern; that's why we have provided these practical solutions.
Make sure you are trying Solution 1 and Solution 2 one by one if you are a Windows user. If you are a Mac user, then you must jump to Solution 3. For any issue, while performing these steps, you can directly get in touch with us. Drop your query in the comment box below. Also, don't forget to share your opinion.