Google Chrome is one of the most popular web browsers available on the market. It has gained this reputation thanks to its focus on speed and security. Many users prefer it over other browsers because of its security measures, and the speed and reliability it offers. If you can look past the occasional heavy resource use, Google Chrome is definitely one of the best browsers available right now.
Google Chrome has its bad bits too, and many users have reported that when downloading certain files, the downloads keep stopping at 100%. This can certainly be an annoying issue, and here I will discuss how to solve Google Chrome downloads stuck at 100% error.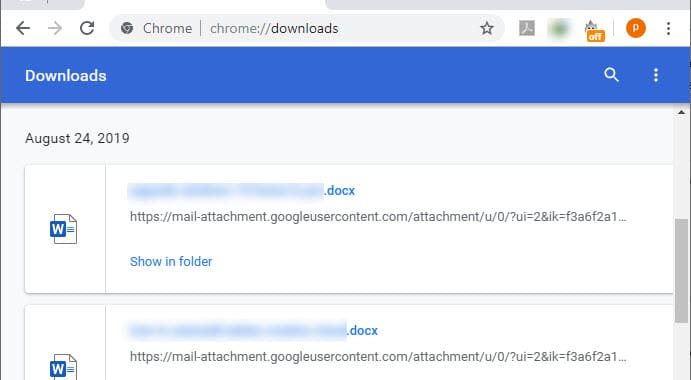 Why Am I Facing This Error?
There are actually a variety of reasons that you may be facing this error. The error can be caused by any one of but not limited to these mentioned reasons:
Broken extensions can be a major reason why you may be facing this error. Extensions are stored as files on your system and are run alongside your browser to provide the desired functionality. If these files are affected for some reason, you may see extensions get corrupted and downloads stuck.
Server missing HTTP readers is another reason that you may be seeing this error. An HTTP header field called "Content-length" field indicates the size of the entity that is sent to the recipient. If the server you are downloading for is missing this entity-header, it is likely that this is the reason that you are facing this error.
File blocked is another reason why many users cannot download full files from Chrome.If the file you are downloading is flagged as malicious and blocked by your antivirus, or even Chrome's native virus checker, you cannot download certain files and your Chrome download will be stuck at 100% and then fail.
Corrupted Chrome installation can also sometimes contribute to your files not being downloaded correctly. You may see your downloads stuck at 100% and not finishing or taking a lot of time to complete downloading.
How To Solve The Google Chrome Downloads Stuck At 100% Error
Depending on why you may be facing this error, there are different fixes that you can deploy to solve your issue. Here I will discuss some of these fixes that you can try out to solve Google Chrome not downloading error.
Solution 1: Find A Different Source
In the case of missing content-length headers, there is basically nothing you can do as this is a server-side issue. What you can do is find a different source than the one you are currently downloading from, and hope that the new server has the appropriate headers to let users finish downloading.
Solution 2: Prevent Third-Party Antivirus From Taking Over Scanning Downloads
When using third-party antivirus software, there are certain protective measures that are taken by the application to protect your downloads. This includes real-time scanning of your downloads so that you don't use malicious files on your device. Many popular antiviruses have this security feature inbuilt.
When this antivirus scans your files in real-time, you can notice that the downloads hang at 100% and seem to go on forever. Although this is a good feature, it can lead to lags and hangs on your device sometimes.
Try searching within your antivirus the setting to toggle Web Scanning feature that scans downloads in real-time. Turning this feature off should significantly reduce the lags you face while downloading certain files.

Caution: Turning this feature Off will leave your device vulnerable, and we recommend you to turn it on again after you have finished working on this particular file.
→There is another method that the third-party antivirus software can cause these lags. The antivirus can sometimes conflict with Google Chrome's native antivirus feature, with both scanning the file at the same time. This can cause your system to be lag behind and Chrome not downloading files.
Turn off the antivirus for a small while to let Chrome download the file on its own and then turn the antivirus back on again.
Solution 3: Diagnose Broken Extensions
If you started witnessing this error after you installed an extension, it is possible that some broken extension is causing the error you are facing.
To check if that is the case, open the file page you were having the error on using Incognito Browsing mode. Run an Incognito Window by right-clicking on the taskbar icon and selecting New Incognito Window.
Now download the file using Incognito mode. If the downloads work normally in incognito mode, there is probably some broken extension on your device that is causing this error to appear.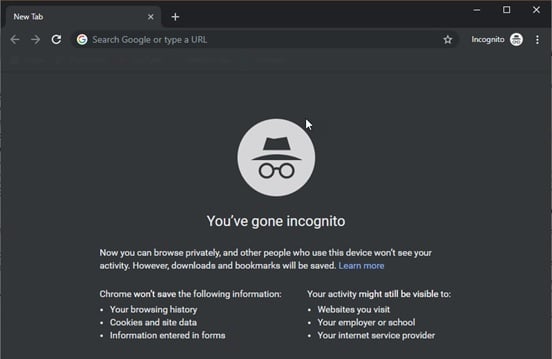 The extensions by default are disabled in this mode, and you can confirm that the error was caused by some broken extension if you don't face this error anymore in Incognito mode.
Start by enabling the extensions one by one and check if the error persists.
Solution 4: Clear Chrome Cache And Cookies
The cache is the data stored on your device by various websites, to load data from them faster the next time you load the website. However, sometimes a mismatched cache data can cause all sorts of errors, and this error is one of them. To solve your Chrome downloads error, clear all your Google Chrome data like cookies and cached images and files.
To clear Google Chrome data, press the Ctrl + Shift + Delete in a new tab to open the Clear browsing data dialog box. Here select All time from the Time range drop-down menu. Then select Clear data.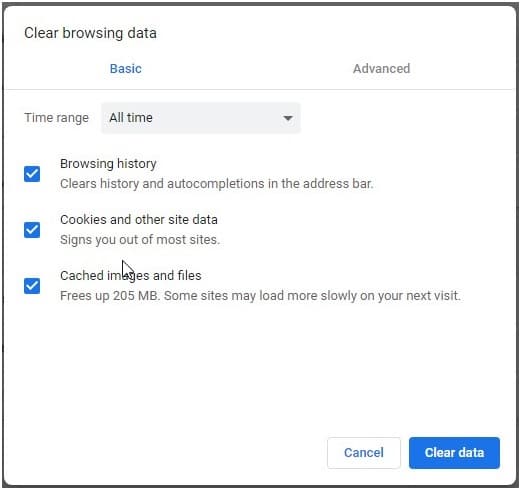 Solution 5: Reinstall Google Chrome
As a last resort, if all other fixes fail, you can try performing a clean reinstall of the Google Chrome browser. This will also help you in case you have a corrupt Chrome installation. A fresh install will reset all the broken files and settings, and form the data libraries again.
Uninstall the Chrome application from the Control panel. Then remove the residual files as well. To remove the residual files, you can use a third-party junk file cleaner like CCleaner.
Then download a fresh copy of the Chrome installer from the Google website and run the installer.
Wait for the installer to finish.
Now check if the issue still persists.
Conclusion
Although Chrome is one of the best browsers available on the internet, it has some bugs that can sometimes cause the downloads not functioning as it should. If you too faced this problem, now you know how to solve the Google Chrome downloads stuck at 100% error using one or a combination of the fixes given above. Comment below to tell us which method helped you solve the error, and to discuss further the same.