Like every other machine, your PC also suffers from wear and tear as time goes by. You must keep an eye on the system performance and perform necessary tweaks to maintain the best performance that your system can deliver.
How To Perform A PC Health Check?
You must keep an eye on system performance as it can deteriorate over time. Your system may be affected by a virus or malware, or you may be running out of storage space or your device drivers may be outdated. All these problems will slow down your system over time, and may even cause some damage that will leave your system useless.
Overview Using Windows Defender
To get a quick overview of your system health, you can take the help of the Windows Defender Security Center. In the Device performance and health tab, you get a quick overview of the storage capacity, device drivers, system updates and battery health as well.
To launch the Security Center, you need to double-click on the icon on the icon in the notification tray. Then select Device health and performance to get a simple user-friendly overview of your system condition.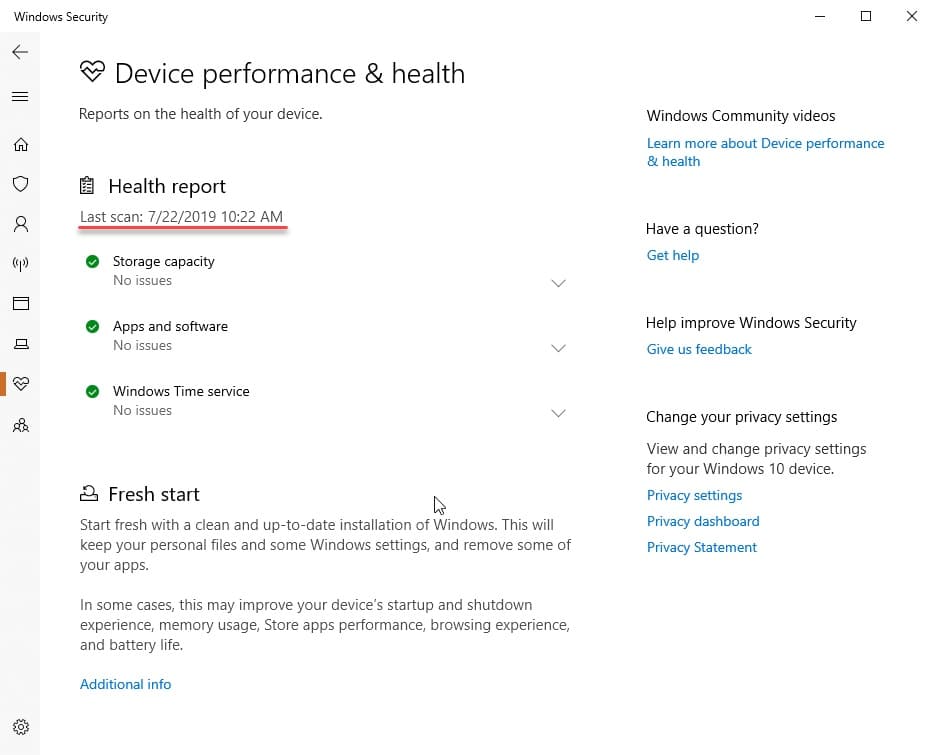 If you want a more advanced overview of the system performance, you can use the inbuilt performance monitor to check system performance and find out how to resolve issues as well.
PC Health Check Using Performance Monitor:
The performance monitor is a great utility that can help you monitor your system performance and resolve any issues plaguing your PC.
To open Performance Monitor:
Press Win + R to open the Run dialogue box.
Type perfmon and press Enter to open the Performance Monitor.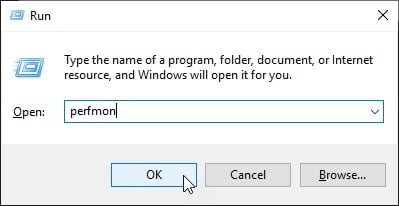 To generate a system performance report, follow these steps:
From the left pane, expand Data Collector Sets.
Click on System to expand into System Diagnostics and System Performance.
First, click on System Diagnostics to highlight it, and click on the Play ► button on the top.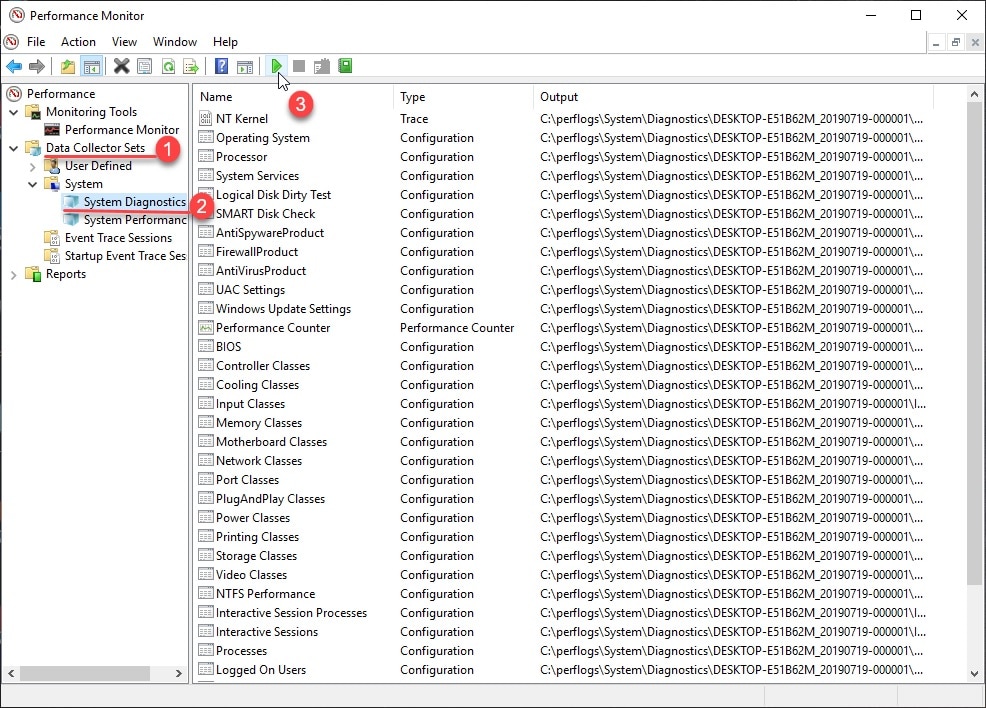 Wait for the scan to finish. It will collect data for 60 seconds.
Repeat the same for System Performance. Click on ► button to run a scan and wait for the scan to finish.
The System Diagnostics provides with very useful information like the OS attributes, disk status, and system services.
If your system has failed on any account, it will show an error table with the details of the system, cause, and Resolution as well. It is a one-stop solution to any problem your system may be facing.
A similar report is shown in the System Performance report. This section focuses more on system efficiency and shows CPU loads, disk read-write speeds and memory usage.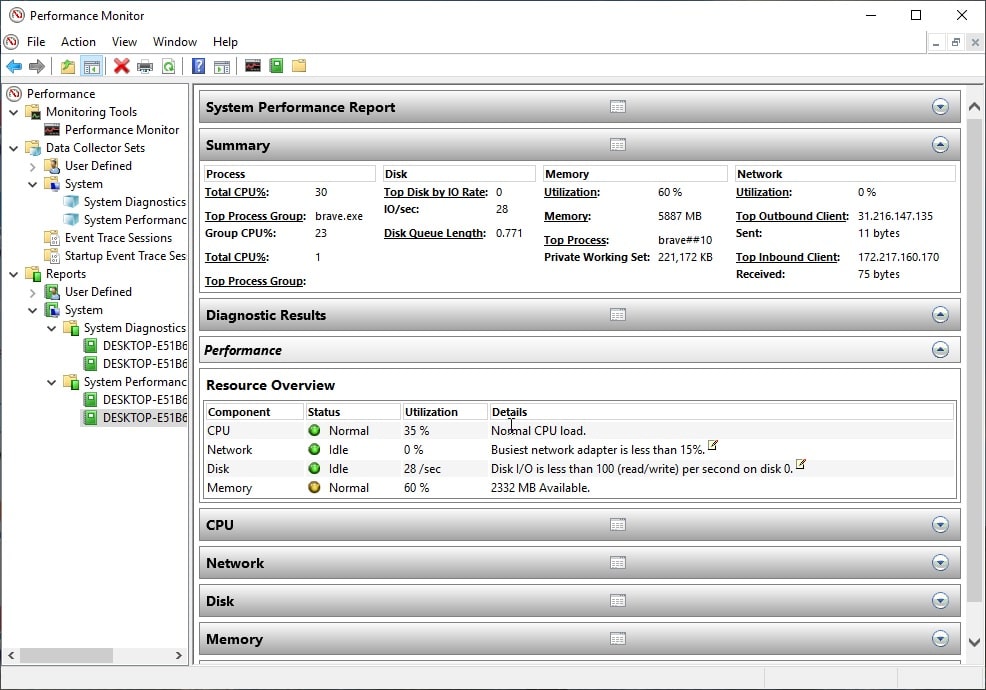 To check battery cycles, you can run a sleep study to know how many cycles your system's battery has been through.
Sleep Study Of The PC:
Sleep Study does not exist as Utility in Windows 10, so you need to create a report to view the results. You can create a .html document to create the report. Here I will show you how to monitor system health using Sleep Study.
Open an elevated Command Prompt. Open Run dialogue by pressing Win + R, type cmd and press Ctrl + Shift + Enter to open it in administrator mode.
Type the following command in the text input field to create an HTML report of the Sleep Study:
powercfg /SleepStudy /output "%USERPROFILE%\Desktop\sleepstudy.html"

Note: change %USERPROFILE% with the valid location of where you want to save the report.
This will output a file to your desktop named html
Sleep study covers 3 days report by default, but you can change that by altering the command. Type the following command:
powercfg /SleepStudy /output %USERPROFILE%\Desktop\sleepstudy.html /Duration [DAYS in number]
 Note: You can cover up to 28 days in the report.
Navigate to your desktop and open the file. You can see the sleep report in your browser. This will contain information about your machine and battery. It will contain a battery drain chart and details of standby sessions. The energy consumed during each session will also be provided.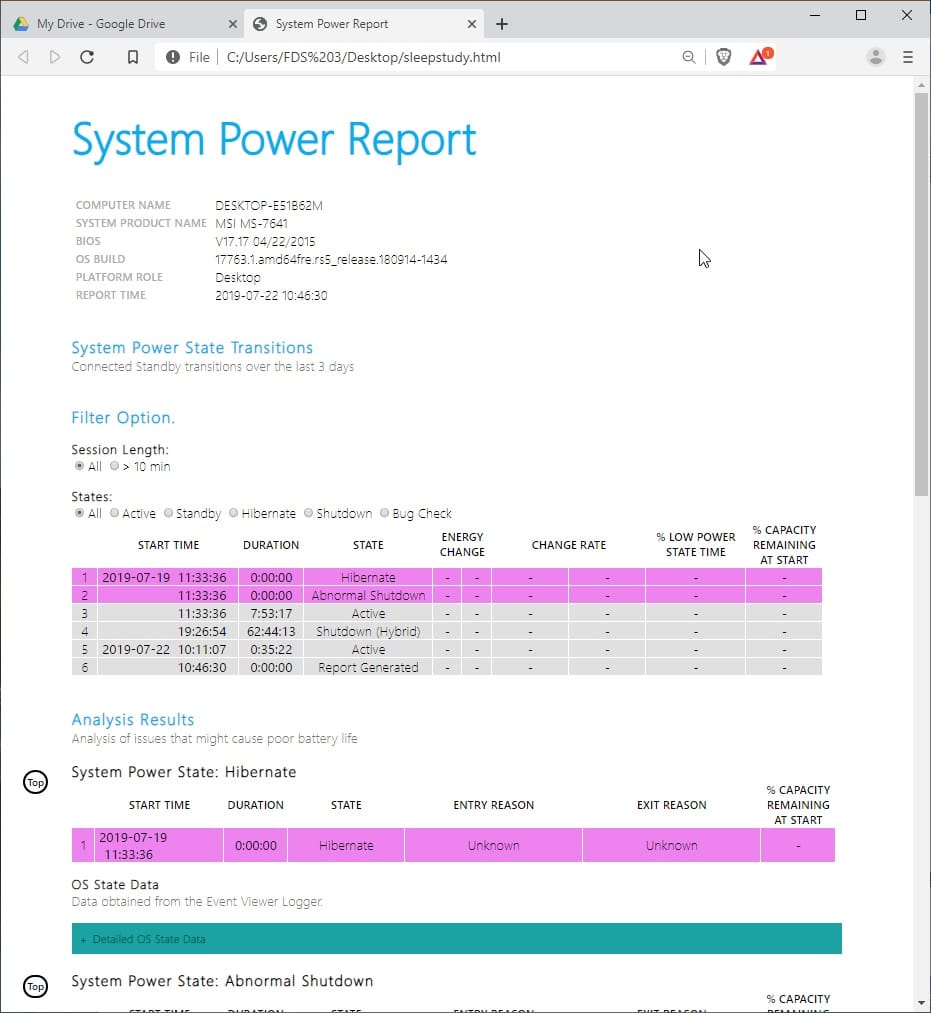 Using the sleep study you can list the top battery-draining apps and interpret them accordingly to monitor what apps affect your system in what way.
Reliability Monitor Statuses:
This tool was first introduced in Windows Vista and has been around since then, but very few people have actually heard of it.
It is a hidden tool that houses a history of your system usage and application failures in a timeline format. It contains an event log of all the errors that occurred during your usage in a given time period.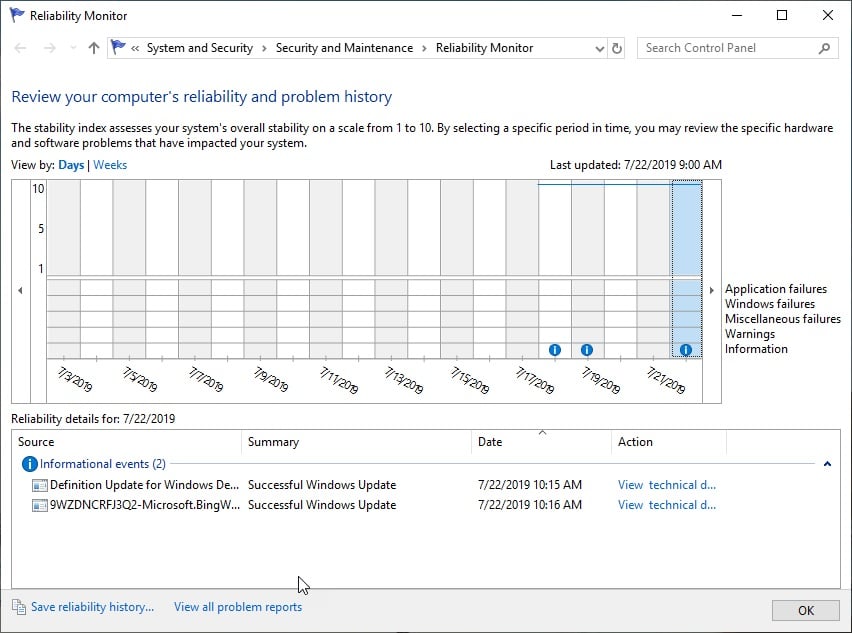 In case your system crashes a lot, you can visit the Reliability monitor by typing reliability history in the search bar. You can check for solutions using the link given in the dialogue window as well.
How To Monitor Wireless Network Health?
Like the Sleep study report, you can also generate a report for the Wireless Network health of your PC in Windows 10.
Here you can see the wireless connection history of your system for the last three days. This report can be used to monitor the upload and download speeds and check where a problem in the network may be arising from.
To make a Wireless Network Health Report, you need to follow these steps:
Open an elevated Command Prompt. Open Run dialogue by pressing Win + R, type cmd and press Ctrl + Shift + Enter to open it in administrator mode.
Type the following command in the input field and press enter:
netsh wlan show wlanreport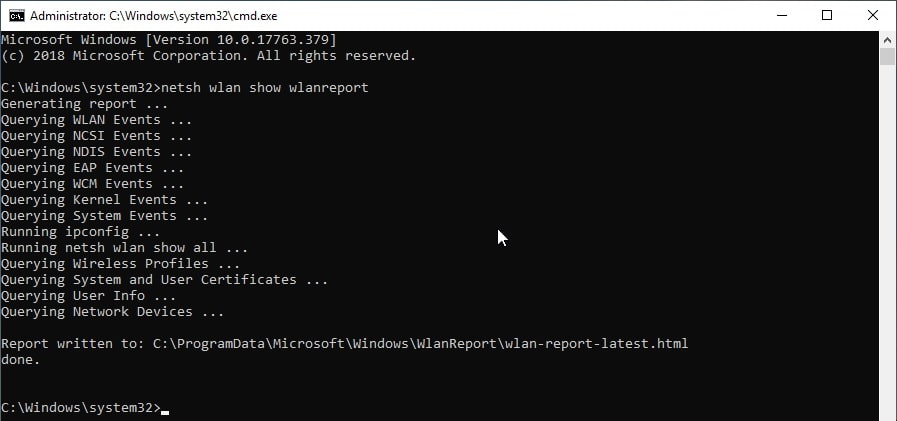 To view this report, you need to open this file from a Run
Open a Run dialogue by Pressing Win + R.
Type the following command and press enter:
       %ProgramData%\Microsoft\Windows\WlanReport\wlan-report-latest.html
This will open the network report in your default web browser.
Note: Alternaively, you can paste here the location of the file written by copying the path displayed in the cmd window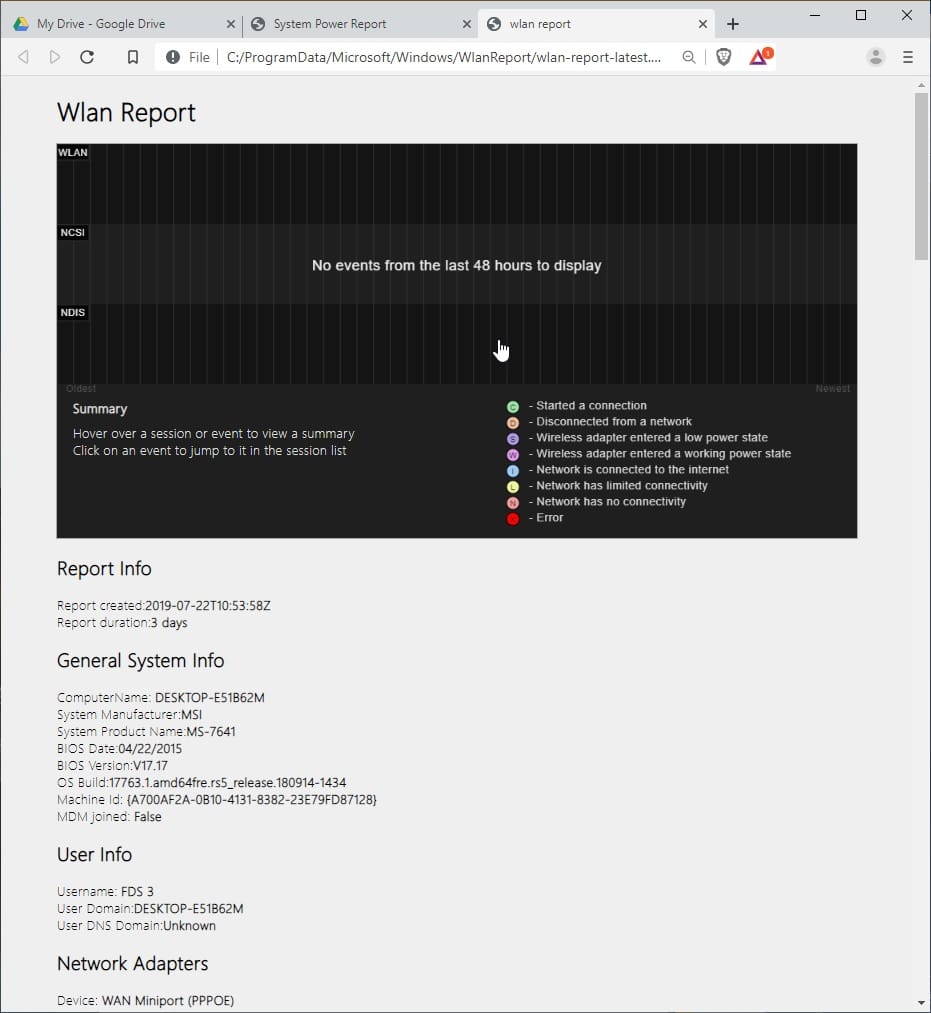 You can take a look at the Disconnect reasons table to understand why your network disconnected. If a driver failed or the network was unavailable, it will be displayed here.
How To Check Hard Drive Health?
If you want to see if there exists an error with your hard drive, you can run an Error Check to scan your disk drive for errors. To run a disk check, follow these steps:
Open File Explorer and navigate to This PC to see the available disk partitions.
Right-click on the disk you want to check and select Properties.
In the Tools tab, click on Check Now under the Error-checking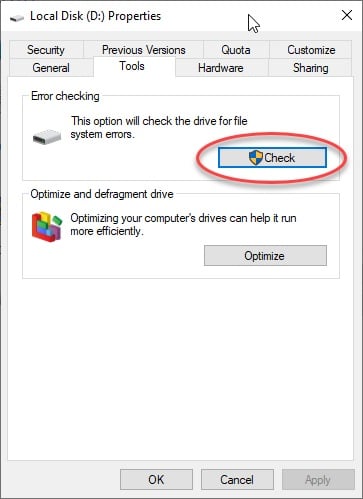 In the dialogue box that opens, select the options that fix the file system errors.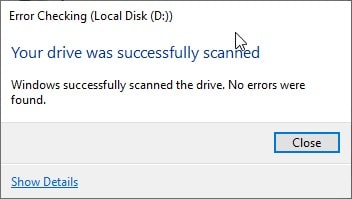 You can use this basic inbuilt tool to find system errors and bad sectors on your HDD. This will let you know if there are any big problems and you can interpret the results to find errors if they exist.
Wrapping up
You must monitor the health of your PC just like you monitor your health, so as to keep your system operational for a long time and for its smooth running. Now you know how to perform a PC health check on your system for any potential errors, and find their fixes or take it to a professional who can repair it if the damage is serious. Do comment below if you find these methods useful, and tell us if you find any issues.