With every new version of Windows, Microsoft tries to incorporate new features into the operating system to make it more convenient for the users. In earlier iterations of Windows, all apps and websites used the same audio input and output channels, which was recently changed to be more customizable.
Here I shall discuss how to change what audio device a program uses for input and output, and how to change audio output for specific programs.
How To Change Audio Output On Windows 10?
Starting with Windows 1803, Microsoft acknowledged the fact that the audio controls within the operating system were limited. To tackle this, they upgraded the volume mixer, and built on that to allow users to control audio input for specific apps and websites.
This is a welcome change, and many users prefer the new touch friendly volume sliders in the Settings app. First, let us take a look at the traditional volume mixer, which is still accessible from the taskbar.
To open the volume mixer, right click on the speaker icon on your taskbar, and select Open Volume mixer from the context menu.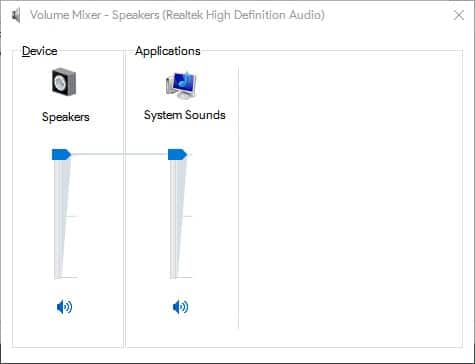 In the volume mixer, simply sliding the volumes for each individual application and website should allow you to control the default output volume for the said app.
How To Change What Audio Device A Program Uses?
Do you have multiple audio output devices connected to your computer? Starting with Windows 10 build 17093, you can change which app uses which audio output device. assigning an application to different sound outputs can be useful if you want to listen to a podcast or lessons via headphones, and music via speakers, or some similar situations.
To change audio output for specific programs, follow these steps:
Open the Settings app using the keyboard shortcut Win + I.
Go to the System section.
From the left pane menu, click on Sound.
Here, you will find the master output and input options. Change the default input and output device from the respective drop-down menus.
Adjust the master volume. This is the volume of the default output device that you selected.
Next, scroll down and click on the following option:
App volume and device preferences
Under the app section in the next window, you will find all the audio sources listed.
Here, adjust the output volume for individual apps.
Select the output and input device using the drop-down menus next to each option.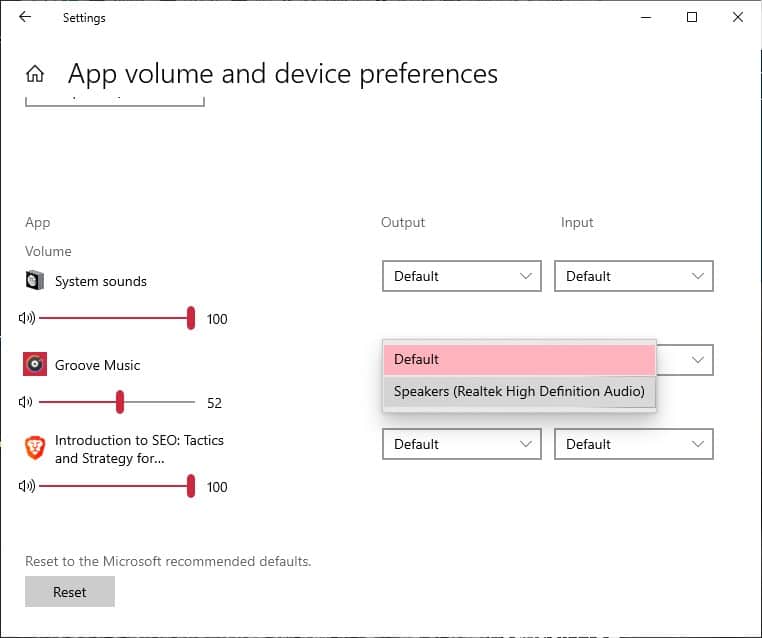 And you are good to go. Your default output and input devices for the individual apps are now set to the values that you set.
Wrapping Up
This new audio settings page is a good addition to the Windows operating system, allowing a multitude of controls and fine tuning the audio settings. So, there you have it. Now you know how to how to change audio output for specific programs on Windows 10 using the new Settings page. Comment below if you found this useful, and to discuss further the same.