After recently updating Windows or Adobe Acrobat on Windows 10 system, many users have reported that their system cannot open PDF files anymore. If you also faced this problem, here I will discuss how to solve Adobe Reader not working in Windows 10 error easily.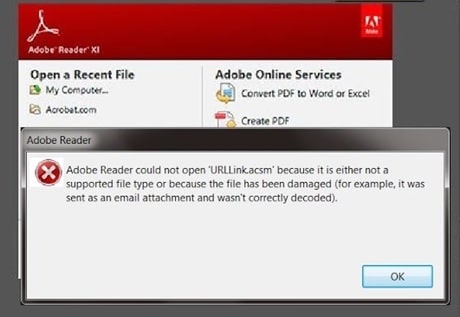 Why I Can't Open PDF In Windows 10?
Many users who upgrade from Windows 7 or 8.1 to Windows 10 for the first time are the most likely targets of this error. The reason this usually happens is because of Sandbox Protections being active. This type of protection blocks the system from opening PDFs by opening the PDF in Protected Mode.
There are other reasons as well for this error to happen. The other common reasons may include:
A damaged or corrupt PDF file
Damaged PDF reader
Reader out of date
PDF created using non-compatible software
How To Fix 'Can't Open PDF' Error?
Now that we have talked about the different reasons that this error can occur; it is time to discuss the various methods that you can deploy to solve this error.
# Solution 1 (Turn Off Sandbox Protection)
The first time Adobe Acrobat or Windows 10 users can suffer from this error. If you are stuck on the gray screen, and Windows or Adobe shows no error message, you may be suffering from this error. You must change the Settings to solve this.
Open Adobe Acrobat reader.
In the menu toolbar, click on Edit.
Click on Preferences.
From the Categories in the left pane, select Security (Enhanced).
Under Sandbox Protections subsection, uncheck the box next to Enable Protected Mode at startup.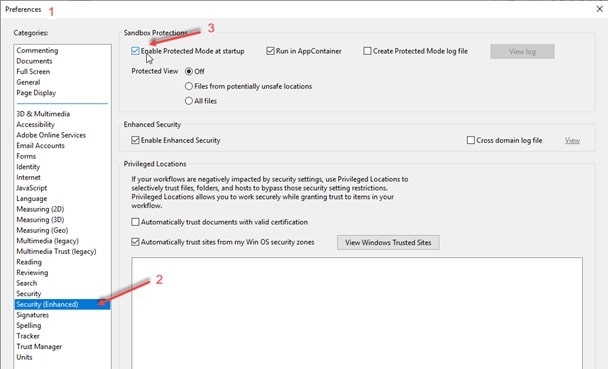 This usually solves the 'PDF won't open' error from the next time you open a PDF file on your system.
If this does not solve your error, there must be some other problem that is causing this error.
# Solution 2 (Check PDF Integrity)
Although this may not be a common problem, it is sometimes responsible for you not being able to open PDFs in Windows 10. The easiest way to check for it is to run another PDF file.
If the other PDF file runs without any problems, chances are the PDF file that didn't run contains some corrupt data. It may not have been completely transferred to the USB device or the server, and that is causing you to not being able to view it.
To solve this, you can ask the sender to send you the file again, or you can try downloading the file again, possibly in a different format.
# Solution 3 (Update Adobe Acrobat)
It is also possible that adobe may have silently pushed an update that you may have missed, or that you may have forgotten to update your applications. Whatever the case, an older version of Adobe Acrobat Reader may be conflicting with your file and causing your 'Adobe reader won't open' PDF files.
The latest security patch update of Adobe Acrobat reader should fix your errors. To update the reader:
Open Adobe Reader.
In the menu toolbar, click on Help.
Click on Check for Updates.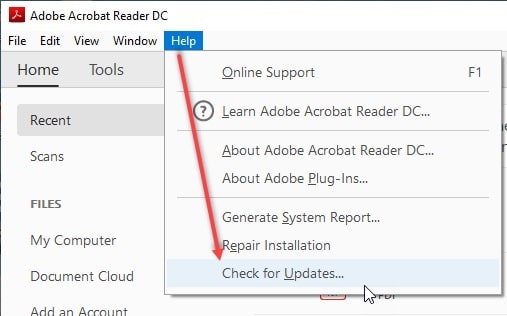 If any updates are pending, the Update is available Dialogue box will open.
Follow the on-screen instructions to update the reader.
Restart your PC following the update.
This should resolve your issue with not being able to view PDFs in Windows 10.
However, if you are on the latest build of Adobe, you may want to follow the next solution.
# Solution 4 (Reinstall PDF Reader)
If the services required for the Adobe Acrobat reader to run properly are damaged or corrupted, chances are that it may not be able to run your files easily.
To resolve this error, next you can try to repair Adobe Acrobat reader using the steps I will mention below.
Open Adobe Reader.
In the menu toolbar, click on Help.
Select Repair Adobe Reader Installation.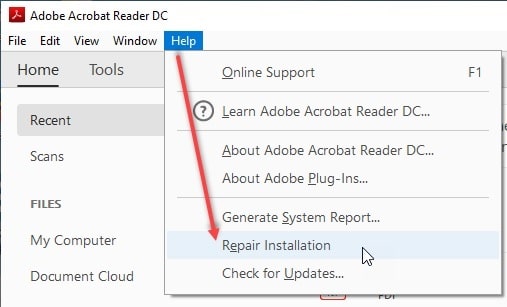 4. Follow the on-screen instructions to repair the installation of Adobe Acrobat reader.
Reinstalling the adobe is a good way to solve any issues with the PDF reader which was probably misbehaving because of any missing or corrupt components. You should be able to normally open the PDF file now.
Tip: Chrome browser has an inbuilt PDF reader that lets you view the PDF file, but does not offer the extensive features that Adobe Acrobat provides. If you wish to just read something in a file, you can use Chrome as your reader.
Simply open Chrome, press Ctrl + O to launch the Open dialogue box and navigate to and select the file you want to open.
Conclusion
Adobe acrobat reader provides extensive features to enrich the viewing of a PDF file. But if you were unable to view the PDF files on your Windows 10 system, now you know how to solve the 'can't open PDF' in Windows 10 using the 4 fixes given above. Do comment below if you have any queries and want to further discuss the same.