Many people still prefer keeping photos and other content on their PCs for viewing and editing purposes, and for this, they get the need to transfer files from their phones to PC regularly. While it is easy to do so on Android, iPhones were a different case some time ago, requiring separate software and loads of other steps.
Nowadays, there are many ways to transfer photos from your iPhone or iPad to your Windows 10 PC. These include many photo management software, Apple mobile device service, etc.
Can't Import Photos From iPhone To Windows 10
Some users have recently reported that they can't import photos from iPhone to PC and get several error messages on their devices. One such error message that users reported get is 'Something went wrong. Your files might not have been imported'.
Here, I shall discuss how you can solve if you can't import photos from iPhone to PC using some easy solutions.
FIXES For "Can't Import Photos From iPhone To PC"
If you see Windows photos not recognizing your iPhone and you cannot import photos onto your PC, here are some simple solutions that you can try to solve this predicament.
Solution 1: Unplug And Connect Again
iPhones have many security features that provide safety from malicious activity online, but these extra layers of security can sometimes make simple tasks difficult to complete. To import your photos and other media on your PC, your iPhone needs to trust your PC, which is usually done through a prompt message on your phone.
If you see Windows photos not recognizing iPhone over a USB connection, follow these steps:
Unplug your device from your computer.
Unlock your iPhone with your passcode.
Next, change the device display timeout to a high setting.
Connect your iPhone again to your PC using the USB cable.
You will see a prompt on your phone. Tap on Trust this Computer on the prompt.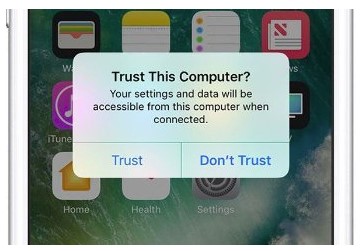 On your PC, open the Photos app.
Click on the Import button near the top right corner of the app.
From the options that pop up, click on From a USB device.

Follow the onscreen instructions to import the photos on your Windows 10 PC.
Solution 2: Check The Physical Connection
There is a chance that there may be something wrong with the physical connection if you do not see your iPhone is detected by your PC. The physical connection includes your USB cable and your ports on both your devices.
Check for any physical damage on your USB cable, and then check for any broken pins on your computer and iPhone ports. If there is damage to either of them, you may not be able to import your data using this setup.
If there is no visible damage, use another USB cable, and use a different computer to import your photos. If there are no problems in importing on another cable or a different computer, the original setup that you were using is faulty and needs to be repaired.
Solution 3: Update Everything
If the solutions given above did not help you, there can be some outdated components that may be the culprit behind you failing to import your photos on your Windows 10 PC.
To solve this, update every related component on your computer, and your iPhone. Check for Windows Update on your computer and install any pending updates. Next, open the Microsoft Store, and install the updates for the Photos application.
On your iPhone, check if there are any pending updates for your operating system, and for the apps (e.g. Gallery) as well.
Reattempt importing after updating all the components on your device. You should be able to import photos from iPhone to PC now.
Solution 4: Reset Location And Privacy
In the trust this computer prompt, if you accidentally selected Don't Trust, the Apple privacy security features may be blocking your imports. For Windows 10 import photos from iPhone, you need to reset your privacy settings. To do so, follow these steps:
Unplug your phone from your computer.
Go to Settings.
Tap on General.
Locate and tap on Reset.
Finally, tap on Reset Location & Privacy.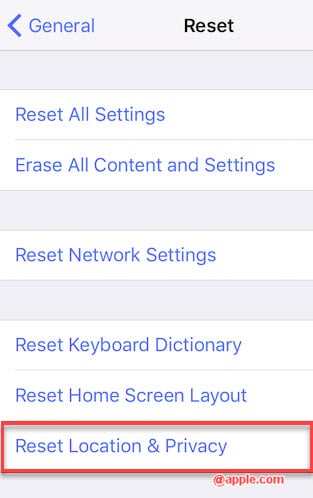 Solution 5: Device Is Unreachable
If you can't import photos from iPhone to PC and get the 'The device is unreachable' error message, you need to change a transfer setting for your Photos app.
Follow these steps if you get the Device is unreachable error message:
On your iPhone, open the Settings
Tap on Photos.
Scroll down and locate the Transfer to Mac or PC
Change this setting to Keep Originals.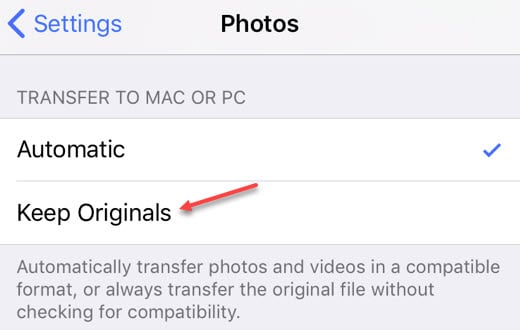 Now try the transfer again, it should complete without any hassles.
Solution 6: Restart The Apple Mobile Device Service
When you install Apple iTunes, a service that gets added in the background is the Apple Mobile Device Service. This process is actually installed to help the iTunes app on your desktop recognize the connected iPhone device.  If this service fails to respond and recognize your device, you need to follow these steps:
Open a Run dialog by pressing Win + R.
Type services.msc and press Enter to launch the Services console.
Locate the Apple Mobile Device Service (AMDS) from the list of available services.
Right-click on AMDS and click on Properties from the drop-down menu.
In the Properties window, under the Startup type section, select Automatic from the drop-down menu.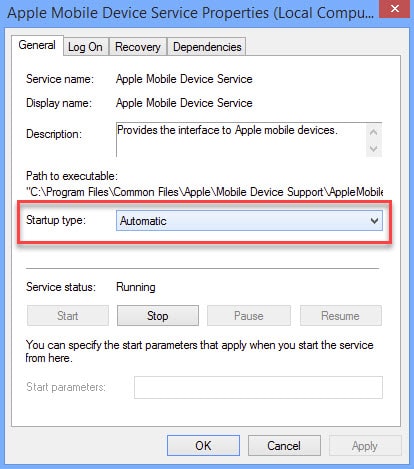 Click the Stop button under Service status and click on OK.
Wait for the service to be stopped, and then right-click on Apple Mobile Device Service again.
Click on Start option from the right-click context menu.
Restart your computer.
Following this, open the iTunes application and import your photos by connecting your iPhone to the computer.
Conclusion
So, there you have it. Now you know how to diagnose and solve the error if you can't import photos from iPhone to PC. Comment below if you found this useful, and to discuss further the same.