Along with the Computer, the peripherals also get regular upgrades. Computer mice also have undergone major changes from a chunky piece to the nowadays modern high-tech mouse.
Now, with their complex development, mice are introduced with separate drivers and updates.
These drivers are prone to get easily affected and you may suddenly encounter Windows 10 can't click anything issue!
In this article, I will give some troubleshooting tips to fix the issue.
Why You Can't Click Anything On Windows 10 ?

You may get stuck in the middle of the work and experience Windows 10 can't click anything issue or meet this problem immediately after booting your system up. Some users tried safe mode but that couldn't help!
When your Windows explorer gets crashed you may encounter this trouble. Sometimes you may see this glitch with your old Windows.
Make sure you check for some faulty keyboard issues or your third-party software for customizing your mouse as these may further trigger the issue.
Let us now focus on some potential helps to sort out the problem and get some quick remedies. 
Solution 1: End And Relaunch Explore.Exe Process
When you find your Windows Explorer got frozen or crashed somehow, end and restart the explorer.exe process to solve the can't click on anything windows 10 problem.
Here I am describing to you the procedure to do so. Follow the steps given below:
Step 1: Open your Task Manager by pressing Ctrl + Shift + Esc keys all at a time.
Step 2: Now choose the Tab button and keep pressing until one process gets selected.
Step 3: Now navigate to find your Windows Explorer. As you cannot use right-click so, press the Shift key and F10 button to get the context menu.
Step 4: Now, with your down arrow key find and select the End Task option.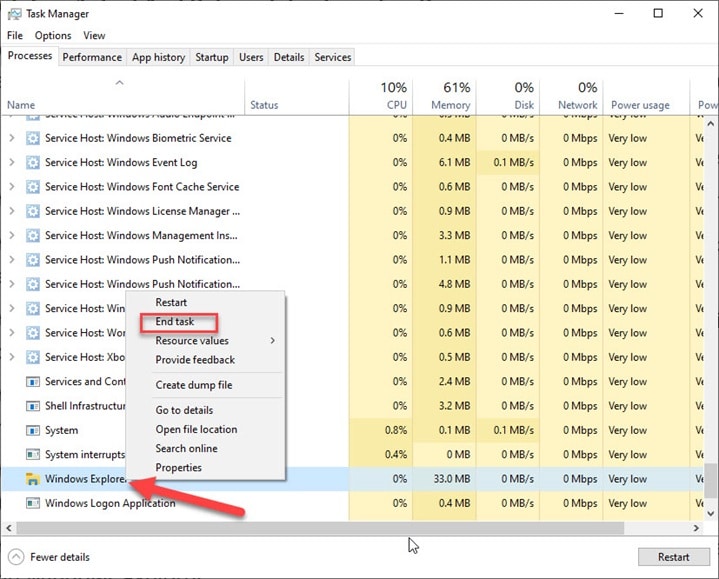 Next hit the Enter button for ending the explorer.exe process.
Step 5: A black screen will appear now and then open the Run dialog box by pressing the Windows key and R button together.
Step 6: In the given box enter explorer.exe and get this will lead you to relaunch the Windows Explorer.
Now use your mouse for clicking and check if the process has addressed the issue.
Read also: 7 Free Windows Explorer Alternatives You Should Know About
Solution 2: Check Your Keyboard
In case your keyboard keys are faulty or broken, it will prevent the mouse to work properly and you will not be able to left-click or right-click.
Sometimes without your knowledge, the spacebar key may get stuck or break and create the can't click anything on a desktop in windows 10 issue.
Try unplugging your keyboard and check whether your mouse is properly functioning now.
In case you find that your mouse is performing well without the keyboard, make sure the problem is with the faulty keys.
Solution 3: Update Your Windows
Updating windows is required to address many problems in the System along with the can't click on the desktop issue.
In case your windows version is old, it may not support your mouse to perform and if you install the pending updates, your mouse may function as before.
You can perform this task quite easily with just a few steps mentioned below:
Step 1: First of all, press the Windows button in case your mouse is not working and then type Update. With the arrow key find Check For Updates.
Step 2: Now with the help of the tab key search and find Download Updates and then press the Enter button.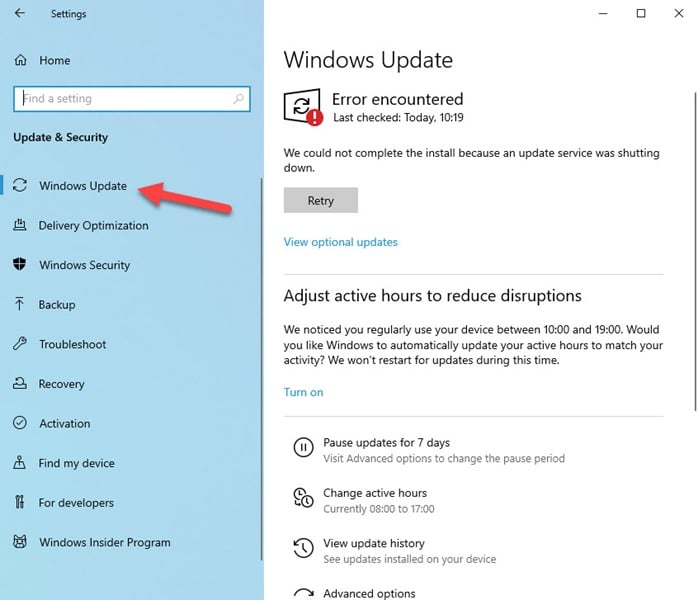 Now, your Windows will proceed to download all the pending updates. Reboot your Windows and after you have rebooted, check whether it has made any improvement.
Many users have reported this process has solved their problem immediately. So, before you try any other remedy, you can give this a try.
Solution 4:  Replace Your Mouse And Check For Any Third-Party Software Issue
Sometimes your mouse may not be in proper working condition. So, just check your mouse by replacing it.
Unplug the mouse you are using and then plug in another one. If you find the second mouse is working well, then make sure that the problem is with your mouse itself.
You may have installed any software for customizing the mouse or your keyboard. This third-party software may raise the issue with your mouse.
For this close an app from your task manager and check by disconnecting and reconnecting the mouse. See if this simple step solves the issue.
Close any apps such as Razer Synapse or other customization software from the Task Manager.
Solution 5: Choose Restore Point
Some users have reported that after they have tried to use a restore point to solve the issue with the mouse, they could successfully solve the issue.
This way the system will get restore to the previous state. Let us now check how to execute the process successfully. Follow the steps mentioned below:
Step 1: When your left-click and right-click are not working, hit the Windows key, and then enter Restore.
Step 2: Now choose the Create A Restore Point option and then press the Enter button. Now, this will lead you to open the System Properties.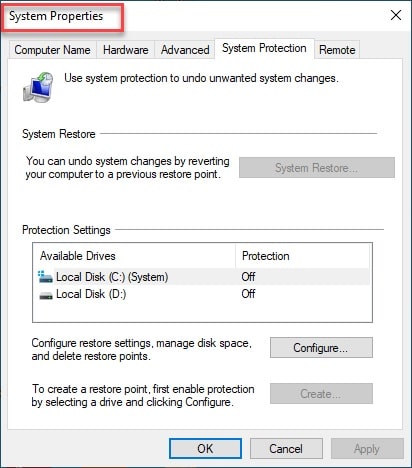 Step 3: Next with the help of the Tab key choose the System Restore option and press Enter.
Step 4: Then find and choose the Recommended To Restore option and with the help of the Tab key, find the Next option and press Enter to execute. Now for finishing the process, choose the Finish option followed by entering.
Now, Windows will get the opportunity of restoring the System to the previous state. Wait patiently till the process gets completed and your system gets a fresh reboot.
When you get confirmation that the process was accomplished check your mouse.
Final Words
So, there you are! Hope you can find a feasible solution when Windows 10 can't click anything. Hope the workarounds have provided has solved the much annoying problem.
You are always welcome with any queries or suggestions. Feel free to let us know if this article has provided you the basic support to solve your issue by commenting in the section below.