You will have seen the M3U8 file format in one of the stream links that provide easy access to a particular stream. M3U stands for Moving Picture Experts Group Audio Layer 3 Uniform Resource Locator (that's a mouthful) and is a computer file format for a multimedia playlist.
While trying to play an M3U8 extension file, some users have reported an error where they get an error message that says cannot load M3U8. Here I shall discuss why you may be getting this error, and how you can solve it.

What Is M3U8 File Format?
As mentioned earlier, M3U8 is a UTF-8 Encoded Playlist file. It is used to create and send playlist files over the internet. Generally, it is used to create a single entry playlist file that is pointing to a stream on the internet. The M3U8 file is a plain text file that specifies the location of one or more media files.
The created file is used to direct apps to play streams over the internet. However, these playlists have been known to be the cause of many vulnerabilities in music player applications like VLC, iTunes, etc.
Why Am I Not Able To Play M3U8 File?
When you receive a .m3u8 file, you need to open it via a music player, or through the web browser. Most users prefer to use web browsers over dedicated applications for various reasons. However, sometimes they are greeted with an error that says, 'Cannot load M3U8: Cross-domain access denied/ 404 not found/ No levels to play.
There are many reasons why you may not be able to play the said file. Some of them include:
Disabled flash is one of the most common reasons why users get this error.
Some users have also reported that disabling third party cookies blocked the device from playing M3U8 files.
M3U8 Cross-domain access denied is known to be caused by an active firewall blocking the file. A firewall will block certain files that may be geo-blocked, or deemed harmful, and you get this error,
Ad blockers are also known to be a cause of this error, as certain links have paywall activated which can prevent sites from loading content.
How To Solve Cannot Load M3U8 Error?
Now that you have some idea about why you may be getting this error, you can build on that and start resolving the M3U8 error.
Solution 1: Enable Through Firewall
If you get the cannot load M3U8 Cross-domain access denied error, it is possibly due to the app not allowed through the firewall. If you absolutely need to access the stream, you can try disabling the firewall to access the video.
For a third party premium antivirus software, turn down the shields for the while you will be watching the stream. If you use Windows Firewall, follow these steps:
In Windows Search, type Firewall.
Locate and click on Allow an app through Windows Firewall.
Locate the app that you use to stream the file. Make sure that it is enabled through both the public and private firewalls.
If it is not, click on the Change settings button at the top.
Check the boxes next to the app under both Private and Public networks.
Close the control panel and restart the app.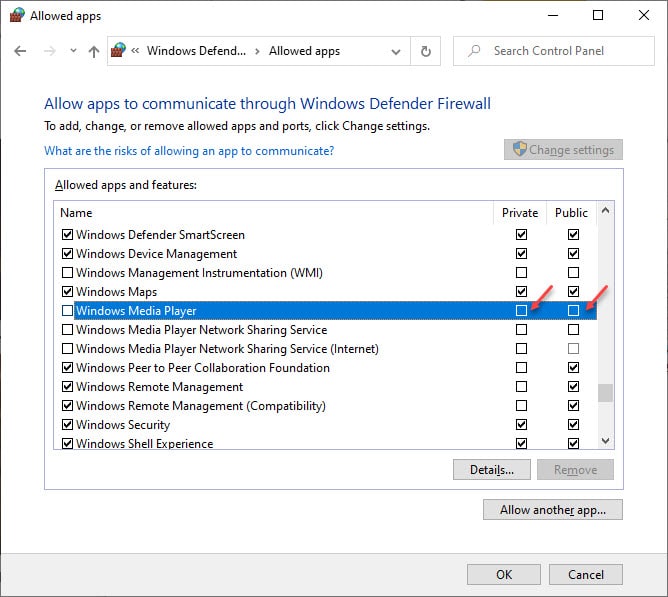 Solution 2: Allow Cookies
In many browsers, due to privacy concerns third party cookies are blocked and not allowed to save data on the computers. This is one of the most common reasons that you cannot load M3U8 videos on your device. You need to allow your browser or your app to save third party cookies onto your device.
In Google Chrome
Open Google Chrome on your device.
Click on the three vertical dots at the top right corner.
Click on Settings from the context menu.
Scroll down and click on Advanced.
Click on Site settings.
Locate and click on Cookies under site settings.
Make sure that the toggle next to 'Block third-party cookies' is turned towards off.
Restart your browser.

In Microsoft Edge
Open Microsoft Edge on your device.
Click on the three horizontal dots at the top right corner.
Click on Settings from the context menu.
Select Privacy & Security from the next pane.
Under Cookies, select "Don't block cookies" from the drop-down menu.
Restart your browser.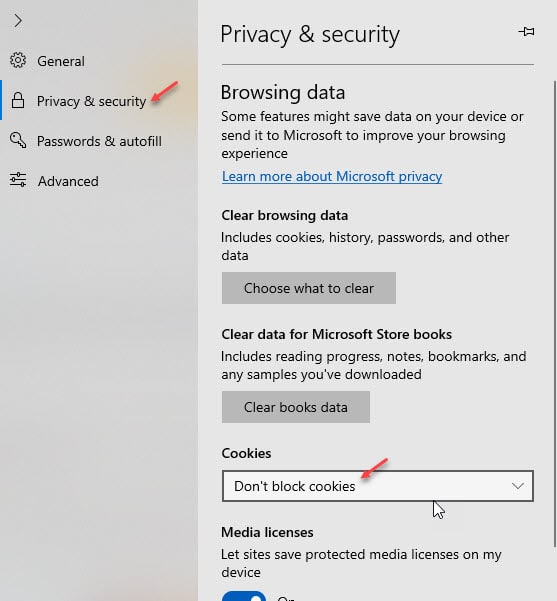 Allowing third-party cookies allows the stream data to be saved onto your device, and eliminating the M3U8 Cross-domain access denied error.
If you still face the error, here are some more fixes that may help you solve the M3U8 error.
Solution 3: Enable Flash For The Website
The M3U8 videos sometimes require Flash to play certain content on their devices. Since Flash players are being phased out, Flash is disabled by default on many browsers. You need to allow Flash in Google Chrome so as to allow the website to play the video on your device.
Open Google Chrome on your device.
Click on the three vertical dots at the top right corner.
Click on Settings from the context menu.
Scroll down and click on Advanced.
Under the Privacy and Security section, click on Site settings.
Under the Permissions section, click on Flash.
If your site is already blocked from playing Flash content, click on the trash icon next to the site name to delete the blocking of Flash content on your website.
If you wish not to block Flash content on your site, turn the toggle towards off next to Block Flash content.

This should allow Flash content to be played on your device, and the M3U8 error should be resolved.
Solution 4: Remove Ad Blockers
The AdBlocker extension installed on your browser may be blocking you from seeing your favorite media by blocking the stream playlist file.
Some websites actually have a protocol installed on their web page that prevents playing the data unless all the advertisements are loaded completely. This can be seen on many websites that depend on on-site revenue generation for their survival.
If you have AdBlock installed on your browser, the AdBlock will trigger the paywall protocol, and you will get the Cross-domain access denied error. This will hamper your media consumption experience. If you know another source that has the same video that you are trying to load, you can view the video from there. If not, you need to turn off all the ad blockers that you have on your browser to load that video.
Example: if you are using AdBlock Plus on Google Chrome,
Navigate to the website that is not playing your desired media content.
Click on the hamburger menu icon on the top right corner.
Click on the AdBlock icon in the Options context menu.
You will see that the Power button is blue, meaning that AdBlock Plus is enabled. Click on the Power button and the extension will be disabled for the website you are on.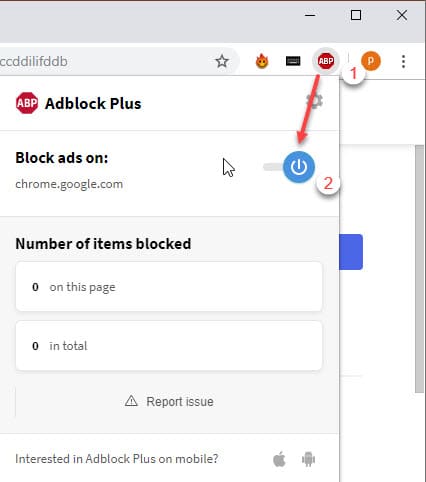 Now try if you are able to watch the stream, you can confirm that the problem was caused by an AdBlock issue.
Solution 5: Remove Browsing Data
The cache is the data stored on your device by various websites, to load data from them faster the next time you load the website. However, sometimes a mismatched cache data can cause all sorts of errors, and this error is one of them. To solve your cannot load M3U8 error; clear all your browsing data like cookies and cached images and files.
To clear Google Chrome data, press the Ctrl + Shift + Delete in a new tab to open the Clear browsing data dialog box. Here select All time from the Time range drop-down menu. Then select Clear data.
Note: This shortcut works on many other browsers like Mozilla Firefox and Microsoft Edge as well.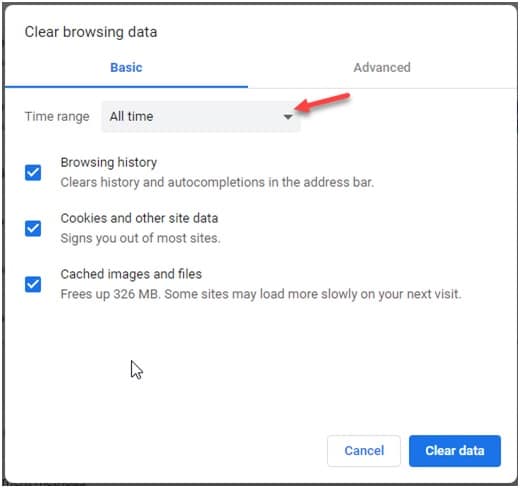 Wrapping Up
So there you have it. Now you know how to solve the 'cannot load M3U8' error message using one or a combination of the solutions provided here. Tell us in the comments how you solved this error on your device.