"Recently, while cleaning up our computer before installing a new hard drive, we discovered a folder in C:\Program Files called rempl. So, what is this and can you delete it?"
Windows 10 is a fairly complex operating system, with many processes running in the background making it perform normally on your computer. Many new things were introduced with Windows 10, including a new component store, a new file formatting system, etc.
You may have come across the REMPL folder in Windows 10 file explorer, in the Program files folder. Read here to find out more about the REMPL folder, and if you can delete it from your system.
What Is The REMPL Folder?
The program files REMPL folder contains some important configuration files needed for Windows 10 to run normally and keep itself updated. You must have come across the Windows update troubleshooter if Windows components did not update themselves.
The REMPL folder contains these files and folders, which are used by Windows 10 updates to make sure that any recent updates released by Microsoft for your system are installed on your PC without any error messages. Under this folder, you may find many important components like:
disktoast.exe
REMPL.xml
Remsh.exe
WaaSMedic.exe
SedLauncher.exe
Logs folder
These files are digitally signed by Microsoft, confirming that these are authentic Windows update files. If you wish to read more about Update reliability, here is a lengthy explanation from Microsoft.
This folder is found only on a few select Windows 10 systems, and only on those PCs that have reported troubles updating their system to the latest build. When you report issues updating Widows 10, the troubleshooter is automatically downloaded onto your device, which then scans your device for any potential issues that are causing the update to fail and attempts to fix it.
Is The REMPL Folder A Virus?
As mentioned before, the REMPL folder contains the necessary components required to update Windows on devices that have trouble updating Windows normally. It is not a virus, and the files in this folder are part of the Microsoft reliability updates.
Can I Delete The REMPL Folder? Will It Damage My System?
The size of the folder is around 30 MB, which can increase slightly depending on the contents of the Logs folder. In short, you can delete the REMPL folder if you want.
To check for any repercussions that this may cause, we tried the following:
First, we removed the REMPL folder on a virtual Windows 10 machine and then tried updating Windows to check for any errors.
When we rebooted Windows, the folder was still absent, and Windows updates worked normally.
However, since there are no feature updates nearby, it is difficult to tell if Windows will download this folder again. Deleting this folder caused no harm to the device, but you may want to keep this folder on your PC if you get the news that any major Windows 10 feature update is approaching.
How To Delete The REMPL Folder?
To delete this folder, you need to remove the scheduled task folder as well before removing the folder from your device. Follow these steps to delete the REMPL folder on your device:
Open Windows search by using the keyboard shortcut Win + S.
Type task scheduler, and click on the appropriate search result from the displayed menu.
In the left-most pane, follow the path as mentioned below to go to the REMPL folder:
Task Scheduler Library > Microsoft > Windows > rempl
In the middle pane, locate and click on the shell task to select the task.
From the right pane, click on the delete option to delete the task.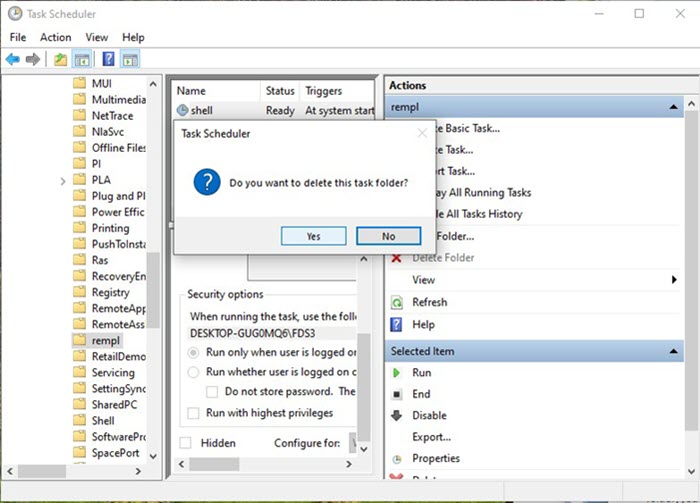 Now, go to the following folder:
C:\Program Files\
Here, locate the REMPL folder, and delete it permanently from your device.
Note: You will require administrative control over your PC for deleting this folder.
Wrapping Up
So there you have it. Now you know what REMPL folder is, and how to delete it using the steps provided here. Comment below if you found this useful, and to discuss further the same.