Storage is one of the most important components that users think about when buying a new computer. With SSDs getting cheaper, users now have the option to go for much faster solid-state drives for relatively less cost. This also means that users can afford to install much higher capacities of storage on their computers.
However, many users are reporting that their C:\ drive keeps filling up for no reason on Windows 10. Here I will discuss why your hard drive keeps filling up and how you can solve this error on your device. Once you have tried this method you can also try boot time defrag which will help to keep the bloat away and speed up your computer.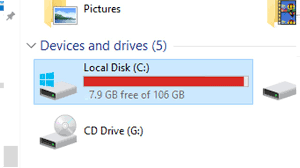 Why Does My Hard Drive Keep Filling Up?
Windows 10 is a multi-layered system software. There are many components that operate together in order to make it work properly for the user. There are many processes that the user does not even have to bother looking at, before using it. When so many components work together, some of these can go wrong from time to time.
There can be many reasons that your storage device can keep filling up for no reason. Take a look at the list of potential reasons why can be Windows 10 hard drives full for no reason.
The most likely suspect is a lingering virus or malware. These malicious files can be programmed to multiply upon certain input from the user, and these can be the reason that your device shows up full.
A faulty Windows Component Store (WinSxS) folder can also be the reason that you see this error on your Windows 10 device.
Many System Restore files are also responsible for eating up precious system storage.
When you install and uninstall multiple files, the temporary files are stored on your device for these applications, some of which may not be removed automatically. These temporary files can take storage as well.
Sometimes, your storage can be corrupted. There are no particular reasons that this can be blamed on, but corrupted storage can be misread and your drive may be shown as full.
By default, system-level files and other important files are set to be hidden to prevent unnecessary user interference with necessary components. These files can also take up space, and clog your storage.
SOLVED: C:\ Drive Keeps Filling Up
If you too suffer from Windows 10 hard drive full without reason, here are some of the known working solutions that you can apply to clear up some space on your hard drive.
FIX 1: Try Clearing Up Some Space With Third-Party Junk Cleaners
First, try freeing up some space with the help of third party junk cleaners like CCleaner and Treesize.  Run a full system scan to analyze the disk space and check for any broken .dll files and missing extensions. These files contribute to taking up a lot of system storage and hence, maybe the reason why your hard drive keeps filling up.
FIX 2: Run A Full Malware Scan
If freeing up your system storage did not help you, there is very likely a virus or malware that is causing this error on your device. Infected systems are known to run out of storage, and the user generally has no idea why and where the storage is being used up.
If you do not wish to invest in third party premium antivirus software, you can opt from a host of free antivirus like Avast free antivirus, and anti-malware like Malwarebytes. Run a full scan, and delete any infected files.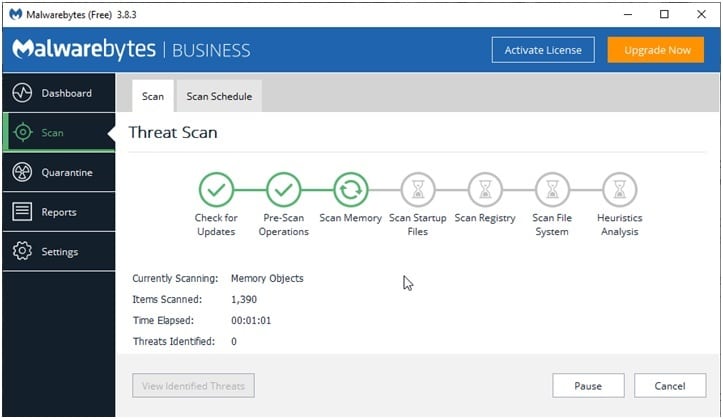 You should see a significant increase in the storage space available.
However, if you see that there are no virus and malware on your device, or removing these files also did not free up storage, you can follow some other fixes, which may help you solve your hard drive keeps filling up error.
FIX 3: WinSxS Cleanup
The Windows Component Store or the WinSxS folder contains the files and folders required to keep your Windows running and updated. You cannot delete it outright, but you can check our guide here 'How to perform WinSxS Cleanup'.
FIX 4: Turn Off Hibernation Settings
Many users prefer hibernating to shutdown. When you hibernate your system, it takes a snapshot of the system files and drivers and saves them before shutting down your system. This allows your system to boot up faster and in the exact state that you left it in.
When hibernate is enabled, it reserves some of your disk space to save the hiberfil.sys file, the size of which is directly proportional to the size of your RAM. This file if not deleted properly, can take up some system storage space. You can disable the 'hibernate' feature to delete this misbehaving file.
Open an elevated Command Prompt. To do so, open a Run dialog by pressing Win + R. Type cmd and press Ctrl + Shift + Enter to launch Command Prompt with administrative privileges.
Type the following command and press Enter to turn off the hibernate feature:
powercfg.exe /hibernate off
Close the command window.

FIX 5: Disk Cleanup For All Partitions
You can use the disk cleanup tool provided alongside Windows to perform a system-level cleaning. Repeat this for all the partitions to clean up system files efficiently.
In the start menu, search for disk cleanup and select the app from results.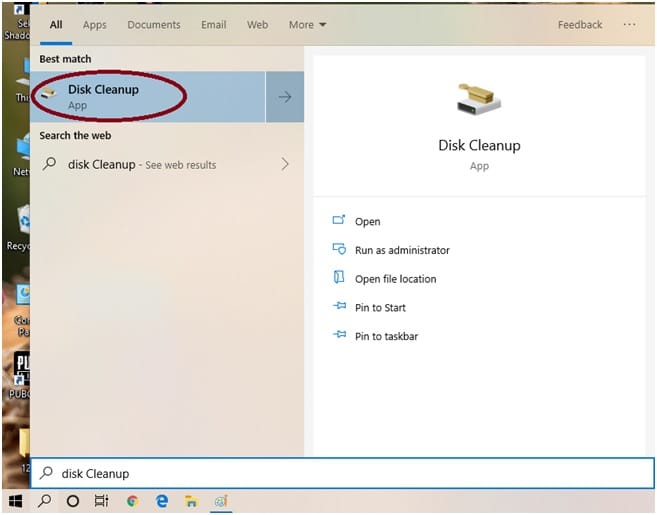 Choose the directory where you placed the folder in the open dialogue box. If you have not changed it, then choose (C :\) and click OK.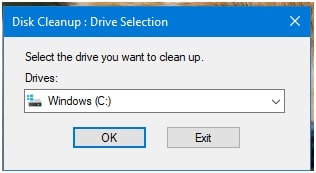 In the following box, select the files you do not need any more from the 'Files to delete'
In case you need additional space, select Clean-up system files. Choose the files you do not want anymore and click OK.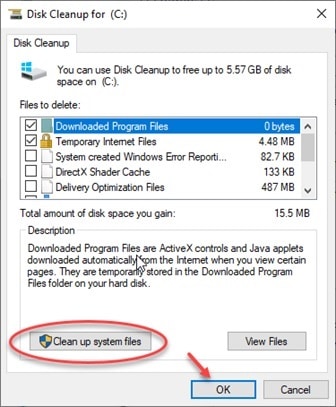 After a final prompt to select the drive you want to clean-up, the clean process will start.
Performing the disk clean up will delete the unnecessary system files and the temporary files on your system, thereby providing you some important disk space in case you are running short on it.
FIX 6: Manage System Restore Points
Too many system restore points can also take up system storage space. If you have created the latest system restore point that is working fine, you may consider deleting the older ones to free up some space.
Right-click on This PC desktop icon.
From the context menu, select Properties.
From the left side ribbon, click on System Protection.
A mini window will open with the System Protection tab marked.
Here, click on Configure.
Under the Disk Space Usage section, click on Delete to delete the created System restore points.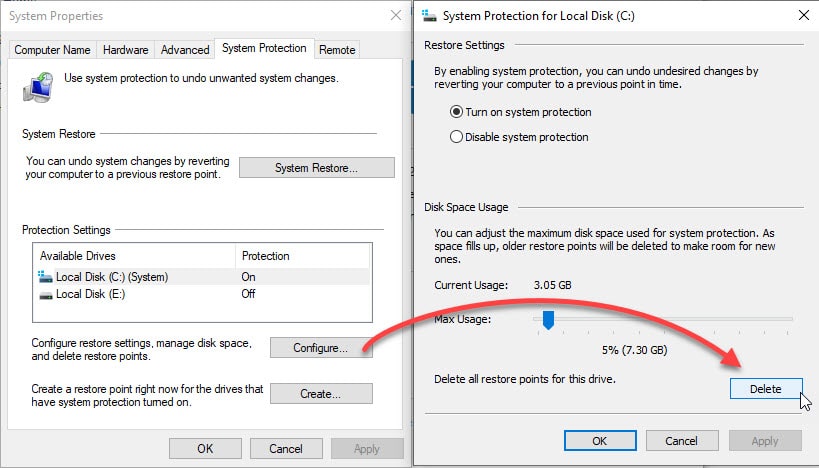 Wrapping Up
So there you have it. If your hard drive keeps filling up for no reason as well, now you know how to solve "C:\ drive keeps filling up" using one or a combination of the fixes given above. Tell us which method helped you in the comments below.