Firefox is a free and open-source web browser available for multiple platforms. It is a feature-rich web browser that brings many new attributes well ahead of its time that is very useful to its users. Here I will discuss how to bookmark multiple tabs in Firefox.
The Need To Bookmark Multiple Tabs
Let's imagine a scenario where you are working on a project and are citing information from multiple sources open on multiple tabs in the browser of your choice, and you need to take a break. It would be feasible if you had the option to bookmark all the tabs so that they would be in reach the next time you log on to your computer and go to the same websites.
Bookmark Multiple Tabs In Firefox Browser
In earlier versions of Firefox, there was a direct button in the right-click context menu that said Bookmark Tabs. This was, however, removed from Firefox in version update 64, and a new method was added to bookmark multiple tabs in Firefox. Now you can see a Bookmark Tab button that will add a bookmark for the active tab.
So how do we bookmark multiple tabs in Firefox now?
You have to select multiple tabs that you wish to bookmark and then bookmark them.
There are two methods to select multiple tabs in Firefox:
To select multiple tabs out of a whole bunch of other tabs, you can use the same combination that you use to select multiple files in Windows File Explorer.
You can use Ctrl + Click to select more than one individual tabs. Simply press and hold the Ctrl key and click on the tabs that you wish to bookmark to select multiple tabs in Mozilla Firefox.
You can use Shift + Click to select an array of tabs in order. Select the first tab in the range, press and hold the Shift key, and click on the last tab of the range of tabs that you wish to bookmark in Mozilla Firefox.
2. To select all the tabs, open in a window of the Firefox browser, you need to use the context menu.
In an already open tab, right-click on the tab to open the context menu.
Now select "Select All Tabs" to highlight all the tabs open in the Firefox window.
Note: you can see the tabs become grey in color that indicates that the tabs are selected by you.
After you have selected the tabs you want to bookmark, right-click again on the tab to display the context menu. Here, select Bookmark Tabs.
This will bring up a New Bookmarks dialog box.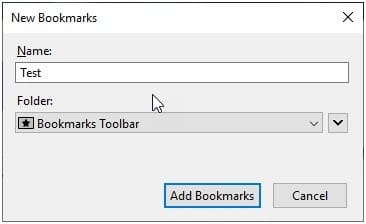 Here, you need to enter the Folder under which they will be stored, and the location as well.
That's it. You have added multiple tabs to a new bookmarks folder in Mozilla Firefox.
Bookmark Multiple Tabs In Google Chrome
There is no easy option to bookmark only a select handful of tabs in Google Chrome. You can, however, bookmark all tabs in a window. Simply right-click on a tab to reveal the context menu, and select Bookmark all tabs.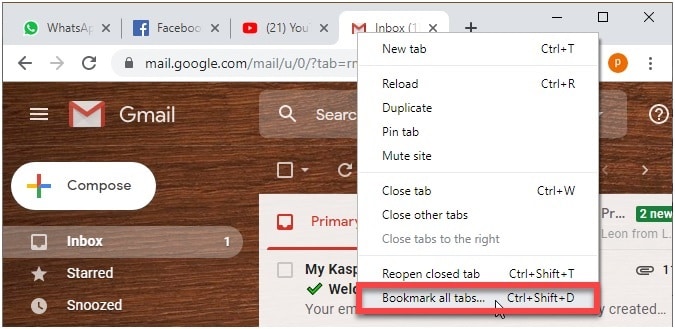 Next, add the name and location of the folder that you want to put these bookmarks in, and click on Create.
Conclusion
Many users use the bookmarks feature in their browsers for quick access to their favorite websites whenever they open the browser. But if you wished to bookmark multiple tabs in Firefox, now you how to do so using the method given above. Did you find this post useful? Comment below to let us know, and to discuss further the same.