The most beloved feature of Windows XP was probably the Windows Media Center. It was the perfect application for centralized viewing and managing all the media within one app. It had excellent support for a wide variety of media playback and could handle DVD and Blu-Ray files with ease.
It was best known for its support of TV tuners which would make it of great use for recording HDTV. It worked as a true entertainment system and efficiently played DVD, Video, music, and online streaming.
Note: But with Windows 8, you needed to buy a premium edition of Windows Media Center and with Windows 10 it was completely removed. The Windows 7 edition will not be supported after January 2020 and the Windows 8 edition will end support probably in January 2023.
Top List Of Windows Media Center Replacements
If you run Windows 10, the native Films and Video player handles basic video content well. But if you want the same functionality that Windows Media Center provided, you need to look for alternatives. Here is a list of top free Windows Media Center replacements that you need to know about.
1) Stremio
Stremio is a rather new Media Center alternative that is making rounds for how easy it is to use and a wide variety of functionality it provides. It does not claim to enhance your streaming experience, but it improves the HTPC experience.
There are three main features of Stremio: Streaming, Search and Library. The instant streaming feature offers links to external sites where you can stream from, real-time Torrent streaming option.
Upon installing the Stremio client software (available for Windows, iOS, and Android) from their website, you will be prompted to create an account. You can choose to create a guest account for your local device as well, but the libraries won't be saved online.
After you have successfully created an account, you will be presented with the discover page that has movies, TV shows, YouTube channels, and TV channels you can explore through.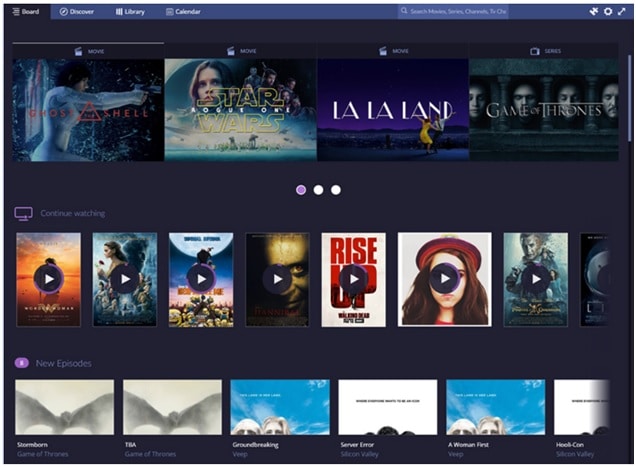 The add-ons feature is a very useful feature that takes streaming to a whole new level. There are add-ons available for different purposes like viewing TV, YouTube, public domain movie steaming. The Stremio community regularly adds and updates its add-ons that include Popcorn time, Piratebay Torrents, Juan Carlos Torrents, etc. with the various add-ons available, you can watch live TV, record HDTV, stream movie torrents, read IMDB reviews, etc.
Locally available media management is not the main focus of Stremio, but it does a fine job there too. You need to drag and drop a file to play which can be annoying. But use it as a streaming center to collect and view content from various sources like Netflix, Amazon, and Hulu.
Download : https://www.stremio.com/
2) Kodi
This is a very popular choice among many users. It was originally called the Xbox Media Center (XBMC), and started as a media center hack for the first Xbox, and was later released as a full media center app for Windows and Linux. It is available for Android as well.
A very handy feature of Kodi is the customizability it offers with a vast number of skins and plug-ins available that extend the functionality. If you don't like the default UI, you can change it to the way you want to very easily.
This also a very potent media center app that can manage local media as well as online media very well. It can play videos, music, and photos, as it has support for almost all media file types.
It is completely free and open-sourced; hence you won't have to worry about the support running out. The enormous developer community has also managed to develop many add-ons that take functionality to a whole new level.
There are many add-ons that provide integration to various services, applications, and scripts. You can also find insights on how to best utilize Kodi from the community.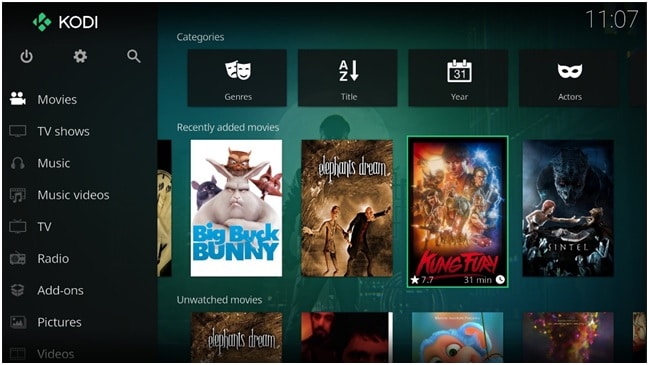 If you are looking for a media center alternative that handles local files as well as online content well, you may want to try Kodi as a Windows Media Center replacement.
Download: https://kodi.tv/
3) 5K player
5k player is a Media Center replacement that targets enhancing the video playback experience. If you are looking for a media player that can handle all your movies and audio, you may want to give 5K player a try.
You can download 5K player for free from their website, but you need to free register with your email address to use all its features. You will get a license code in your email that enables its features.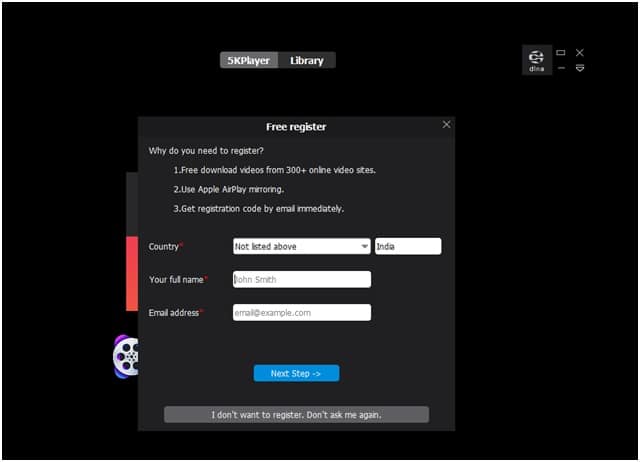 5K player comes with many enhancements to enhance media perception. It can seamlessly handle 4K UHD videos without any color banding or noise distortion issues. It can also handle almost all audio formats as well. You can also play DVDs on your computer with the DVD feature which was a popular feature in the Windows Media Center.
The most famous feature of 5K player is the video downloading feature. It now supports over 200 websites, so you can download video and audio files from YouTube, Facebook, Vimeo, Soundcloud, etc. it also features an inbuilt video converter that enables you to download audio from an originally video source.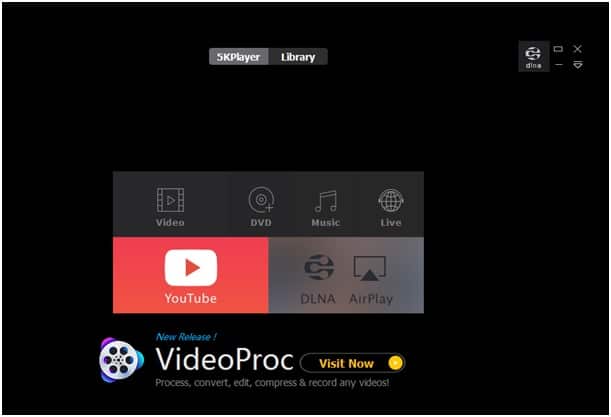 With the rising popularity of internet radio, you can use 5K player to stream internet radio. You have to choose from one of the presets available, or manually enter the stream URL if you don't find the channel you have been looking for in the presets.
5K player comes with many features that you won't find on other apps and will improve your overall media consumption experience.
Download: https://www.5kplayer.com/
4) Plex
Plex is another very well known Media Center replacement that has been around for a long time now. It is a media streaming server application that comprises of two parts; i) Plex media Server and ii) Plex media center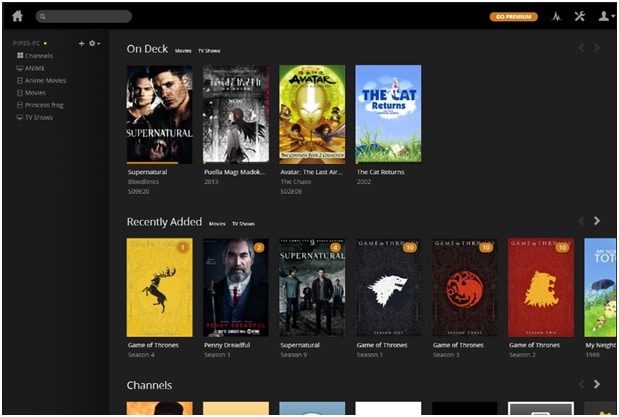 Plex makes synchronizing media libraries over all your devices much more convenient. You need to designate one PC as a media server that will host your files, and you can use that server to access and play that media across other devices that you own.
It is an excellent choice if you want to bring together all your media collection into a single interface for very easy access. You can add posters, list of actors and plot summaries to your series and movies.
It also has a wide collection of songs and podcasts that you can access from within the app. It has the support and can play nearly any type of file you want to, and it can display images too.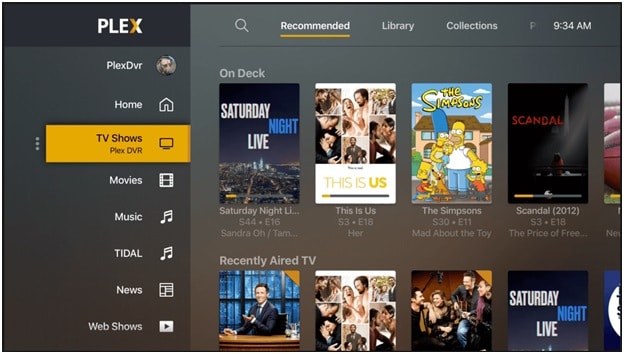 There is one feature that plex lacks, that is Live TV recording. For that, you need to pay for a premium pass for $5/month or $40/year. The pass also includes premium photos and music, automatic lyrics, multi-user support, and mobile syncing.
 Download: https://www.plex.tv/
5) MediaPortal
MediaPortal is also an open source Windows Media Center alternative that comes with a lot of features. It has a 10ft UI that resembles the TV interface you may be familiar with.
MediaPortal supports all the different type of TV tuners including analog, ATSC, DVB-C/T/S, etc. you can perform a lot of actions using media portal.
You can pause and rewind live TV, and record with many options that come including scheduled recording. You won't miss a program with this app in hand.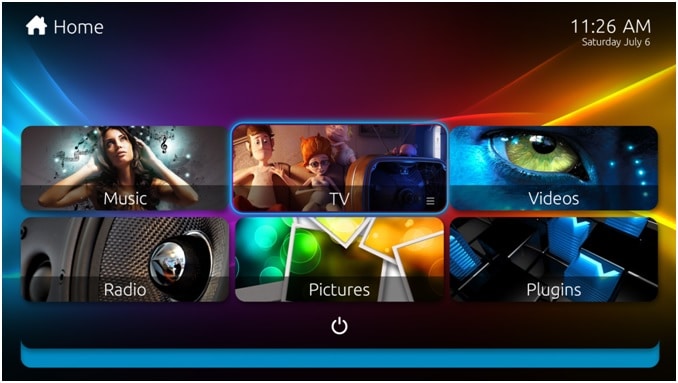 MediaPortal also has a native media player that is very useful if you want to play your local files along with streaming using a TV tuner. It can play DVD with the native DVD player as well.
You can also use the native media player to play movies, audio, and images; as it has support for nearly all media types. There is also a native radio module that can play FM radio, DVB or internet radio as well.
With the added support of plug-in and availability for Windows 10 and below, MediaPortal is a very capable media center alternative that you can try.
Download: https://www.team-mediaportal.com/
Conclusion
So there you have it. If you were disappointed that Windows removed the Media Center, you can find a suitable replacement for Windows Media Center using the list given above. Did you find any of these apps useful? Comment below if you did or want to use an app from this list.