If you have been on the internet, you must have at least once heard of torrents. Torrents are basically a peer-to-peer network, used to share content via these networks. The idea behind torrents is that files will be shared via all the "seeds" on the network, and not from a centralized server that will store and maintain data.
If you have once used torrent clients, you will already know how to add torrents and download them using your preferred torrent client. Sometimes you may see the download speeds fluctuating at times. Here I will discuss the best uTorrent settings to make it faster.
Best uTorrent Settings For A Faster Download Speed
Here I will now share some common settings that you can change in your torrent client to gain faster speeds and better optimize your downloads. Check these settings and apply one or a combination of these, to get better download and upload speeds on your system.
Setting 1: Bandwidth Settings
The bandwidth is the measure of the maximum amount of data that can be transmitted over a second from one point to another over a wireless or wired network connection. In short, it is your network speed.
Before making any changes to your uTorrent bandwidth settings, know the current bandwidth your network has. You can find this information from your Internet Service Provider or run an online speed test.
uTorrent has an inbuilt tool to check and allocate your bandwidth and network settings automatically. Press Ctrl + G to launch the Setup Guide. Check the nearest server and click on Run Tests.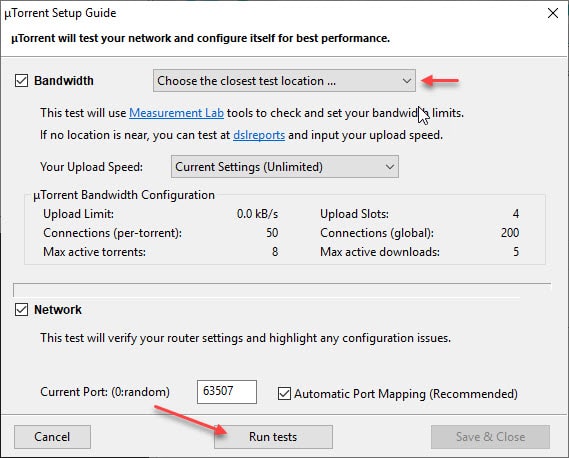 If there is no server near you, you can run an online test or get the information from your ISP.
Open Preferences by pressing Ctrl + P keyboard shortcut, head over to Bandwidth from the left menu pane.
Here enter the Maximum upload rate and Maximum download rate in kBps according to your network speeds.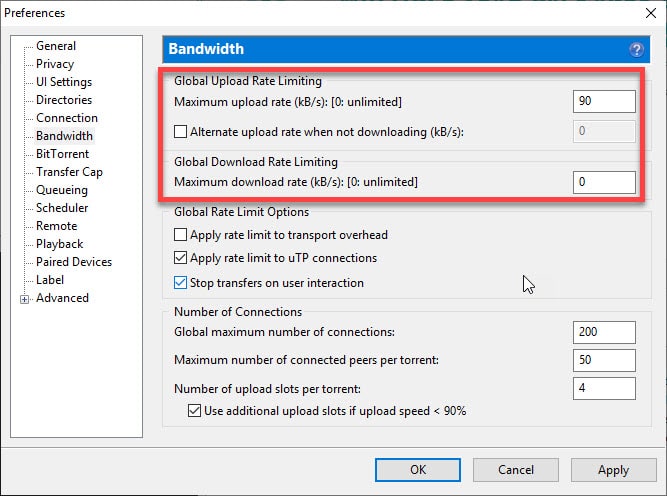 Having unlimited upload speeds do not affect download speeds as such. However, limiting your upload speeds too much will affect the mutual balance shares, and in turn, reduce your download speeds. The TCP acknowledgment packets will be delayed and get lost, reducing your download speeds.
If you are on limited network capacity, you can limit your upload speeds to facilitate the download speeds on your device.
Setting 2: Pre-Allocate Files
Here is another setting that you can change to pre-allocate files when downloading. To change the settings, follow these steps:
Open uTorrent client on your system.
Open Preferences by pressing Ctrl + P.
Under the General tab, go to the When Downloading
Here, tick the boxes next to 'Append !ut to incomplete files' and 'Pre-allocate all files'.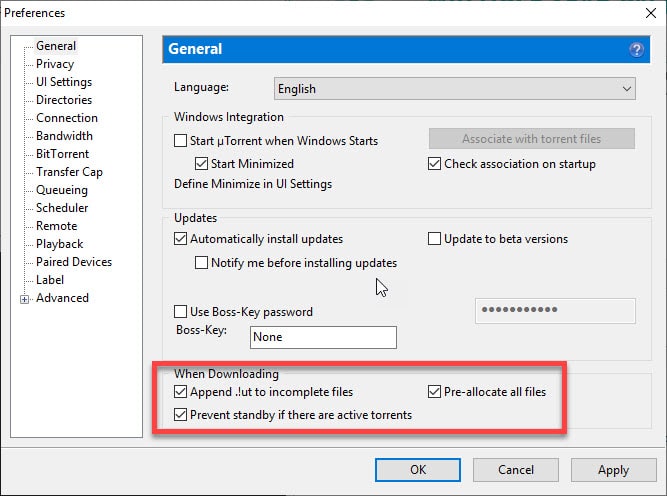 Setting 3: Change Queue Settings And Number Of Connections
If you prefer downloading many files using your torrent client, you must have set maximum active downloads to a higher number. However, you must understand that the download bandwidth is divided among all the active downloads in your client.
The downloads will finish faster if all the bandwidth is allocated to one or two downloads at a time. You can change the maximum number of active downloads from within uTorrent as well.
Open uTorrent client on your system.
Open Preferences by pressing Ctrl + P.
Under the Queueing tab, change the queueing settings to change the number of active downloads. Change the values next to these as follows:

Maximum number of active torrents (upload or download) to 4
Maximum number of active downloads to 2
Minimum ratio (%) to 150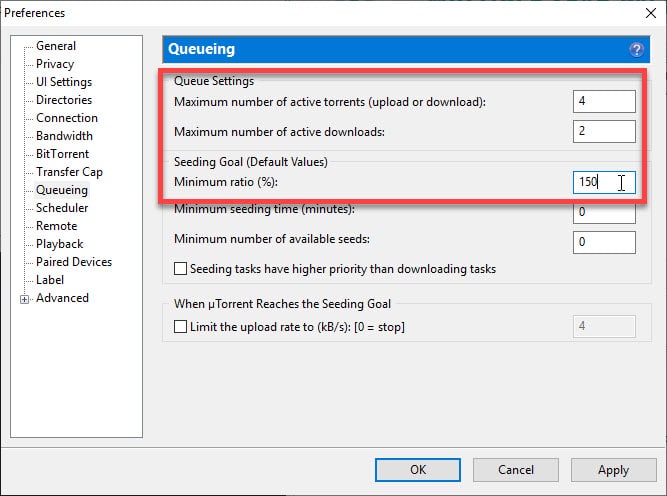 4. Restart your torrent client for the settings changes to take effect.
Setting 4: Torrent Allocations And Health
You must have come across the terms seeders, peers and leechers when it comes to torrenting. In short, the users who share the file are called seeders, the users downloading them are peers and the users downloading without uploading or seeding are called leechers.
Knowing what these terms mean is actually very important. A good torrent file will always have better health and provide better download speeds if it has more seeders than leechers. When downloading, make sure that the torrent link you are downloading has more seeders than peers and leechers.
Seedless or dead torrents will take a lot of time to download, and may not download at all.
If you have more than one torrent file downloading, you can allocate one file more bandwidth that you need to be downloaded quicker. This way you can prioritize downloads according to your needs. To allocate download more bandwidth, follow these steps:
On the Torrents tab that lists your downloads, right-click on any active download.
From the context menu that opens, hover over Bandwidth Allocation to reveal more settings.
Click on High.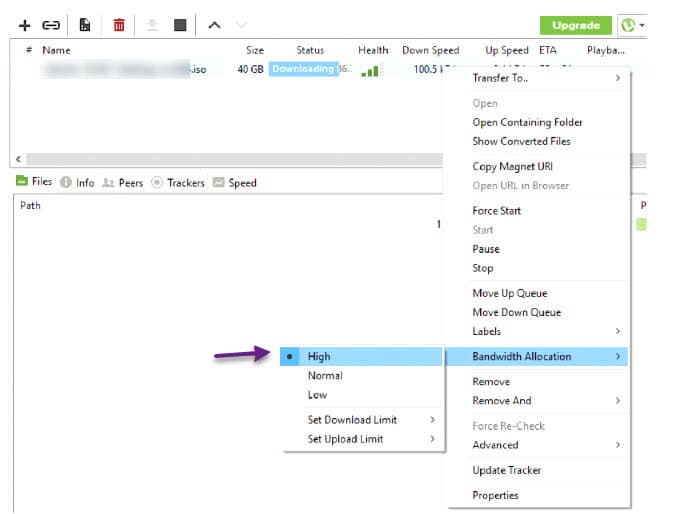 This will prioritize that torrent and download it quicker than other ones.
Setting 5: Port Mapping
For reasons whatsoever, many ISPs and agencies block the incoming BitTorrent traffic by causing throttles or blocks. This can lead to users having no connectivity during downloading torrents, or slow upload/download speeds.
To remain connected to a network, you must forward (or map) a port. In simple terms, mapping a port refers to using remote Internet access to make your computer keep connected to a network. In the case of a torrent client, you will be able to remain connected to your peers using port mapping.
Two automatic port mapping protocols are inbuilt into uTorrent. You can enable the Universal Plug and Play (UPnP) and NAT port mapping Protocol (NAT-PMP) port mapping protocols to do this.
Open uTorrent client on your system.
Press Ctrl + P to open Preferences.
Under the Connection tab, check the boxes next to 'Enable UPnP port mapping' and 'Enable NAT-PMP port mapping'.
Ensure the box next to Add Windows Firewall exception is checked.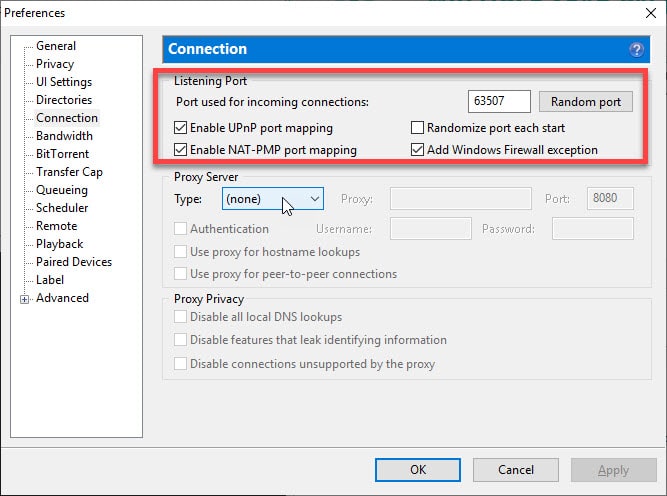 Although new routers have UPnP and NAT-PMP inbuilt into them, they might be disabled by default. Check your router's manual to add these protocols in your router as well.
You can also manually map a port, without having to enable UPnP port mapping. Some routers and torrent client versions don't support automatic port forwarding, so you need to manually forward a port.
Preferably provide a port number over 10000 (ensure it does not conflict with other services) next to the 'Port used for incoming connections' section.
Conclusion
If you are a casual user or a regular user of torrents, you may have fluctuating upload and download speeds. Now you know the best uTorrent settings for making the most out of your torrenting sessions. Comment below to discuss further and tell us if you found this useful.