We all should have heard the proverb "Time and tide waits for none". Everyone should use timer apps to bring some regularity in life. You can use a timer app on your mobile phone, in your Windows computer, or in smart gadgets. Do you feel the need for a timer app for Windows ?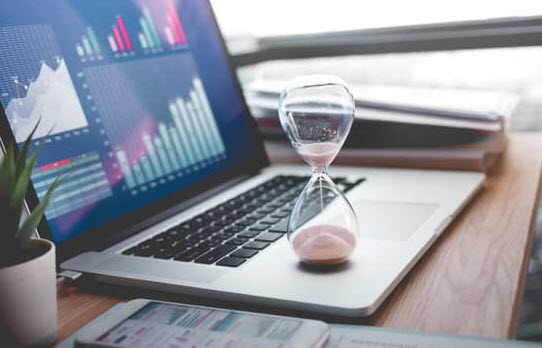 Here is a list of 7 best timer apps for your Windows computer provided below to show you the right way towards time management.
Top 7 Timer App For Windows System
If you are in search of a free timer app for Windows computer, you can easily rely on the applications I shall discuss here. Most of the applications can be used in Windows mobile devices as well.
1.     Visual Timer
Visual timer allows users to see the time pass for better time management. This app is available for Hololens, PC, Mobile device and Surface Hub as well. The customizable appearance and different sounds for each timer make it one of the best choices for users.
Features:
You can run multiple timers together.
Timers can be put in sequence to run.
You can set the repetition time for a timer.
It is possible to extend the time duration while the timer is already running.
You can set individual timers on your screen.
The background notification and start screen tile helps you to start a timer and shows the running timer status.
The color, voice recording, sounds or pictures can be changed anytime.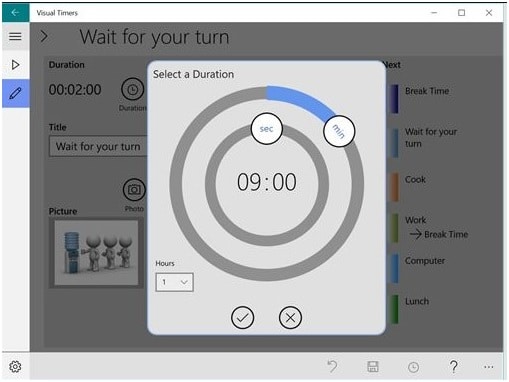 Download Visual Timers.
2.     Clever Stopwatch
This timer app for Windows also comes with a simple easy to use interface with a minimalistic approach. It is an all in one app and free of cost for all Windows PC and mobile device users. There some key features of this application are provided below:
Features:
It allows users to disable the OS lock screen when the timer is on.
Users can set custom or predefined countdown times as their preferences.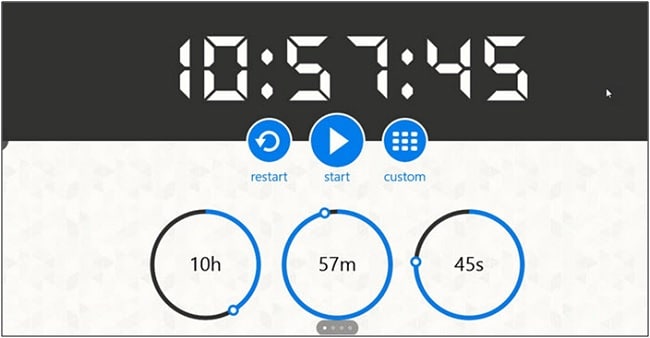 Download Clever Stopwatch.
3.     Free Timer
Free Timer is simply one of the best and fully customizable timer apps for Windows Phone and PC. It is easy to use with all the features you need and helps you to decide the work schedule as your own. There are some key features you can see below, which will make you decide your preference and priority.
Features:
Allows creating countdown timers to display the remaining time as a colored section of a clock face.
This app enables you to set the time in seconds, minutes, and hours.
It also allows setting preferred music that will be played when the countdown finishes. You can also set how many times it will repeat.
When the countdown finishes, the timer will stop and start playing the music you selected.
The countdown timer will move the second hand to counter-clockwise, no matter what interval you have specified.
Several instances of the timer can be run at once, and the color will indicate that each one is being used to time.
You can change the color of the countdown section and the background also.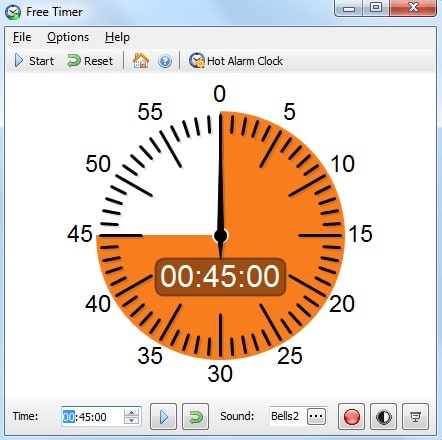 Download Free Timer.
4.     Windows Alarms & Clock
If you are in search of a combination of an alarm clock, world clock, timer, and stopwatch, then this timer app is the one you need. This app is available for PC and mobile devices as well. There are some new features included in this Windows timer app.
Features:
Alarm clock, world clock, timer, and stopwatch all in one.
Access to dismiss or snooze feature of alarm from the lock screen.
Lots of alarming sounds you can choose which includes m4a files or vibrate-only option.
You can set one-time or recurring alarms and reminders.
The alarm works when your device is muted or even on standby.
Compare times of different locations and can track different times of present, past or future around the world.
It can run more than one-timers at a time.
Use the stopwatch for laps and splits.
Access to resize the app as your own.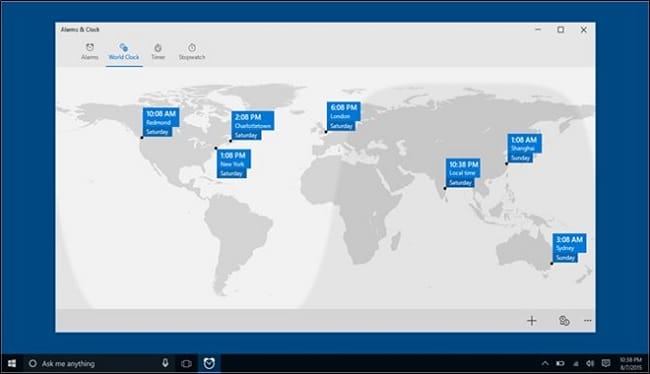 Download Windows Alarms & Clock.
5.     Clock (Live tile, alarm, and timer)
This countdown app for Windows is in the top 5 because of its different interface and features. It shows the time and date as well as other information in a tile on your Windows start screen. You can also change the style and date-time format. This app is available only for PC.
Here the features are listed below that make it different from the other computer timer apps.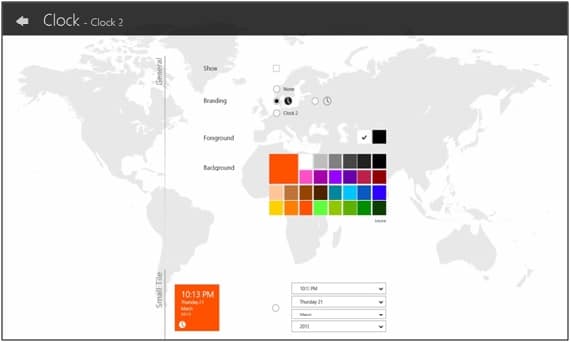 Features:
8 different live tiles make this timer app for Windows look more attractive.
It has both the alarm clock and timer.
Choose from different tile background colors and styles.
More than 40 date-time formats make it more user-friendly.
It also has a stopwatch and calendar feature.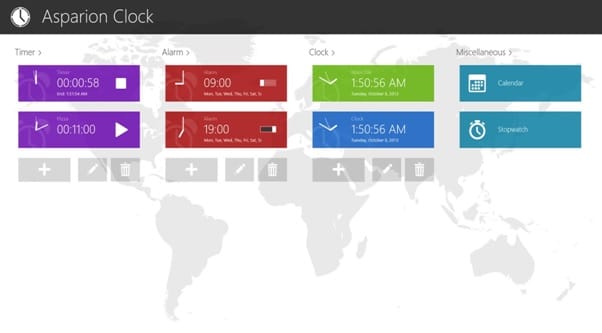 Download Clock (Live tile, alarm, and timer).
6.     Alarm Clock HD
This desktop timer app is a multimedia timer app for Windows with alarms, world clocks, weather, currency exchange rates, music player, radio player, Facebook and so on. This app has lots of features and it is available for PC and mobile devices for free.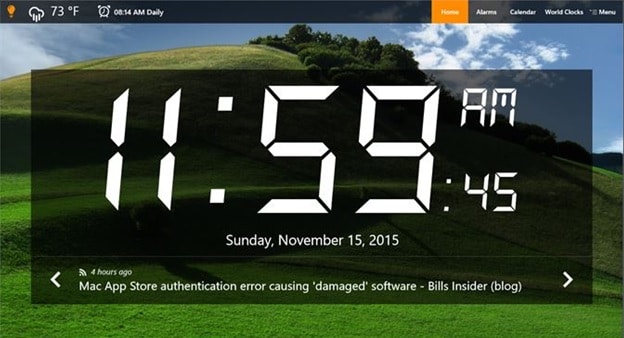 Features:
Toast notification available when the app is not running.
When the alarm app is set as default, it can wake up your device from sleep.
Get time, weather and currency exchange rate available for up to 15 cities.
Get the latest weather update as well as the temperature of your current location in either Celsius or Fahrenheit.
Create your favorite music playlist.
Radio player with over 70+ internet radio stations.
Access your Facebook wall post in the app.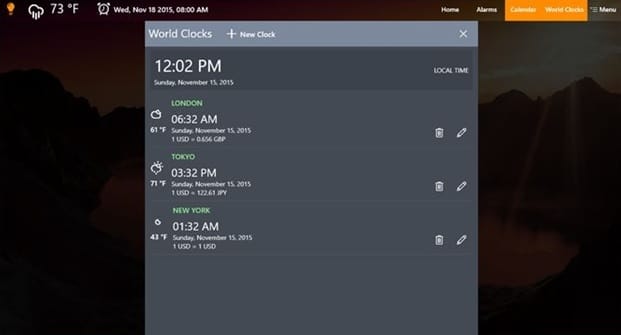 Read the latest news or add your own custom RSS feeds.
Select an alarm sound from built-in sounds or add your own music. Even a radio station can be set as the alarm sound.
With an active light sensor, the alarm stops ringing when the room light gets switched on.
Set music playlist for the sleep timer and the music gently fades away as you fall asleep.
Customize the clock background theme, brightness as your own.
Use the app to turn screen bright white that acts as a flashlight.
With the live tile feature, view the current date and time on your screen.
Packed with 5 analog clock faces with the new add-on.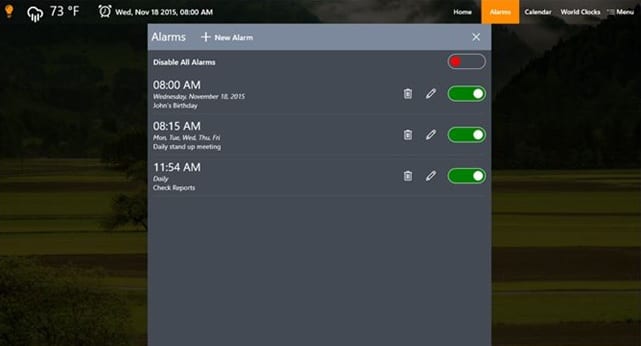 Download Alarm Clock HD.
7.     Oh Clock
This timer app for Windows looks super easy and beautiful. It is one of the most powerful apps for your daily purpose. What makes it different from other desktop timers is the support of voice command.
In collaboration with Cortana, this app enables you to command over voice. You can find the entire list of a wide range of voice commands inside the app. Look at the features listed below to know its capability and usefulness.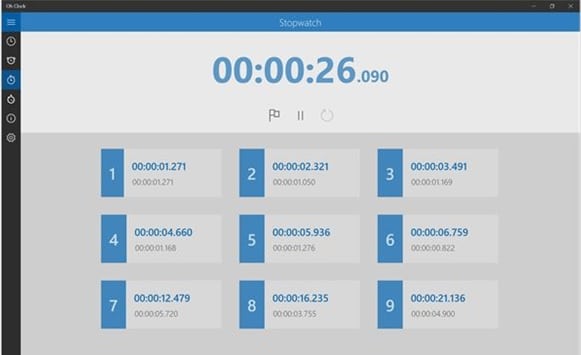 Features:
It provides a world clock with over 650 cities from every single country and proper daylight-saving time adjustments.
You can configure the time, name, the recurrence, ringtone, and also snooze time while setting alarm.
It enables you to set favorite cities in the world clock to see it on the main clock of the app.
The stopwatch can even run for several days if you need it.
You can start all the timers together and select which one is going to be stopped next.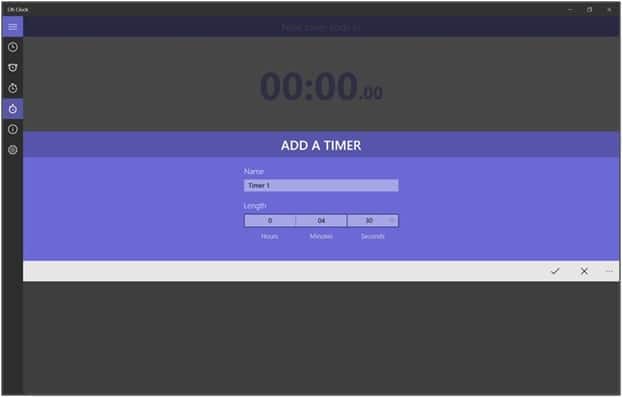 Download Oh Clock.
Conclusion
So, you have the top 7 timer app for Windows with their exciting new features discussed above. If you need one for your daily purpose, then you can download whichever you prefer from the list. The download links are already provided with each timer app. If you found this article helpful, let us know by commenting below. Still having queries? Feel free to tell us here.