Discord has risen to an elevated status as the best chat service for gamers within the last few years.
The integration of bots is one of the most special features which has allowed users to run music from different platforms.
You will come across many such, but here is a list of the 11 best Discord music bots.
Keep reading!
What Are Discord Music Bots?
The Discord music bot helps in playing music during an online chat or gaming sessions.
To listen to the music, you will have to join a voice channel and then start playing the music.
Multiple members of the server can listen to the same music at the same time.
The Discord music bots can find the songs on Spotify and YouTube and share the new music with friends.
Read on if you need help picking up a new music bot.
Also, if your Discord account is disabled then you can easily recover it.
Best Discord Music Bots
Here is a list of some of the best Discord music boots that are currently available:
1) JockieMusic
This is one of the most flexible music bots that allows up to four bots to play simultaneously on different channels.
This powerful bot is known to support a few sites like YouTube, Spotify, Tidal, Deezer, Apple Music, Soundcloud, and Twitch.
It is very easy to set up, and ever since its release, it has been added to 1.4 million Discord servers.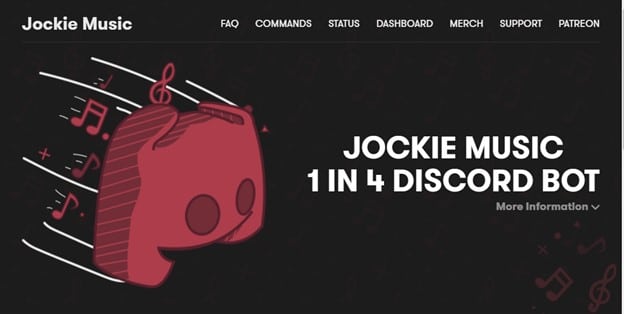 2) ProBot
ProBot is more of an overall moderation and support bot that is known to play music when needed.
The moderation features can help in removing spam bots in Discord.
The unique features include raid protection, a sound leveling system, and also adding customized welcome images for greeting new users.
This music bot gets its music directly from YouTube and is also known to support the playback of YouTube links.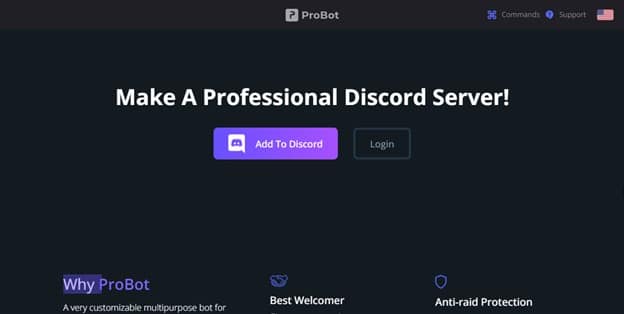 3) Fredboat
This free music bot provides streaming services from different popular sites like SoundCloud, Spotify, YouTube, and Twitch.
The built-in search features also allow the user to search on Discord instead of the internet.
The basic features include shuffling the playlist and the ability to choose a song to play on repeat.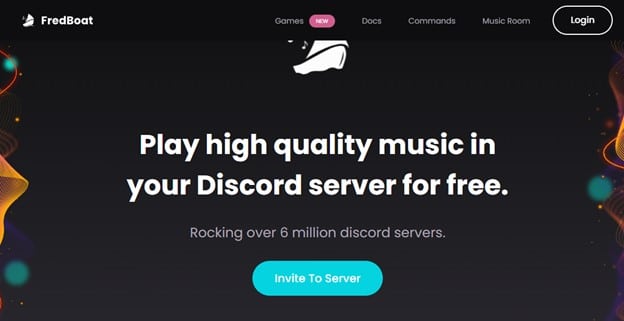 4) BMO
A character from the hit series Adventure Time with the same name inspires this music bot.
This powerful little bot is known to play high-quality music from different sources, including YouTube audio and links.
Video and image manipulation, role-playing, sending NSFW messages, server moderation, and setting reminders are some of the other functions.
The only disadvantage lies with the fact that it has got a slower response time, but the moment it is connected to a server, it starts responding quickly.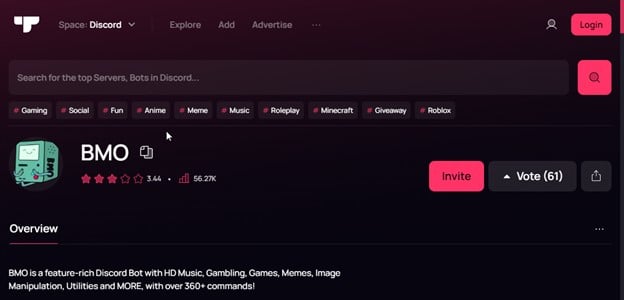 5) Botify
The name itself suggests that it is a music app. It is known to play from multiple sources like YouTube, SoundCloud, and Spotify itself.
It can be a great addition to your server since it currently serves 111,000+ users in over 640+ servers.
The best part of Botify is that everything is free here, and there isn't any premium subscription plan or any one-time payments.
The Botify filters include adjusting rate, speed, tempo, bass boost, vaporware, nightcore, and earrape.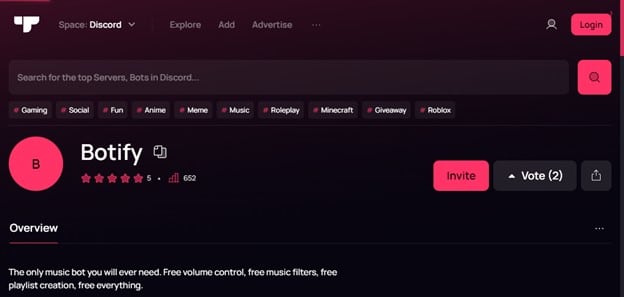 6) ChillBot
This bot is actually dedicated to playing Lofi music and offers 24/7 lofi music playback with a 99% uptime guarantee.
The quality of the audio is amazing, and it would have ranked higher on the list if it is only played or supported by other types of audio and music.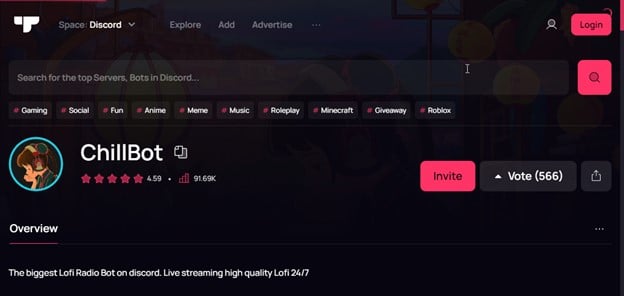 7) Aqua Music
Aqua Music is known to offer high-quality music with totally free volume control, 24/7 nonstop play, audio filters, a DJ system, bot channels, and autoplay.
Here, the users are free to create their own custom playlists and play from SoundCloud, YouTube, and Spotify.
Aqua Music is free to use and is also an excellent Discord music bot with tons of useful features like shuffling, removing duplicate entries, loop play, and seeking.
This lightweight boot can be added to small or large servers that offer premium features for free.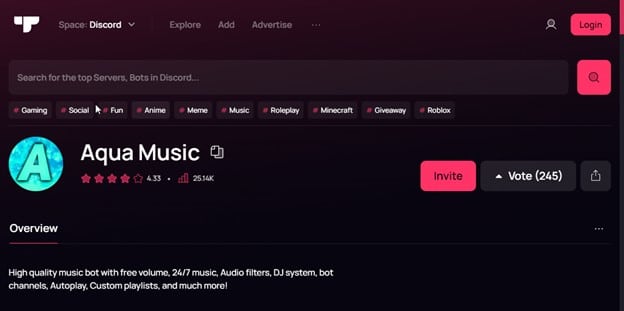 8) Vexera
This one is quite different from the other bots but is a multi-purpose service that includes various commands.
The commands are in turn, used for triggering different tasks for music, like skipping, starting, and stopping tunes through Discord.
Since this bot is a popular choice among users, it is currently known to serve over 300,000 plus Discord servers.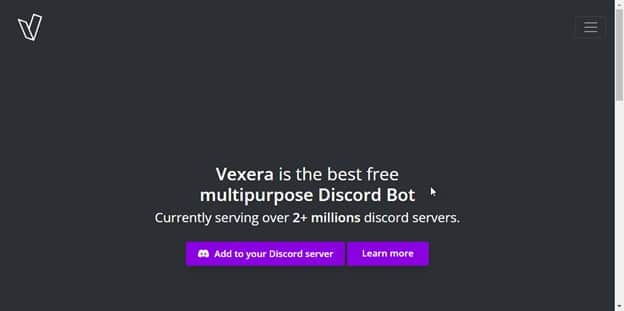 9) Hydra
This music bot has earned its place due to its high-quality music with a bare minimum amount of lag or distortion quality.
The premium version of hydra provides the user with access to some of its unique features.
One of the most notable features is the option allowing the server members to vote to skip the current track.
The music is known to provide 24/7 music playback, unlimited saved playlists, global volume controls, and much more.
10) Aiode
This is specifically for Spotify users, and with the help of Aiode, the users can directly search for the songs on Spotify and play them.
Aiode is known to offer a lot of customization and even includes commands for customizing the playlist.
With the help of this music, users can freely create a cross-platform playlist with songs from Spotify, Soundcloud, YouTube, etc.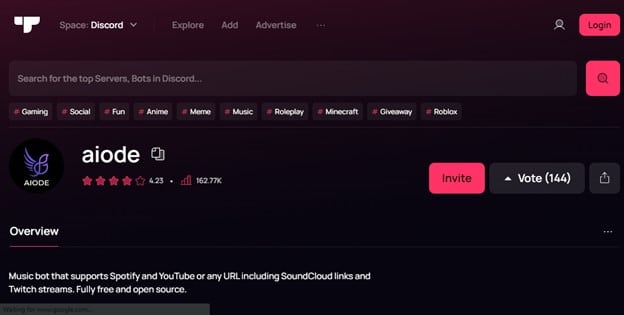 11) Uzox
This is one of the best music bots since it offers premium music bot features for free.
This music bot is also known to offer certain useful features like an audio filter, a personal playlist, queue control, moderators, DJ compatibility, and many more.
The feature that highlights the most is the lyric support, through which you can see the lyrics to any song that is playing at the moment.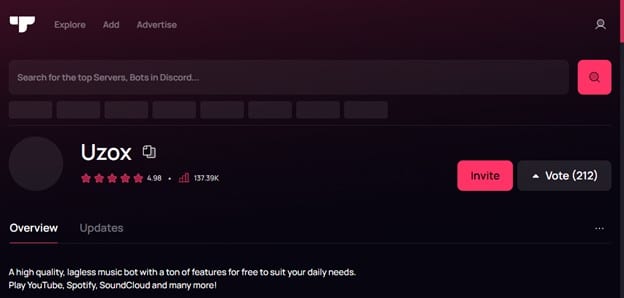 How To Add Music Bots To Discord Server?
If you want to add music bots to the Discord server then follow these steps:
First, choose a bot from the list.
Then, click on the provided link and invite the bot to your server.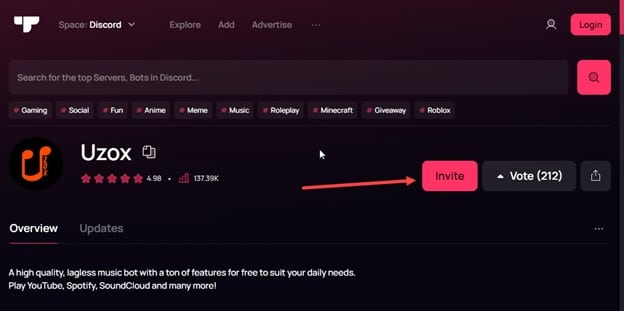 Select the Discord server to which you want to add the bot.
Then click on the "Authorize" button.
After the bot has been added to your server, you can start using various commands for controlling the music playbacks.
Closure
Write to us in the comment section below in case of any doubts or queries.