Chatbots are becoming more competent and authentic conversation partners in today's digital world, making online conversations more helpful and specific.
A variety of Chatbots are available in the market with their own set of strengths and weaknesses; each has unique features and capabilities.
So, choosing the best AI Chatbots from the list depends entirely on your needs and preferences. The ten options listed below are currently excellent for users who want to invest in a quality Chatbot for 2023.
What Are Chatbots?
The first Chatbot was developed by Joseph Weizenbaum in 1960.
An AI Chatbot is a computer program known to engage in conversation with humans by providing solutions to their queries. It interprets inputs using machine learning and natural language processing (NLP), recognizes patterns, handles queries, and generates accurate results.
Moreover, it learns from previous conversations and gradually improves its responses. AI Chatbot combines ML and NLU to understand people's needs and bring the best solution.
Criteria For Choosing The Best AI Chatbots
The best AI Chatbots will help you unleash incredible efficiency, so you must be careful when choosing the right one.
These are the few critical factors that you need to consider before deciding on the same. Those are:
Analytics and Reporting
Security and privacy
Integration capabilities
Natural language processing (NLP)
User interface
Accuracy and responsiveness
Easy access
Chat experience
Extra features
Best AI-Powered Chatbots In 2023
Here are the top 10 AI Chatbots to help you generate more leads, automate workflows, and improve customer service.
Now, let's closely examine some of the fantastic Chatbots and how they make our lives easier and better.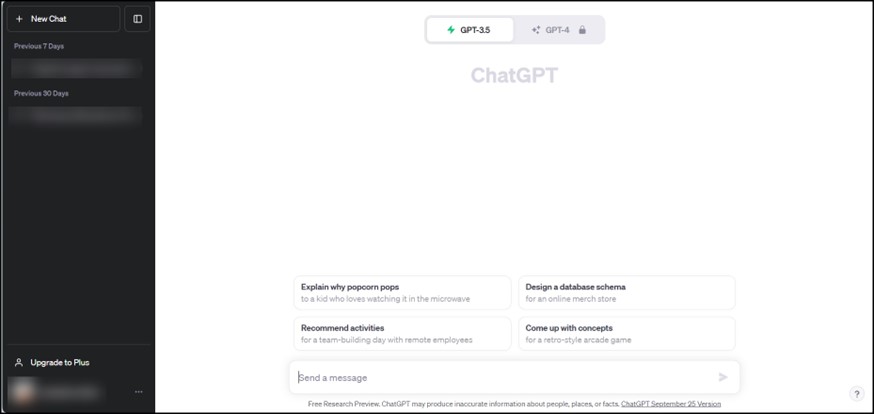 Best for: Overall Performance
ChatGPT is a natural language processing tool developed by OpenAI as a part of the GPT (Generative Pre-trained Transformer) specifically designed to engage in human-quality conversations with users.
It performs NLP tasks, but developers use ChatGPT to assist with coding and other tasks apart from content generation.
Users here can quickly start their conversation by inputting the prompts at the bottom of the screen. It accepts text commands and helps to format and customize the output.
GPT-4 is much better, impressive, and trained on a much larger dataset. It provides contextual and meaningful conversations on various topics and assists in generating ideas and performing text-based tasks.
Features:
Analytics dashboard
Extremely flexible
Multilingual features
Contextual understanding of extended conversation
Pros:
Explains complex concepts
User friendly
Assists in completing sentences or paragraphs
Data encryption
The free version makes it easy to try
Best AI generator
Helpful for coding
Mobile app
Data opt-out options
Cons:
Free plan limited to GPT-3.5
Platform language limited to 2021
Biases and inappropriate information
Web browsing is currently disabled
Paid plan of $20 per month
No citations
At times, it generates incorrect answers and half-truths.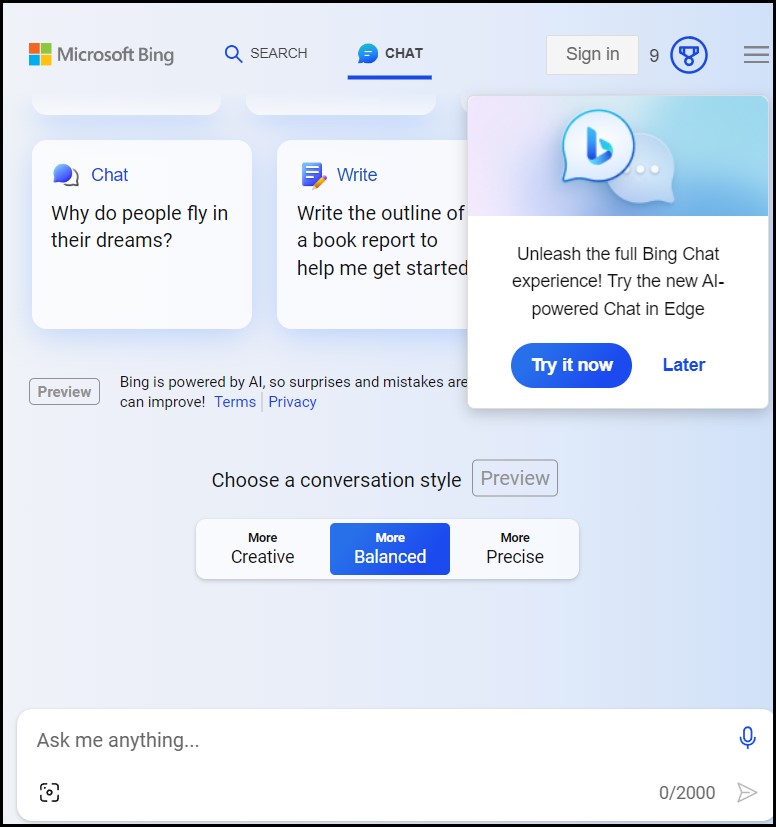 Best for: Online Searches
Bing Chat Enterprise uses GPT-4 to generate natural language responses to user queries. It has three conversation styles: creative, balanced, and precise.
It is available in 160 regions at no additional cost for licensed users of Microsoft 365 E3, E5, Business Standard, Business Premium, or A3 or A5.
If you don't have Bing AI as a standalone tool, you can easily purchase it for $5 per month. Bing has an image creator tool where users can be prompted to create images of anything they want.
Bing Chat is an AI-powered co-pilot tool for conducting web searches that is known to expand search capabilities.
Features:
Versatile mix of conversation styles
Powered by OpenAI's GPT-4 model
Customized and creative responses
Includes cited references
Functions as a search engine
Pros:
The user interface is visually appealing
Advanced citation capability
Easy-to-navigate interface
Built-in AI image generator
Brings forth up-to-date information from the web
Free image generator
Three conversation styles
Accessible on mobile
Cons:
Limited to 30 responses per conversation
Non-comprehensive answers
The appearance of ads in few results
Not suitable for creative tasks
Shorter chat response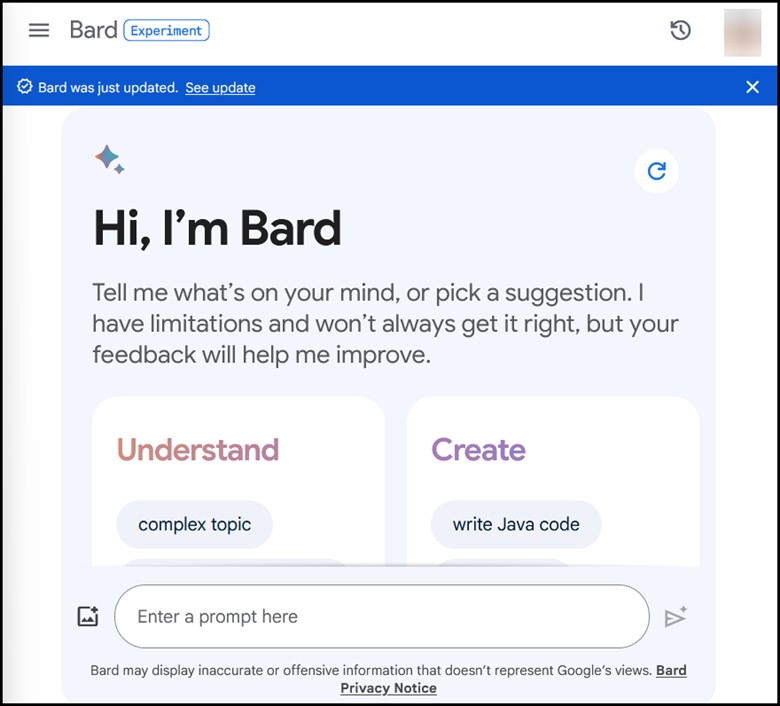 Best for: Creative Prompts
Google Bard is an AI-powered LLM chatbot built on the PaLM2 (Pathways Language Model, version 2) AI model. The Google Bard conversation can be easily exported to Google Docs or drafts in Gmail.
Bard generates text and spoken responses in over 40 languages, creating images and codes, answering math problems, and more.
This is relatively new and being actively developed, but Bard has a huge selling point: it is connected to the internet, which helps it find information. It also features a "google it" button that allows one to learn more about a topic and export it to other Google products such as Google Docs and Gmail.
Bard also gives the users the liberty to edit their prompts after they have sent them and offers up to three drafts of each output to pick the best one.
Compared to chat GPT, Bard is way more conversational and less oriented towards text communication.
Features:
Ability to export conversation
Generates code in at least 20 programming languages
Powered by Google paLM-2 (instead of GPT)
It can be used for brainstorming and ideation, unique and original ideas for getting answers to your questions
Connected to Google's website index
Pros:
Vast knowledge base
Cites sources of information
Free to use
Access to Google
Good text editing skills
Pulls up-to-date information from the web
Clear, concise writing style
Presents three responses to choose from
Cons:
Slower in response, especially when asked complex questions
Gives inaccurate or incomplete information
Does not cite sources consistently
No mobile app
Can't help too much with code
Best for: Content Creation
Jasper Chat allows users to apply AI for content creation and helps brainstorm content ideas, write photo captions, generate ad copy, create blog titles, edit text, and more.
Jasper Chat is similar to ChatGPT in pulling up the knowledge straight from Google to ensure it provides the most accurate information. It also tries to understand the style and generates a less robotic sound like you.
It is a decent chat assistant that helps write tasks and is not the most advanced AI chatbot. This powerful chatbot tool is specifically designed to streamline and enhance conversational experiences for businesses and users. Its advanced features and capabilities enable efficient and engaging interactions.
Features:
Proprietary AI engine sourced from OpenAI and other models
Comprehensive knowledge of niche and elaborate topics
Remembers and learns from previous conversations
Quickly transfer chat outputs into Jasper's long-form editor
Built for business use cases like marketing, sales, and business writing
Pros:
Multi-channel support for seamless communication
Customization and branding options
Task automation for handling repetitive tasks
Integration capabilities with existing systems and third-party apps
Analytics and insights on user interactions, behavior, sentiment analysis
Scalability and reliable performance for handling high conversation volumes
Enhances customer support, automates tasks, and improves overall customer experience
Cons:
Experiences frequent downtime
Can sometimes be generic and repetitive
Difficulty in generating creative content
Slow and unresponsive customer support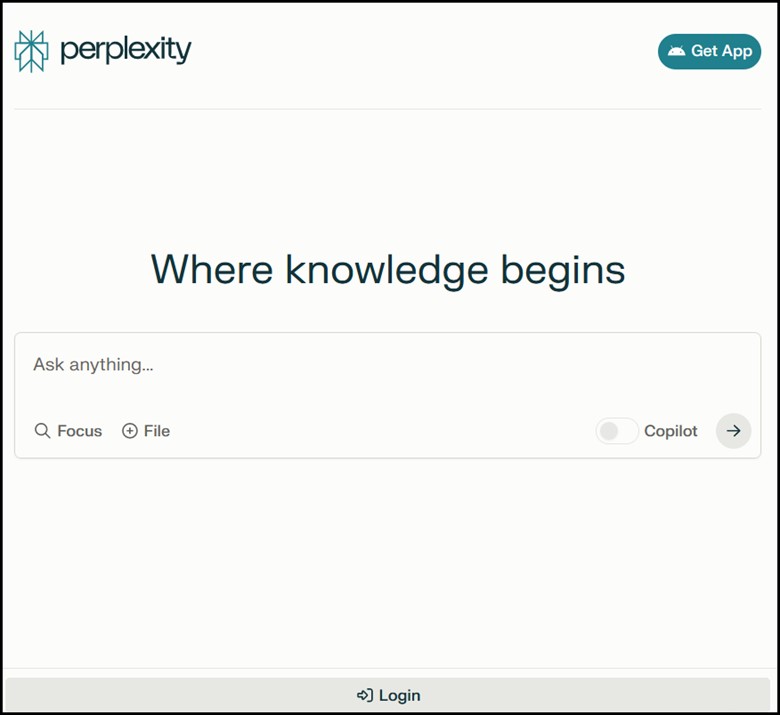 Best for: Prompt Ideation
Perplexity AI is an advanced language model specifically designed for natural language processing. It understands and generates text, thereby making it suitable for various applications.
It supports multiple languages, assists in creative writing or customer support tasks, and is essential for exercising critical thinking and verification for necessary tasks.
In Perplexity, users can add a new prompt to continue the search or pick one of the suggested related search terms. After entering the prompt, Perplexity will ask the user a set of qualifying questions based on their intent. The resulting output summarizes all the critical information.
Nevertheless, Perplexity is slowly becoming more and more powerful and is a straightforward search tool. It has access to the internet, provides sources, and is short.
Not only this, it is also known to provide related topic questions that the users can click on to keep the conversation going.
Features:
Continuous improvement through user feedback
Advanced language model for natural language processing
Support for multiple languages
Verification recommended for critical tasks
Pros:
Links to sources
Access to internet
Simple user interface
Flexibility for various applications
Cons:
Login requires copilot
Delivers some irrelevant suggestions
At times inaccurate or unreliable
Better in handling factual questions than subjective ones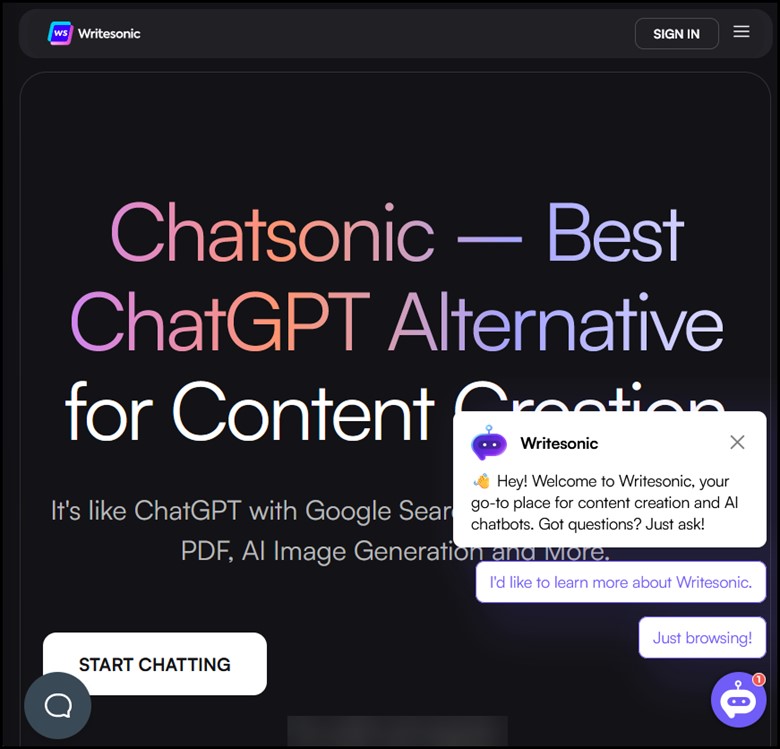 Best for: News Content Creators
Chatsonic is powered by Writesonic's chatting experience and is meant to produce large-scale content. It connects to the internet to find sources and keep track of each conversation's information.
Chatsonic includes footnotes with links to the sources to verify the information and is powered by GPT-4, OpenAI's latest and most advanced model. Google supports this dependable chatbot, knows current news, and can provide answers and stories.
Features:
Voice-to-text and text-to-voice feature
Sharing your conversations with family, friends, or others
Image generation by using stable diffusion or OpenAI's DALL-E
Prompt library with recipes for generating SEO keywords
A way to interact with Chatsonic from Twitter and Slack
Pros:
Up-to-date
Variety of use cases
Free trial
Aware of current events
Voice dictation and image generation
A simple and intuitive interface makes
Image generation
Voice commands
translation
Cons:
Subscription costs $13 per month
Can't do math
Convenient free trial for 2500 words
Issue with generating images
Limited features
Factual mistakes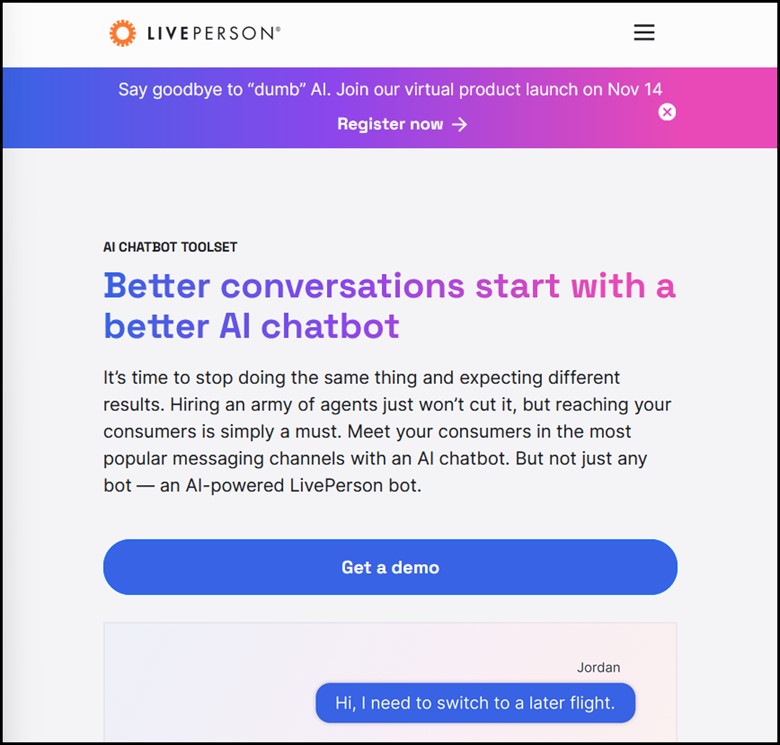 Best for: Medium To Large Business
This AI chatbot is designed on 20+ years of messaging transcripts. It also supports extended messaging sessions, allowing customers to continue conversations over time.
If required, LivePerson can also transfer the conversation to a live customer service representative, ensuring a smooth handoff by providing information the bot gathered during an interaction.
LivePerson is best known for its live chat capabilities, but it helps businesses engage with their customers across channels.
This excellent tool is best for businesses to handle conversations across various platforms. It is known to facilitate a balance of AI and human agents by allowing the chatbot to handle common inquiries while human agents handle more complex issues.
Features:
Create automated conversation flows across different messaging channels
Point and click builder to quickly and seamlessly create your bot
Integration with CRM systems
Omnichannel conversations
Chatbot builder
Identify customer intent
Automate lead qualification
24×7 engagement
AI-powered lead nurturing
Pros:
Self-learning AI
Easy to use and customize
Supports multiple languages and channels
Provides an extensive and conversational dataset and generative AI model for better language processing
Uses NLU
Annotation tools
Cons:
Pricing isn't transparent
Requires some technical skills or assistance for complex integration or customization
It does not support some niche use cases or industries.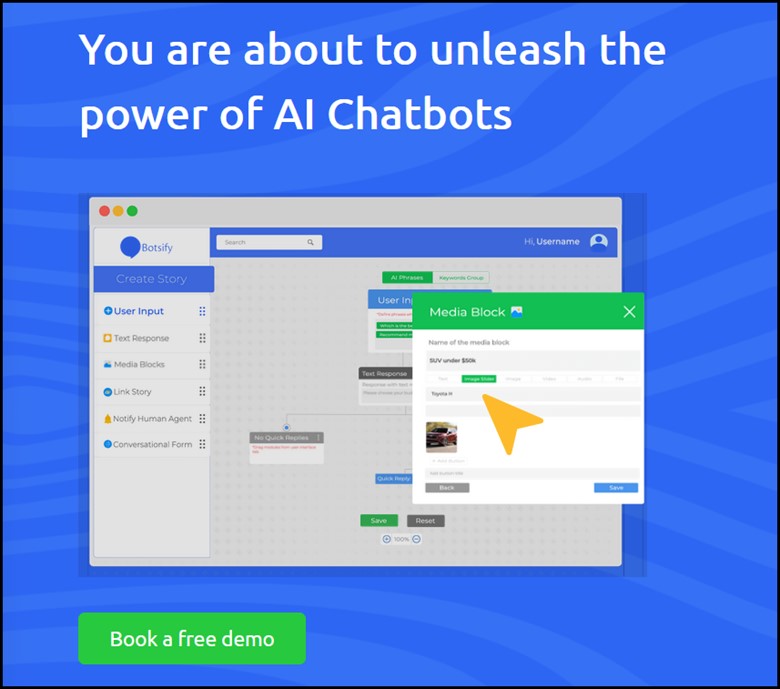 Best for: Small Businesses
Botsify is an AI-powered chatbot platform built to help automate sales processes and customer support by balancing workforce needs with AI.
This is an excellent option for smaller businesses. This powerful AI chatbot software helps you to treat your customers better. It is an easy-to-use platform that enables you to build an AI chatbot to help automate sales, enhance customer support, smoothen customer journeys, and boost revenue and conversations.
Features:
Multilingual AI chatbot
Integration with popular messaging apps and platforms
Whitelabel platform for agencies to offer chatbot-building services
Integrates with WooCommerce and other eCommerce platforms
Pros:
Supports 100+ languages
Access to the chatbot development team
Provides multiple integrations to streamline the workflow
Omnichannel chatbot platform for enhancing the overall experience
Cons:
No built-in chatbot analytics
A higher learning curve is involved
Experiences frequent downtime
Slow and unresponsive customer support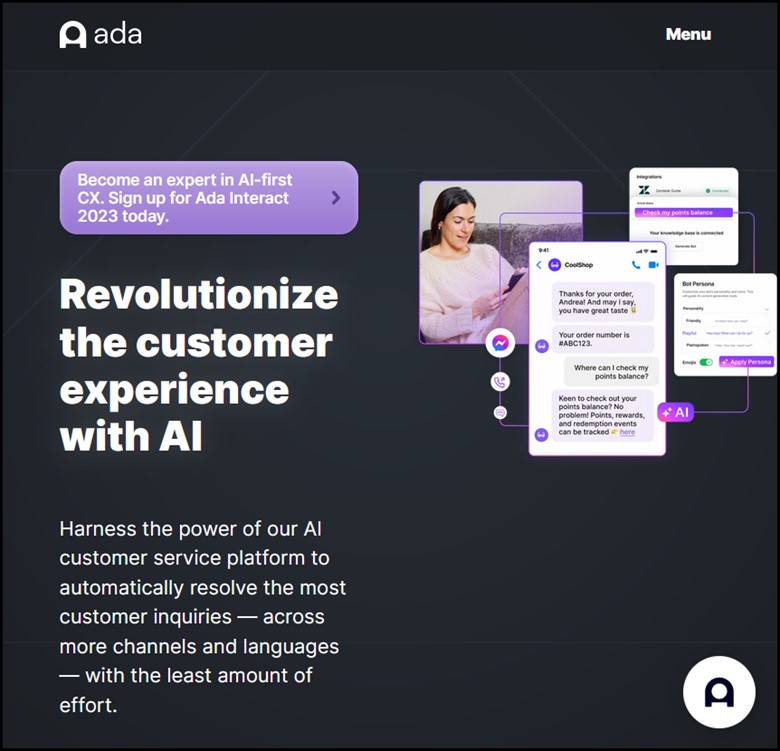 Best for: Multilingual Conversation
Ada is a chatbot platform that streamlines support processes while delivering personalized interactions. This AI technology enables the user to understand complex requests and respond conversationally.
It connects with the operational technology and creates a deep and relevant customer experience.
This is perfect for a business that wants an integrated chat solution. It supports 50+ languages on key channels like Facebook, WhatsApp, and WeChat. It is built on a large language model that allows it to recognize and generate text in a human-like manner.
Drag and drop chat builder requires zero coding and offers smart suggestions for training your chatbot. This chatbot interacts like a human and understands natural language, making customer interaction efficient and pleasant. This technology provides unique features to solve customer problems faster and also suggests ways to train the AI better and generate responses from its existing knowledge.
Ada can also predict customers' needs and guide them to the best solution. It also recognizes essential details such as names and dates, making conversations more personalized.
This powerful tool for businesses for improving the customer experience. This chatbot helps create a personalized and automated customer experience using one of the best AI software.
Features:
Cross-channel AI chat conversation
Intuitive chatbot builder
Multilingual support
Chatbot analytics
No code chatbot builder that is easy to deploy on a website
Pros:
Uses pre-trained machine learning models to meet business needs
Connected to business' crucial data for bringing appropriate solutions
Easy-to-use platform
No code AI chatbot builder
Multilingual in 50+ languages
Integrates with 28 platforms
NLP technology for accurate understanding and response
Real-time analytics dashboard for insights into customer interactions
Knowledge base available
Fully customizable
Efficient and user-friendly back-end interface
Cons:
Offers limited customization option
Lacks various integrations and features
Poor reporting
It takes time to create a good chatbot
Tricky to understand pricing for features
Best for: Scheduling Options
Drift AI is an effective chatbot known to deliver personalized, engaging interactions to drive customer engagement and generate leads.
This platform uses advanced AI technology to understand user queries and respond based on the connected data sources. It excels at filling a CRM with actionable data through automated conversations and a high-growth platform for large-scale businesses. It is a sales AI bot designed to help businesses qualify leads and book meetings. It has more than 50 native integrations, and by using Zaphier, it connects more than 500 third-party tools. This is specifically designed for B2B to understand visitors' intent and deliver personalized and engaging customer support.
This platform uses advanced technology for understanding queries and providing relevant real-time responses. The best part is that it learns from past interactions or browsing behavior that helps deliver a better customer experience. Provides personalized user experience and real-time engagement for buyers.
Features:
Real-time AI-driven customer interactions via chat
Scheduled meetings automatically by connecting Google or Microsoft calendars
Conversational landing pages for selling and interacting
Supports multiple integrations
Allows real-time AI for conversations
Provides meeting scheduling options
Customizable chat widget
Analytics and insights to get a clear picture of performance
Pros:
Rule-based and AI chatbot for categorizing conversations by context for more meaningful conversations.
Able to handle context switching if the conversation flow or subject changes.
Customizable chat widget for mobile and desktop with helpful out-of-the-box integrations
Each plan comes with a customer success manager
Drift deal room
Great customer support
Meeting scheduling options
Cons: 
The pricing part isn't transparent
Highly expensive compared to other AI chatbots
Reporting isn't detailed
Poor-quality videos sent via the app
Limited filters to separate chats
Benefits Of AI Chatbots
Implementing the right AI chatbots in your workplace will help you streamline numerous business operations. There are also certain added benefits of AI chatbots, and those are:
Improved customer experience
Efficiency and speed
Minimize errors
Cost-effective solution
24/7 availability
Data gathering and analysis
Lead generation and support
Frequently Asked Questions (FAQs)
1. Which AI Chatbot Has No Limits?
CrushOn.AI is a standout AI chat platform that comes with no restrictions.
2. What Is The Fastest Growing Chatbot?
ChatGPT is the fastest-growing chatbot, with an unprecedented rise since November 2022.
3. Is AI Chatbot Safe?
AI chatbots are generally safe and legitimate like other apps or websites.
4. Is Alexa A Chatbot?
No, Alexa is a Virtual Assistant that responds to user queries and provides information.
Wrap Up
Chatbots are no longer AI tools but have become our constant companions in this digital world and redefine how we engage in technologies.
Integrating AI Chatbot tools into customer communication strategy will help enhance the overall customer experience.