Twitch is a popular streaming platform, but it can also be annoying to watch the Twitch video content with all the ads.
So, if you're looking to block Twitch ads, here are the 9 best Twitch AdBlockers.
Also, know how you can download Twitch videos.
How to become a Twitch affiliate in a month?
How to Block Twitch Ads with an Adblocker?
One of the easiest ways to block Twitch ads is to use some ad-blocker extensions for your web browser.
Once you install the ad blocker extension, it will automatically start blocking ads on Twitch. You may need to refresh the page for the changes to take effect.
Another way to block Twitch ads is to use a VPN. These VPNs encrypt your traffic and route it through a server in another location. This can help to block ads that are targeted to your specific location.
There are also a number of websites that offer ad blockers specifically for Twitch. These websites work by loading a modified version of the Twitch website that blocks ads.
Best Twitch AdBlockers
Now, let us discuss the popular ad blockers for Twitch in detail.
1) uBlock Origin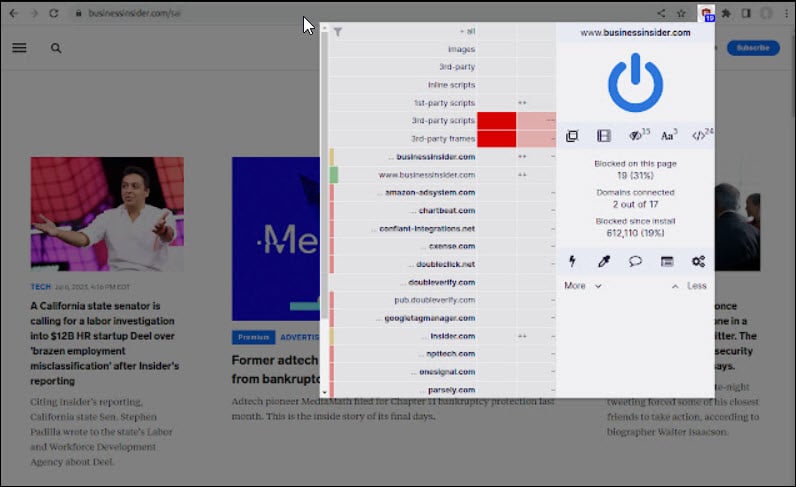 uBlock Origin is one of the next Twitch adblocker extensions.
This open-source script-blocking tool can easily prevent on-page ads.
You can set a custom code in the app to prevent the pre- and mid-roll ads.
This free extension is available on Chrome, Firefox, Microsoft Edge, and Opera.
How to use uBlock Origin?
Visit the uBlock Origin website to download the extension for your specific web browser.
Install it, then enable it by clicking on the extension from the web browser's toolbar.
Head over to Twitch and enjoy your favorite Twicth videos.
Key Features
1) Free and open-source tool
2) Available for multiple web browsers
3) Allows to set a custom code in the app
2) Ad-Block for Twitch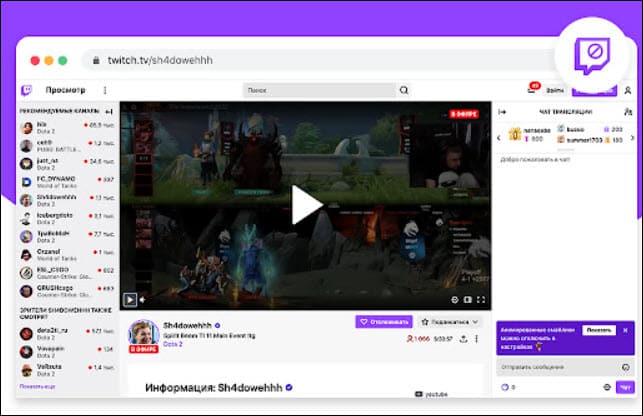 With Adblock for Twitch, you can instantly eliminate all the unwanted ads and intrusive Twitch notifications with just a few clicks.
You can add the browser extension from the Chrome Store, Adblock for Twitch is an open-source adblocker that does not collect any user's personal information.
How to use Adblock for Twitch?
To use the extension, Open Chrome and click on the Add to Chrome button for Adblock for Twitch.
Once installed, click on Extension, and you should see a Pop-up menu for Adblock on/off for Twitch. Enable the option and enjoy your shows.
Key Features:
Open-source free ad blocker for Twitch
Ensures security by not collecting personal user data.
It is a one-tool platform for watching all the Twitch broadcasts
3) Stream Cleaner
Stream cleaner is another good Twiblocker. It helps you block Twitch ads easily and works well with pre and midroll ads while streaming or watching videos on Twitch.
How to use Stream Cleaner?
Click on the Add to Chrome button for Stream Cleaner
Once the extension is installed, go to the extension tab and enable the adblocker.
Key Features:
Easily blocks annoying ads and notifications during streams or watching videos
Posts the page loading speed and browser performance level
Decreases bandwidth and memory usage
Does not share personal data or information and is open source.
4) Purple Ads Blocker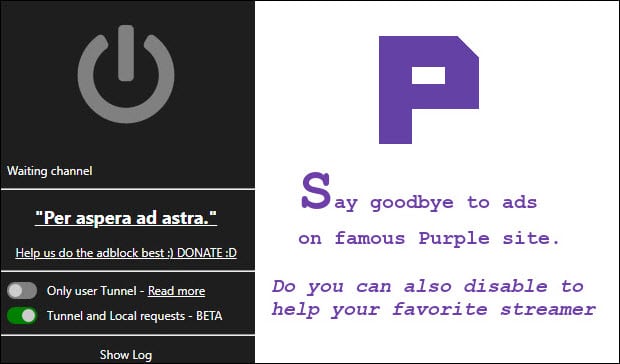 Purple Ads Blocker is another Twitch Blocker extension available on Chrome. And Firefox browsers.
It uses an external proxy for an ad-free region, sending the video requests via this proxy.
Then, the users can stream a full-quality ad-free video.
Key Features:
Uses external proxy to provide ad-free content
Does not share any personal user information or data
The extension doesn't work with Alternate Player for Twitch and might not work in some countries.
5) TTV LOL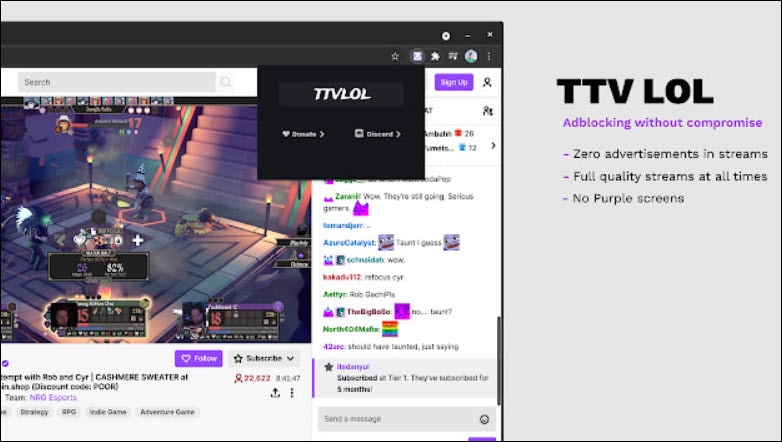 TTV LOL extension removes the ads from live streams for Twitch and other streaming sites.
This extension is available for both Chrome and Firefox web browsers. You must add it to your browser to block the Twitch content.
Like Purple Adblock, this extension also uses M3U8 proxy to block ads. This allows Twitch to play your favorite videos without any ad interruptions.
However, this extension was accused of leaking user IDs and IP Addresses in May 2021.
Key Features:
Uses an external proxy to block the pre-roll and mid-roll ads on Twitch.
The Pro version lets you whitelist the channels
Shows stream status ad improves the TTV LOL pop-ups
Allows you to add custom proxies.
6) TTV AdEraser
TTV AdEraser is another Chrome extension to remove ads from your Twitch streams and videos.
The extension replaces the original stream player with a customized player to remove the ads.
It also helps remove the purple screen that Twitch shows mostly on all the embedded streams.
Key features:
Replace the original stream player with a customized player.
Removes purple screen on the Twitch streams
User-friendly Interface
7) Total Adblock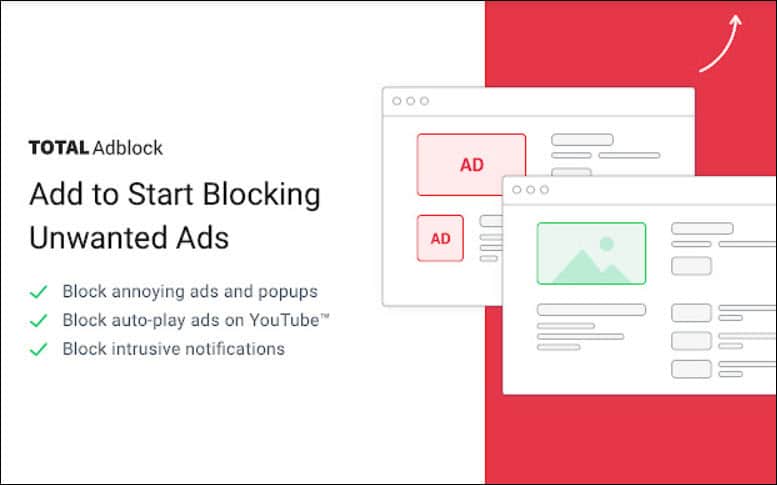 Total Adblock is another trustworthy Twitch adblocker available in the Chrome web store.
It instantly blocks the ads, popups, and notifications from your videos or streams.
This ad blocker allows you to enjoy unlimited internet service by removing the ads and ad trackers.
Key Features:
Offers a 7-day free premium access to block ads.
It provides security by not sharing the user's personal data
Allows users to enjoy unlimited internet service by removing ads and notifications.
8) Twitch Turbo
Twitch Turbo is a monthly subscription program for Twitch TV that will provide you with ad-free viewing across Twitch.
You can see pop-up banners on the homepage, but pre-roll and mid-roll ads will never appear while streaming.
So, you can watch all your favorite Twitch shows without ads except as part of the channel sponsorships.
It offers an expanded emoticons set, chat badges, custom chat username colors, and extended broadcast storage.
Key Features:
Twitch Turbo is a monthly recurring subscription.
Turbo allows the customers to set their own chat color.
The program offers extended broadcast storage and chat badges
9) Use VPNs
You can also use Virtual Private Network or VPN services to eradicate ads from Twitch streams and videos.
These VPNs provide a secure and encrypted tunnel for the online traffic flow.
They allow nobody to flow through the tunnel and access your private data or information.
Thus, you can securely watch the Twitch shows without ads and data sharing.
Various good VPNs are available in the market, like – NordVPN, Surfshark, Express VPN, etc., that you can easily use to block the Twitch ads.
Which Method is Best to Block Twitch Ads?
The best method for blocking Twitch ads will vary depending on your needs and preferences.
If you're looking for a quick solution, then using an ad blocker extension can be the way to go.
If you're concerned about your privacy, then using a VPN is a good option. And if you want to block ads on all of your devices, then using a Twitch ad blocker website is a good choice.
No matter which method you choose, blocking Twitch ads can help you enjoy your streams without interruption.
Additional Tips to Keep in Mind While Using an Ad-blocker for Twitch
Some ad blockers may not work for all the Twitch content.
They can sometimes block legitimate content, like chat messages or donations.
If you're concerned about these issues, you can always disable your ad blocker for specific streams or channels.
Frequently Asked Questions [FAQs]
Can Twitch detect adblockers?
If Twitch detects users using any third-party adblocker, it will warn them with a purple screen warning.
Does Adblocker affect Revenue Twitch?
Adblockers prevent a user from earning ad-shared revenue from the ads.
Does Twitch ban IP from the ban?
Twitch has revised its banning system. If you get IP banned, all your network users will also get banned. They can avoid shifting to a different internet.
Wrapping Up
Send us feedback on how the above article helped you to block ads from Twitch.
Write to us for any further doubts or queries.