Sound is a really important component of computing as a whole. Media consumption without sound seems impossible, and many cues like notifications are important for drawing attention to things that need your immediate action. However, audio in Windows 10 is not perfect, with many errors popping up every now and then.
Some users have recently reported an error where they hear audio buzzing in Windows 10. This is an issue that needs immediate attention, and here I shall discuss how you can easily diagnose and solve computer audio buzzing sounds.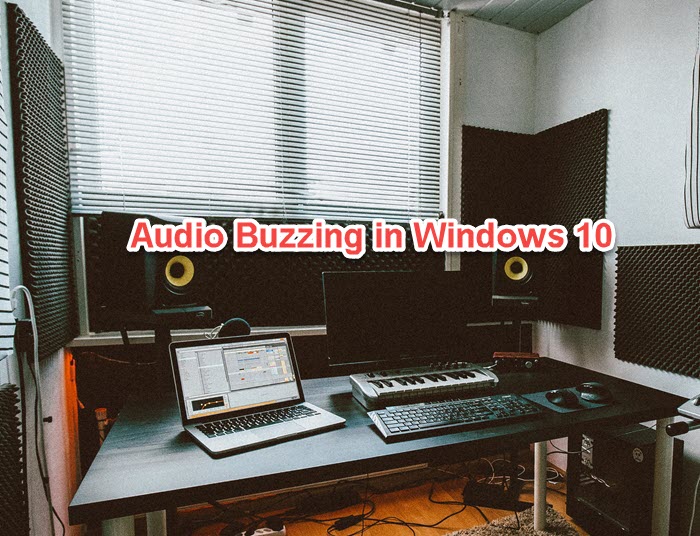 How To Fix Audio Buzzing In Windows 10?
There may be many reasons as to why you hear buzzing sound from computer speakers. Let us take a look at some easy solutions that you can try to solve this error.
Solution 1: Check For Interference
Sound travels as a wave. This means that audio is prone to interference from other waves. Some other device may cause interference with your computer speakers, there is a chance that this may be causing the buzzing sound from computer speakers.
If you see laptop speakers buzzing, change the location to confirm interference. If you are using a desktop, check for any appliances that can be the cause of these interferences. These devices include a microwave oven, microphone, and other closed-loop appliances.
Remove these appliances from the vicinity of the computer and check if the error persists. You should be able to hear clear audio now.
Solution 2: Check The Electric Supply
To be on the safer side of things, check the electric supply for any damage. Many users have reported that an unstable electric connection was causing the buzz sound from their speakers. If you see your speakers or any other appliances buzzing, make sure to check the electric supply in your house.
Check the transformer for any damage or instability. If you see the transformer making any strange noises, call an electrician and get it checked.
Also, check the earthing and the ground loop for any clash in ground potentials. You might want to contact an electrician if you see any damage or dangerous operation.
Solution 3: Update Audio Driver
After you have eliminated faulty electric supply and interference as potential causes of the error, you can confirm that there is something within Windows 10 that is causing the buzz sound through your speakers.
Begin by updating the audio drivers for your speakers and other audio output devices. To know more about how to update audio drivers, follow the steps provided in this article.
After updating the drivers, check if the error persists.
Solution 4: Reinstall The Audio Device
If updating the drivers did not solve your error, uninstall the device driver from the device manager console. After restarting your PC, the generic drivers will be installed for your audio device, which should stop the buzzing sound from computer speakers.
Solution 5: Disable Enhancements
Windows 10 has many audio enhancement features, which are designed to enrich the audio experience. However, these enhancements can eventually lead to many errors on your device. You can attempt fixing audio buzzing by disabling the audio enhancements.
Solution 6: Disable Applications Taking Exclusive Control
­computer audio buzzing can also occur if more than one application tries playing audio from the speaker while a particular setting is enabled. If some application has exclusive control over the audio device, the clash can cause buzzing sounds emanating from your speakers.
Disable applications from taking exclusive control over the audio device to prevent this from happening on your computer. Your error should be resolved.
Solution 7: Check For Broken System Files
If none of the solutions above helped you solve this error, there is a possibility that there might be some broken system files on your computer. Luckily, there is a built-in tool in Windows that you can use to diagnose and solve such errors.
Use the Deployment Image Servicing Management (DISM) and the System File Checker (SFC) scans to check for broken system files easily. You will find more about these scans in this article.
Wrapping Up
So there you have it. Now you know how to solve audio buzzing in Windows 10 using one or a combination of the solutions provided above. However, if the solutions above did not help you and you still hear buzzing sound from computer speakers, you will have to take the speakers to the service center to get them repaired. Comment below if you found this useful and tell us how you solved the error on your PC.