The Xbox live app has recently been renamed to Xbox console companion, and with it, many new changes were made to the app. Apart from the display settings options which were newly introduced in Windows 10, the app has been remade to be a real-time activity tracker of your Xbox account.
Xbox App Appear Offline Windows 10
The Xbox app is a real-time activity tracker for your Xbox account. It lets you connect with your friends, and connect with other gamers so that you can chat and share your progress, photos, etc. Your friends can also see when you are playing a game, and the games you recently played on your Xbox or PC.
The app can be a distraction if you do not play games on your device all the time. Even when you play games, your friends can see that you are online, and may be tempted to text you or share something with you. If you do not wish to be distracted by your friends texting you via the Xbox companion app, you can hide online status in Xbox one.
For the Xbox app appear offline, you will have to change the Xbox privacy settings. When you change the Online settings for your Xbox app, you can hide online status in Xbox one app.
How To Appear Offline On Xbox App In Windows 10?
In the new Xbox app, the privacy settings have been moved online which can be accessed via the browser. However, the setting to appear offline is within the reach of just a few clicks. Simply follow these steps:
Open the Xbox Console Companion app on your Windows 10 device.
On the left sidebar, click on the User icon.
Click on the Appear offline If you open the app in windowed mode, click on More to reveal additional settings, then select Appear offline.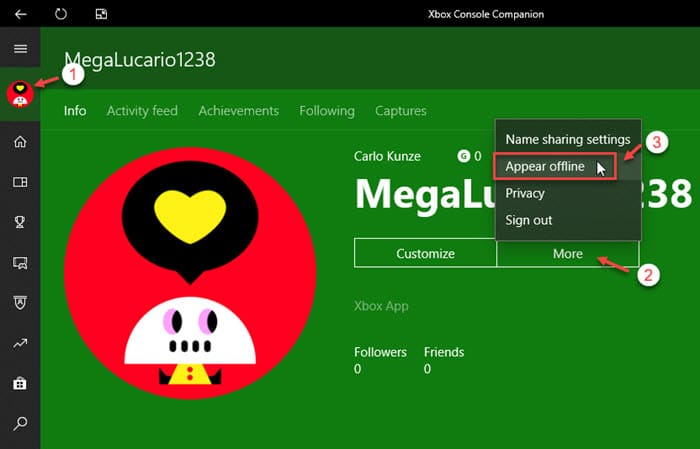 Change Privacy Settings
You can also change the privacy settings to fine-tune your preferences. Follow these steps to appear offline in the Xbox one app:
Open the Xbox Console Companion app on your Windows 10 device.
Click on the Settings icon in the left sidebar.
Scroll down to the Privacy section.
Click on the Xbox.com link under the privacy settings.
This will open the Xbox account settings.
Under Privacy & online safety, scroll down to the Others can:
Find the "See if you're online (Xbox: Online Status)" setting.
Set it to "Block" to stop others from viewing when you are online and which games you are playing.

Search for "See your game and app history (Xbox: Game History)" option.
Set it to "Block" to prevent people from seeing a list of games you've recently played.

Click on Save at the bottom of the page.
Wrapping Up
Note that nobody can see what you are playing when you appear offline. However, people will come to know that you are online if you join their game lobby. When you go offline, your account will stay offline till the time you manually go back online. That being said, now you know how to appear offline on Xbox app for Windows 10. Comment below if you found this useful, and to discuss further the same.