Apex Legends is one of the famous games available on Xbox, Windows and Play station. But many players reported that they are facing major issues such as Apex Legends Crashing or freezing for a few seconds. It is also possible to get a 'connection timed out' message after the Apex legend crashes.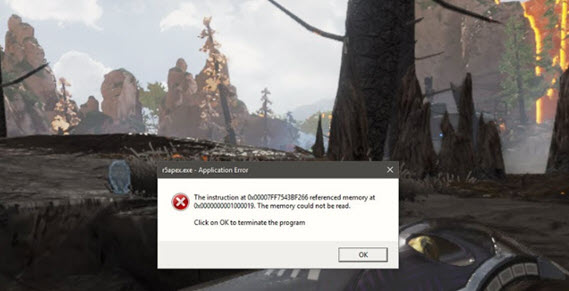 The users already complained about the problem many times to the developers of the game, but the crashing issue still continues.
What Are The Reasons Behind Apex Legends Crashing?
It is very frustrating to have an error or game crash during mid-game. There are definitely some reasons for what Apex Legends keeps crashing repeatedly. The major causes are listed below. Take a look at them:
Minimum System Requirement
Every game or application demands some system requirements to run without error. It is confirmed by the EA developers that the Apex Legends cannot run if you are running an AMD Phenom processor or old Intel processor in your system.
The crash or freeze issue also depends on your system OS and the space left on your hard drive. Check the list of minimum requirements before you start installing the game.
Users experience some overheating issues while gaming and it seems normal depending on the gameplay or quality. But sometimes overheating causes lag issues or some major issues. The Apex Legends crash is possibly one of them.
Connection Problem Or Server Issue
If Apex Legends keeps crashing, it doesn't always mean that you have not met the minimum system requirement to play the game or your system is overheated somehow. It can also happen due to network issues or server problems of the game which is not in your hand.
Running Game Without The Latest Patch Installed
The developers always try to make their application error-free and more comfortable for the users. They launch several fixes and updates for better user experience. The user should keep in mind to remain up to date for the uninterrupted gaming experience. If you have not installed the latest patch for your game, you might get Apex Legends crashing without any previous warning.
Graphics Card's Sync Option Is Enabled
Most of the modern games require graphics card installed in your system. Some graphics cards come with sync option enabled for better performance. But it can cause a crash issue for Apex Legends as the game has its own synchronization enabled. The conflict between these two enabled sync options is the possible reason for freezing or crashing.
You should always keep your drivers updated for improving your gaming experience. If you have an outdated driver, Apex Legends might crash and make you unable to open the game.
Apex Legends PC crashing can also happen when the game file gets corrupted somehow. You need to check for any damage in the game file if you experience any kind of misbehave of your system while gaming.
So, you have the overviews why your Apex Legends keeps crashing repeatedly. Now, it is time for the solutions to minimize the possibility of crashing as much as possible.
How To Stop Apex Legends From Crashing?
Some major solutions are provided below. By following these methods attentively, you can stop Apex Legends from crashing.
Solution 1: Upgrade Your System Configuration
According to the user's report, there are some cases where the user installed Apex Legends on their system that does not have the minimum configuration requirement fulfilled. That's why they got Apex Legends PC crashing. So, the first important thing is to check whether your PC is below the minimum required range.
To avoid the app crash, upgrade your system if it doesn't meet the minimum requirement for playing the Apex Legends.
Solution 2: Restart The Game
If you have met the minimum system requirements, it is time to restart the game when you notice Apex Legends crash notification. Sometimes your problem solves with a restart. After restarting your game, wait to see if the problem is fixed. If not, try the next solutions.
Solution 3: Update Graphics Driver
The restart process did not work, and the error message flashed again!
Well, it might be your outdated or corrupted graphics driver to raise such an issue. If you find any problem with it, you can easily update the driver from the official website of the manufacturer. After installing the latest version, restart the computer and check whether the Apex Legends crashing still persists.
Solution 4: Return Overclock To Normal
Users intend to overclock their system to gain a performance boost. But as a result of forced performance improvement, the CPU usage reaches its maximum that leads to a game or app crash. Overclocking is also a reason behind the overheating issue.
You should stop Overclocking your PC and enable the default clock speed. It may fix your issue with overheating as well as Apex Legends crashing.
Solution 5: Disable Graphics Card's Auto Sync Option
We have previously discussed the graphics card's auto-sync option and how it affects the gameplay. Some players have also reported that disabling the sync option for Apex Legends solved their problem with crashing permanently. So, it is recommended to disable the synchronization feature of your graphics card and restart the game to ensure that if Apex Legends crashing on PC is fixed.
Solution 6: Disable "Origin In-Game" Settings
Still, Apex Legends keeps crashing on your PC? You should try disabling the Origin In-Game setting in Origin client. Here is how you can change the setting permanently:
Open your Origin App and select Application Settings.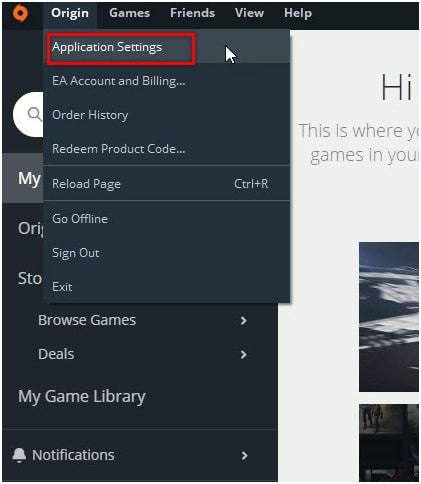 Now go to Origin In-Game tab.

You can see the 'Enable Origin In-Game' option with a toggle switch here. Turn the switch off.
If you want to disable this option for a particular game, follow the steps below:
Open Origin app.
Now click on the My game library option.
From the list, right-click on that specific game you intend to turn off Origin In-Game option.
Now choose the Game Properties option.
Uncheck the box present here.
Now click on the Save button.
Now restart your game to check if your problem is resolved.
Solution 7: Repair Game Files In Origin
Sometimes, a damaged or missing game file can make Apex Legends crash. To stop Apex Legends from crashing, you should repair the game files. The process below will show you how to repair:
Open the Origin app.
Now choose Apex Legends from the Game library.
There is a gear icon placed to the right of the Play button. Click on the gear icon.
Here you can see the Repair option. Click on that option to repair your game files.
If there are corrupted or missing files in your game folder, this process will look up for those and repair automatically.
Restart the game after successful repair and check if your problem is fixed.
Solution 8: End Unnecessary Running Programs
Apex Legends keeps crashing when unnecessary background programs are running already. It is already a large game and causes heavy ram usage. Some more running background programs might result in memory over usage and you see the game freezes or crashes.
You should stop all background programs from running unnecessarily while gaming. It might help you to fix the Apex Legends crashing issue.
Solution 9: Disable Fullscreen Optimization
You can feel the best gaming experience while playing the game in Fullscreen mode. But some games cannot bear the load and cause some FPS issues. If you get a crash error, try disabling the Fullscreen mode by following the steps below:
Open your Apex game file location.
Now right click on the game's setup file.
Select the Properties option.
Click on the Compatibility tab.
Now locate the checkbox next to 'Disable Fullscreen Optimizations' and enable it.
Click on the OK button following the Apply button to save the changes you made.
This solution might resolve your Apex Legends crash problem.
Solution 10: Set Fps_Max 100
You can try this tweak to solve the game issue. All you need to do is:
Open your Origin app.
Go to My library option.
Right-click on your game.
Locate Properties option and click on it.
Then go to the Advanced option.
Now copy the line and paste it into the command line:
+fps_max 100
Now restart the game and check if the problem still continues.
Solution 11: Allow Apex And Origin Through Firewall Exception
Some users reported that they fixed the Apex Legends crashing issue by allowing the Apex and Origin app through Windows Firewall Exception because Windows Firewall did not allow Origin and Apex by default. You might also try by doing this little trick.
If you don't know how to do this, read allow apps through Firewall exception.
Solution 12: Try Reinstalling Apex And Origin App
If all the above solutions fail and the Apex Legends crashing continues, there is another option for you to solve the issue.  You should Uninstall the Apex game and Origin app from your PC completely including the residual files of the game. After completing the uninstall, try reinstalling the Origin and Apex Legends again.
Conclusion
So, all the possible solutions are provided to help you out of the Apex Legends crash error. Now you know the reasons for Apex Legends crashing on PC and also the solutions to stop Apex Legends from crashing. If you found this article helpful, let us know by commenting below. If you still have queries regarding Apex Legends PC crashing, feel free to tell us here.