For many users even nowadays, a PC is their go to device. You may be a flagship Smartphone user but a pc may still be your end device for data management and other work related stuff.
Like me you too may be storing important data on your PC to save space on your Smartphone. Precious data that you don't want to lose at any cost.
For some unfortunate reason if your PC suffers damage, not backed up data will be lost forever. That is the worst nightmare for someone with a lot of important data.
For windows 10 and below users, Windows has built in a backup tool that may take care of most your uses.
Windows Backup and Restore for Lightweight Users
If you don't have a lot of files to back up, the built in backup tool by windows is enough to backup and restore your files, and create system restore images as well.
It is fairly easy to use, and provides many features like allowing  to make copies of files of all users on a computer, scheduled backup, creating system backup image and Previous versions that restore an app or your computer that you may have accidentally modified or deleted.
Open your control panel, find Backup and Restore, and you can find all information on the page.
There are some limitations to the native backup and restore tool.
 AOMEI Backupper Is Power Backup Software
The windows backup and Restore tool does have some limitations when it comes to custom backup requirements.
You cannot back up from hard disks with FAT file system, files from System Folder or drive partition without drive letters (C, D, E etc.).
You also cannot restore a single file; you must restore the entire backed up data while you may need just one file out of hundreds.
This is where the need of a professional backup tool is felt. AOMEI Backupper is a very easy to use Backup and Restore tool, with the easiest User Interface I have seen on any professional back up tool. Plus, it takes care of all the limitations that you face while using the native provided tool.
 What You Can Expect Using Free AOMEI Backupper
Upon downloading and installing the free backup software you will see from the first screen that how easy it is to use. There is no setting or option here that will make you wonder how did that happen. This software deserves credit for the simplicity it provides albeit being a powerful backup tool.
The client software can be installed on both 32 bit and 64 bit systems running windows 10 and below.
Backup Features Include:
On the Backup side menu option, you can links to the various possibilities with which you can backup your files, which include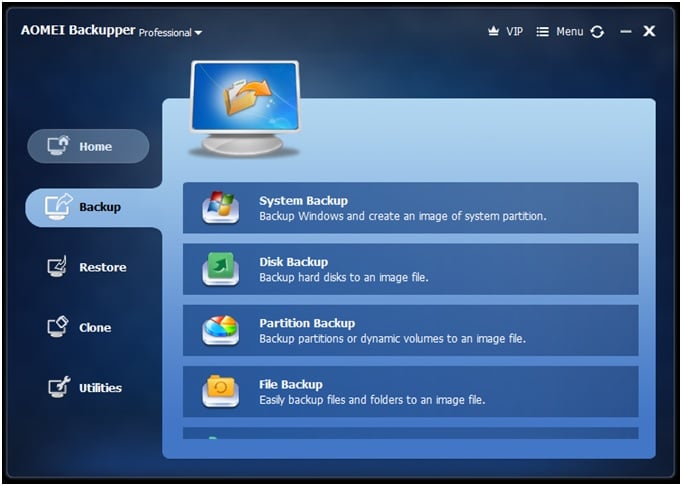 System Backup
You can use this feature to back up the operating system installed, and system specific essential files available on your PC. The system files are backed up and a bootable disc can be created that can be later used to restore windows on your computer in case of a crash or damage.
Disk Backup
This feature can be used to backup the hard disk storage and restore in case of disaster recovery. It is a crucial part of most users' data protection plans, to preserve critical files and data guarding against HDD error.  This is a very reliable backup method, serving the needs of almost everyone.
Partition Backup
You can use this feature to back up partitions and create a partition image that includes all files and folders (including hidden and system files), boot record, and FAT (file allocation table). It also includes files in the root directory. You can use this feature to backup external hard disks too.
File Backup
This feature can be used to select files and folders on your storage system and back them up for further use or in case you don't want to back up the entire disk but only a part of the disk. I personally find this feature very useful as AOMEI Backupper lets me choose only the required files and folders and back them up quickly. The backups are also time logged that makes them very easy for future reference.
File Sync
This is an innovative new feature that creates a simultaneous real time synced copy of a file/folder on your storage system. Any changes you make to the original are also concurrently updated in almost real time. This is a useful feature in case of any error you may make to the original, the backup can be used to restored and continue just where you left off.
Restore Features Include:
 On the Restore side menu option, you can choose to restore a single file/folder, or perform a system restore.
In the restore menu, you'll find all the backups you have done in a tabulated form, along with the time log that will help you easily find the exact backup you want to restore. You can also select the system restore to restore your windows to an older version.
Or you can select a custom location from the path option to select an image file and restore data from the file.
Utility Options Include:
Some other features in the utility options include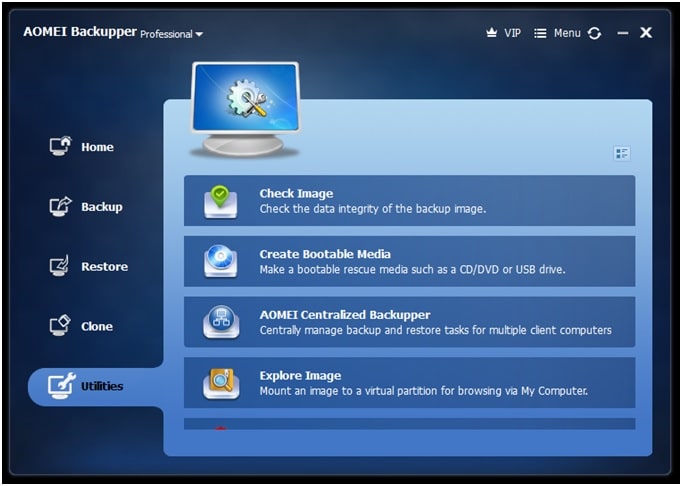 Check Image
You can use this feature for checking the data integrity of the backup image. This feature is essential for finding errors in the backup image file you just created. Thus you won't be stuck with a corrupted backup file in case you need to restore your files.
Create Bootable Media
Use this feature for creating a bootable disc for restoring a backup, or cloning a partition. You can then use this bootable media or flash drive to restore your files without booting into windows. This is especially useful for creating a back up OS or system files.
Explore Image
This feature can be used for mounting an image to a virtual partition of the disk. Then the mounted image can be used for browsing the files present on the image, just in case you need to check and make sure you backed up all the required important files.
Merge Images
In case you found the incremental and differential backup useful, you can use this feature to merge the different image files into one image file for your convenience.
Import/Export Configuration
For advanced users, you can use this feature to import or export the present configuration files to manage your backup tasks and have the information handy.
View Logs
Use this utility option to view the tabulated entry of the records of the backup and restore tasks you perform.
These features you can find under the Utilities menu.
You can also set the computer to Hibernate, Shut Down or Restart after the backup job is completed.
You can schedule your backups to start at a time you find comfortable.
You can add co0mments to the tasks to add notes about what is included in the task, or what you may use this backup for.
A special feature included is the Incremental and Differential Backup options. It is a very useful feature, as it just adds the next added file to a different task altogether in the same folder, thereby removing the need to backup all the files from beginning. This is a time efficient method to backup if you keep adding new files to your partitions.
Apart from these, my favorite feature is that with the "PRO" version, you can also centrally manage the backup and restore tasks for multiple computers over a network by using one computer as a central server to start, stop and schedule backup tasks for all the other computers.
Performance
The CPU usage is very light, and the system speed does not throttle if a task is running in the background. The disk and partition backup completed fairly fast without causing much load on the CPU, but backing up a set of files can take some time.
The compression feature is a very strong point of this app. It runs 2 background processes; a core, and a shadow copy service, and runs an additional processes if shadow copy is active. These background processes are not system heavy, so you can work without causing load on your PC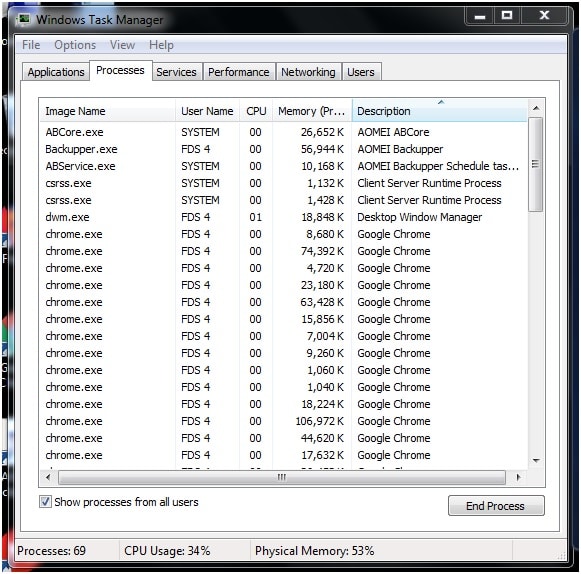 Conclusion
So there you have it. AOMEI Backupper is a backup tool targeted for beginners, and is the best free user friendly backup and restore tool available on the market. It is a very lightweight program, not CPU heavy, but that does not mean it is not powerful and feature packed.
The incremental and differential backup options are innovative and time consuming, and for $46.71 for 2 PC, the pro version unlocks many features that will keep your data safe and you relieved. Have you tried AOMEI Backupper? Or want to try but have some queries? Feel free to comment and we'll get back to you.