Adobe definitely has one of the best creative application suites available in the market. These include Photoshop, Lightroom, Premiere, After Effects, Illustrator and much more. While these apps see constant development with regular updates, these aren't perfect by any means. We have had reports from several users saying they get an error message saying:
'Adobe application manager is missing or damaged. If the problem persists, download and install the new copy from www.adobe.com/go/adobecreativecloudapp'.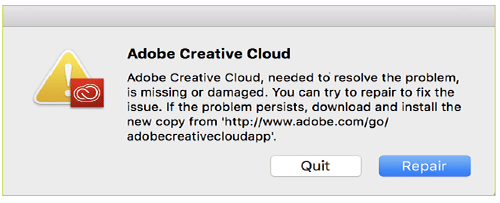 Here I shall discuss how you can easily solve the Adobe application manager error.
How To Fix The Adobe Application Manager Is Missing Or Damaged Error Message?
Adobe Creative Cloud was launched when Adobe shifted the professional suite of applications to a subscription basis. People usually get this error when they delete some component of the Adobe Suite by mistake, or some other app like a recent Windows update may have deleted the core component files by accident.
If Creative Cloud or other application files are deleted by mistake, you will see this error on your computer. Here is an in-depth analysis of the error and how you can easily solve it using the solutions provided below.
Solution 1: Check If The Repair Button Works
The error message usually comes with the Quit and Repair buttons, so that you do not have to look farther for solutions. You may have already tried using the Repair button to fix the issue, but it often fails to fix the missing or corrupt files.
Check your internet connection, and try clicking on the Repair button again to check if it works. The missing files should be downloaded, and your error should now be resolved.
Solution 2: Reinstall Adobe Creative Cloud
Adobe Creative Cloud is necessary for the optimal functioning of the Creative Cloud apps. However, if some crucial files are missing, the CC app itself will not work properly, leading to many errors in synchronizing the files on your cloud storage.
Due to some compatibility issues with Microsoft Windows, you cannot simply replace the files. You must reinstall the application completely. Follow these steps for the same:
Follow this article to uninstall Adobe Creative Cloud completely from your Computer using the Creative Cloud Cleaner Tool.
Restart your computer once the uninstall finishes.
Open the Programs and Features section of the Control panel app.
Locate and uninstall any entries related to Adobe CC or Adobe Application Manager.
This is just to be safe that there is no remaining trace of the applications.
Next, visit the Adobe Downloads page for Adobe Application Manager.
Download and install the application on your computer.
Run the CC application and check if it still shows the error message. If it does not show the message, follow solution 3 to prevent this error from happening again.
Solution 3: Add CC To Antivirus Exception
There is a possibility that your antivirus may have deleted or corrupted the CC application files. To prevent this from happening again, add the CC application to our antivirus exceptions list.
Solution 4: Check For Virus
Just to be on the safe side of things, check your computer for any hidden virus or malware. This will eliminate the possibility that some hidden threat may have deleted the crucial files on your computer.
Wrapping Up
So, there you have it. Now you know how to fix Adobe application manager is missing or damaged error message using the methods provided above. Did you find this useful? Comment below if you did, and to discuss further the same.