Many Firefox users have at least once in their usage time encountered an error that says "A Web Page Is Slowing Down Your Browser". It is coupled with two options; to either wait or stop the unresponsive pages.
What's worse is that both options become unresponsive at times. You also cannot quit the browser as this will result in loss of your work. Here I will discuss how to solve this Firefox error easily.
A Web Page Is Slowing Down Your Browser – How To Fix?

Many users are claiming that they receive this error even with the latest versions of the Firefox app. This error usually happens with Firefox when you are browsing heavy graphics content pages or playing video on YouTube or Google maps. Here are some of the fixes you can try in order to solve this error.
# FIX 1: Update Graphics Card Driver
The Firefox slowing down error is usually seen in graphics-intensive websites. When you browse these websites, a lot of the system resources are used up, which causes the browser to lag and show the error. If your graphics driver is out of date, it may conflict with the graphics-heavy content you are trying to play on your system and result in Firefox showing the "A Web Page Is Slowing Down Your Browser" error.
To update your graphics drivers to their latest version, you can do that from the device manager by following these steps:
Open a Run dialogue by pressing Win + R.
Type the following and press Enter to open the device manager:
devmgmt.msc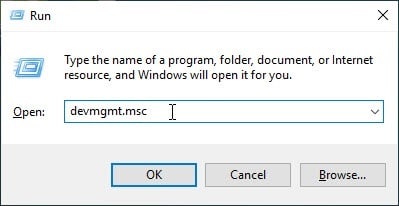 3. Click on Display adapters to expand the list.
4. In the list, right-click on the Graphics Driver and select Update Driver.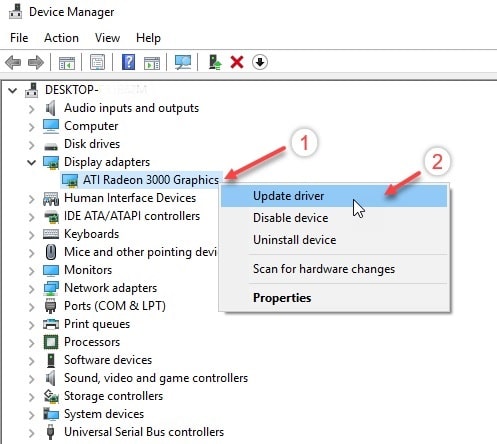 5. Follow the on-screen instructions to update the graphics driver.
6. Restart your PC.
This will update your graphics driver and you should see your error solved. An updated driver results in better communication between the hardware and the software, and hence you should see lesser screen freezes and lags.
If this does not solve your problem, you need to make some changes to your browser.
# FIX 2: Make Changes To Your Browser
If the graphics card driver update doesn't solve your problem, you need to put some work into your browser as it is possible that some settings in it may be causing the error.
The website stores some data on your device called cache so that the next time the requests for that data can be loaded faster. However, with time the cache can get outdated and cause a mismatch with the site data. This may be one of the reasons that you are seeing the Firefox: a web page is slowing down error.
i. To clear your browser's cache data and cookies, enter the following in the address bar of Firefox to go to Privacy settings:
    about:preferences#privacy
ii. Scroll down to Cookies and site data and click on Clear data.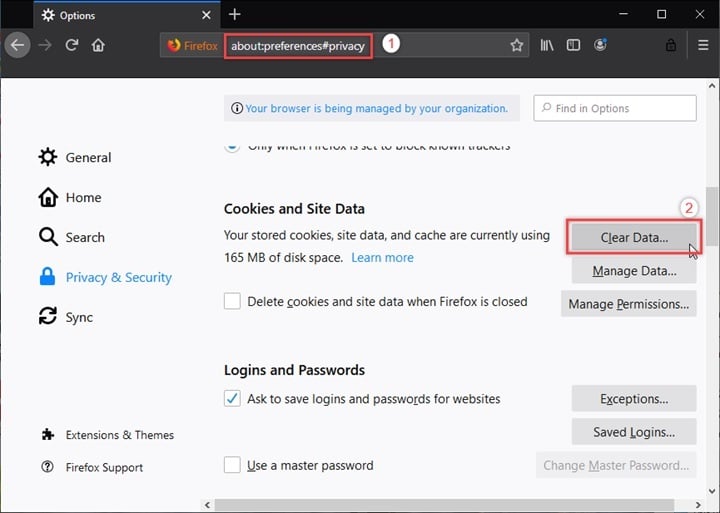 iii. In the Clear data window that pops up, check the boxes for both 'Cookies and site data' and 'Cached web content'.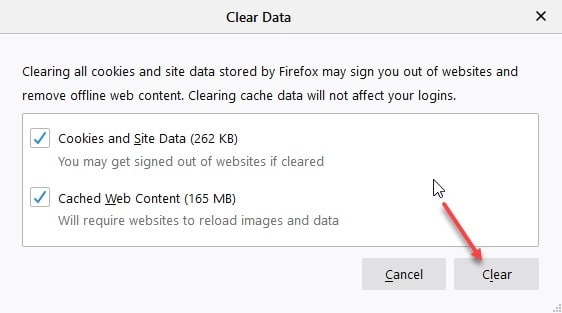 iv. Click on Clear and Restart Firefox.
If this does not solve your error, here is another change you can make to your browser settings
Change Browser Configuration
In your browser's address bar, type the following and press Enter:
about:config 
In the warning page, select I accept the risk! to proceed.
In the search bar on the top, search for processHang 
It will display two search results; dom.ipc.processHangMonitor and dom.ipc.reportProcessHangs

v. Right-click on both these search results, click on Toggle to change the value from True to False.

vi. Restart your browser.
This should solve your issue of the error "A Web Page Is Slowing Down Your Browser".
Conclusion
A graphics problem can cause the error "A Web Page Is Slowing Down Your Browser". But now you know how to solve the error using the guide given above. Do comment below if you solved the problem and to discuss further the same.